(Story by Marco Stoovelaar)
IN MEMORIAM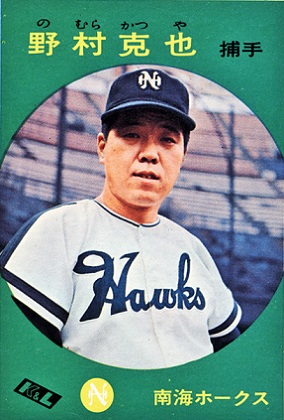 ...Katsuya Nomura...
(1935 - 2020)...
(© Photo: Baseballcard 1967)

Legendary Japanese player/manager, Hall of Famer Katsuya Nomura passed away
Nederlands

SETAGAYA, TOKYO (Japan) - Legendary catcher Katsuya Nomura, who was active as a player and manager from 1954 through 2009 in Japanese professional baseball, passed away on February 11 at age 84.

Katsuya Nomura, who was born on June 29, 1935 in Kyotango, Kyoto, made his debut as a player in Nippon Professional Baseball (NPB) in 1954 with Nankai Hawks, the club he was associated with most throughout his career. Nomura played for the team until 1977 and since 1970, he also was the Manager of Hawks, which is the current Fukuoka Softbank Hawks. After having played for Hawks for 24 seasons (!), he played for Lotte Orions (1978) and Seibu Lions (1979-1980).

As a player, he was the Manager of Nankai Hawks his final eight seasons there. After having retired as player, Nomura became the Manager of Yakult Swallows in 1990 and led the team through 1998. Thereafter, he also was the Manager of Hanshin Tigers (1999-2001) and Tohoku Rakuten Golden Eagles (2006-2009).

In his years as Manager of Yakult Swallows, Curaçao-born Hensley Meulens was one of his players during the 1995 and 1996 seasons. In 1995, Yakult Swallows won the title after winning the Japan Series. Meulens is currently the Bench Coach of the New York Mets Major League-team and led the Netherlands National Baseball Team as its Manager during the successful World Baseball Classic in 2013 and 2017. Before his appointment with the Mets, Meulens was a coach of San Francisco Giants for ten years (eight as hitting coach, two as bench coach). Meulens played in Japan in 1994-1996.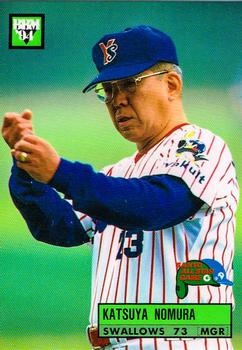 ...Katsuya Nomura as...
...Yakult Swallows Manager...
(© Photo: Baseballcard 1994)

As a player, Nomura won the NPB-title twice with Nankai Hawks (1959, 1964). As Manager, he won the Japan Series three times. He led Yakult Swallows to the title in 1993, 1995 and 1997.

In his long playing career (1954-1980), Katsuya Nomura was named Best Catcher 19 times and finished with a .277 batting average. He also was the Most Valuable Player of the Pacific League five times, led the league in homeruns nine times and in runs batted in seven times. In 1972 and 1977, he was named MVP of the All Star Game.

In 1993, Katsuya Nomura won the Matsutaro Shoriki Award, which is awarded to a player of manager who has made a great contribution to the development of professional baseball. Another highlight in his playing career of 27 seasons came in 1965 when Nomura won the Triple Crown, as he then led the league in batting average, homeruns and runs batted in. With that, he became the first NPB-player to win a Triple Crown.

Katsuya Nomura belongs in the same category as Sadaharu Oh and Shigeo Nagashima, two other legends in Japanese professional baseball. Nomura is in second place on the all-time list in Games Played (3,017), Basehits (2,901), Homeruns (657) and Runs Batted in (1,988). The all-time leader in Homeruns is Sadaharu Oh, who hit 868, which also is a world-record in professional baseball. Oh is also the all-time leader in RBI's with 2,170.

In his 24 seasons as Manager, Nomura won 1,565 games, the fifth most in the NPB-history. In 2005, Tohoku Rakuten Golden Eagles played in its inaugural season and lost 97 of its 136 games. The next year, Nomura took over as Manager. The team improved and reached the Play-Offs in 2009. After that season, Nomura retired at age 74.

Katsuya Nomura was inducted into the Japanese Baseball Hall of Fame in 1989.

(March 3)