(Story & Photo by Marco Stoovelaar)

Hoofddorp Pioniers plays first exhibition game against second team
Nederlands



HOOFDDORP (Neth.) - Hoofddorp Pioniers played its first exhibition game of the season on Sunday (March) and faced Omron Pioniers, the second team of the Hoofddorp-club. The big league-squad recorded a 6-2 win in an 8-inning game against the Pioniers-team that will play in the second highest league this season.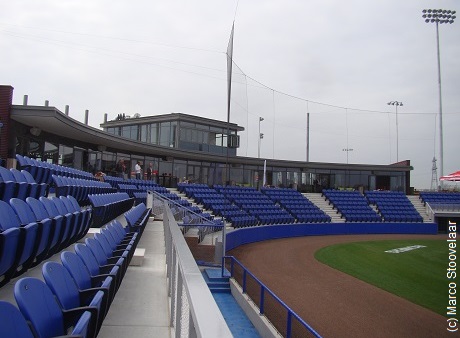 ...The home-site of Hoofddorp Pioniers...
(© Photo: Marco Stoovelaar)

On Saturday (March 7), the exhibition season opened in Bussum, where HCAW also played a game against its second team.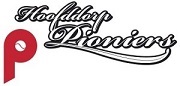 Coming Friday, the team of Hoofddorp Pioniers will travel to Bonn in Germany. There, two games will played against Bonn Capitals on Saturday and Sunday. It will be the first of two exhibition series in Germany. At the end of March, Pioniers will play two games in Solingen.
Omron Pioniers also will travel abroad. In two weeks, the team will participate for the third time in the Dragons 6 Series in Ronchin, which is part of Lille in France.
In today's game in Hoofddorp, the pitchers of both teams pitched for the opponent and so, they faced their own teammates.
Lars Huijer started for Omron Pioniers and gave up two runs in the first inning on consecutive basehits by Jorrit Penseel, Mark Smit and Raul Jacobs. Huijer (who threw one inning) was followed by Scott Prins and Sem Lauf, who respectively threw two and one scoreless innings. The main-squad then added four more from the fifth inning on off of relievers Lars Broersen, Sebastian Kok, Yassir Lachkar and Nathan Diaby.

Prins and Lauf made their first appearance in a Pioniers-uniform. Last season, Prins pitched for DSS, while Lauf played for Silicon Storks. Kok and Lachkar made their debut in the main-squad last season and are now on the roster for this year.
Second team-pitchers Morris Wiesemann, Dennis Buring and Peter Hegeman all threw two scoreless innings. The second team, which was the home team, then scored its two runs in the bottom of the eighth off Tre Kosaque, who also threw two innings.
Head Coach Mervin Gario of the main-squad used the following players today (in alphabetical order):
Nathan Berkel (outfield), Tyler Boersma (catcher/1st base), Max Draijer (short stop), Victor Draijer (designated hitter), Joey Eeman (outfield), Dylan Farley (outfield), Mervin Gario (3rd base, one inning), Jaison Gijsbertha (catcher), Thom Hoogkamer (outfield), Raul Jacobs (2nd base), Daan Kuit (one at bat), Damian Melis (3rd base/catcher), Jorrit Penseel (1st base/3rd base), Mark Smit (outfield) and Bodhi de Vreede (outfield).
Head Coach Ronald Stoovelaar of the Omron Pioniers-team used the following players (in alphabetical order):
Duncan Beljaards (catcher/3rd base), Rutger Bray (3rd base/outfield), Daniel Heiligers (catcher/outfield), Thom Hoogkamer (outfield), Adonis Jacobs (3rd base/short stop/2nd base/outfield), Kevin Karper (1st base/outfield), Daan Kuit (catcher/outfield), Tom van Limburg (1st base), Andres Meijer (2nd base/short stop/3rd base), Joshua Seysener (2nd base/short stop), Bram Stoovelaar (short stop/2nd base/1st base) and Tarek Toussaint (catcher/outfield).
(March 8)
Standings Exhibition Season
Scores Exhibition Season
Schedule Exhbition Season