(Story by Marco Stoovelaar)



Major League-series in Mexico and Puerto Rico cancelled
Nederlands





NEW YORK CITY, New York (USA) / MEXICO CITY (Mexico) / SAN JUAN (Puerto Rico) - Major League Baseball has cancelled two regular season international series to be played in Mexico and Puerto Rico in April due to the coronavirus pandemic, as was announced on Thursday (March 19).

Arizona Diamondbacks and San Diego Padres were scheduled to play two games in Mexico City (Mexico) on April 18-19 at Estadio Alfredo Harp Helú. Miami Marlins and New York Mets were to play three games in Estadio Hiram Bithorn in San Juan (Puerto Rico) on April 28-30. On Monday, MLB announced that the start of the regular season has been pushed back further, past the dates of these two series. When the games will be re-scheduled, they will be played at the sites of the home-playing teams Arizona and Miami.
At the moment, the 2-game series between Chicago Cubs and St. Louis Cardinals on June 13-14 at London Stadium in British capital London is still on the schedule. Last year, the New York Yankees and Boston Red Sox played the first two Major League regular season-games in Europe.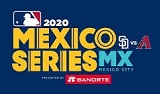 It was to be the first time that regular season Major League-games were to be played in Mexico City, the capital of Mexico. In August 1996, San Diego Padres and New York Mets played three games in the Mexican city of Monterrey. In April 1999, San Diego played one game against Colorado Rockies in Monterrey. The next MLB-games in Mexico were played in May 2018 when San Diego played three games against Los Angeles Dodgers, also in Monterrey. In April and May of last year, there were two 2-game series in Monterrey, the first played by Cincinnati Reds and St. Louis Cardinals, the second by Houston Astros and Los Angeles Angels.
Since 2001, there have been three series in San Juan. On April 1 of that year, Toronto Blue Jays and Texas Rangers played one game there. In June 2010, there was a 3-game series between Florida Marlins and New York Mets, who also were to face each other in a 3-game series this year in the Puerto Rican capital. In April 2018, Cleveland Indians and Minnesota Twins played two games in San Juan. Besides these three series, Montreal Expos played 43 home-games in San Juan during the 2003 (22) and 2004 (21) seasons. This was decided by MLB to improve the attendance rate for the Canadian club. In September 2004, it was announced that Montreal Expos was moving to Washington, DC. Since 2005, the team plays in the American capital as Washington Nationals.
Since 2000, there have been five regular season-series played in Tokyo (Japan). In the Tokyo Dome, Chicago Cubs and New York Mets were the first to do so in March 2000. Every four years, another series was organized in the Japanese capital. In March 2004, New York Yankees played against Tampa Bay Rays, in March 2008, there was a series between Boston Red Sox and Oakland Athletics and in March 2012, Seattle Mariners and Oakland faced each other. In March last year, the fifth series was played, this time again by Seattle and Oakland.
In March 2014, the Major League-season was opened in Sydney (Australia), where Los Angeles Dodgers and Arizona Diamondbacks played two games. In June last year, New York Yankees and Boston Red Sox played a 2-game series in London (England, United Kingdom).
(March 20)