(Story by Marco Stoovelaar; Photo by Henk Seppen)

Derek Jeter and Larry Walker elected into Hall of Fame
Nederlands



SECAUCUS, New Jersey (USA) - Derek Jeter and Larry Walker are elected into the National Baseball Hall of Fame. The official announcement was made on Tuesday-evening (January 21) by new Hall of Fame President Tim Mead.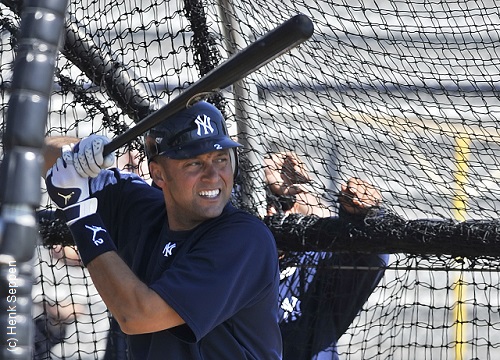 ...Derek Jeter in the batting cage with New York Yankees during...
...Spring Training in 2011 in Tampa, Florida (USA)...
(© Photo: Henk Seppen)

Jeter and Walker will be officially inducted into the Hall of Fame in Cooperstown on July 26. Also inducted on that day will be catcher Ted Simmons and Players' Union-President Marvin Miller (who passed away in 2002), who where elected in December by the Modern Baseball Era Committee of the Hall of Fame.

In the days leading up to election day, there were speculations whether or not Derek Jeter would become the second player in history to be elected into the Hall of Fame unanimously. Last year, closer Mariano Rivera (New York Yankees) was the first player ever who was named on all ballots and was an unanimous choice. Jeter ended up just short, as his name appeared on 396 of the 397 voting ballots of the Baseball Writers Association of America (BBWAA), meaning one journalist didn't vote for the short stop. With 99.7 percent of the votes, Derek Jeter did become the position player with the highest voting percentage ever. Larry Walker, who was eligible for the tenth and last time, got just enough votes (six) to give him 304 or 76.6 percent to also being elected into the Hall of Fame. To be elected, someone needs 75 percent of the votes.

Short stop Jeter played his entire career of 20 seasons (1995-2014) for New York Yankees, Walker played in 17 Major League-seasons for Montreal Expos (1989-1994), Colorado Rockies (1995-2004) and St. Louis Cardinals (2004-2005) as rightfielder. Walker became the second Canadian-born player to be elected, joining pitcher Ferguson Jenkins, who was elected in 1991. On his Hall of Fame-plaquette, Walker will wear the cap of Colorado and will be the first player to represent this club.

Pitcher Curt Schilling, who was eligible for the eighth time, got 70 percent of the votes, ending up just short. But he has two more chances and will be a serious candidate in 2021 and 2022. Following Schilling were pitcher Roger Clemens (61%), outfielder Barry Bonds (60.7%) and short stop Omar Vizquel (52.6%).
Curaçao-born centerfielder Andruw Jones got 19.4%, climbing from getting 7.5 percent last year. With that, Jones remains eligible for election next year. Players who got less than five percent are dropped from the election-list. That happened to sixteen players, who this year were eligible for the first time and now are dropped.
In his long and impressive career, Derek Jeter (The Captain) played in 2,747 games and collected 3,465 basehits, which give him sixth place of the all-time list. Jeter belted 260 homeruns, scored 1,923 runs, batted in 1,311 and finished with a career batting average of .310. Jeter was the Rookie of the Year in the American League in 1996. He was chosen for 14 All Star Games, won five Gold Gloves and won five World Series with the Yankees. With New York, Jeter also played in 158 postseason-games in 16 years, collecting exactly 200 basehits. Jeter is the all-time career leader with the Yankees in games played, basehits, doubles, stolen bases and plate appearances. In his final regular season at bat, against and at Boston Red Sox, Jeter hit an RBI infield-hit. Since September 2017, Jeter is the Chief Executive Officer (CEO) and part-owner of the Miami Marlins.
As a rookie, Jeter played in his first World Series in 1996 against Atlanta Braves. In Game 1, Andruw Jones, also a rookie, hit two homeruns for Atlanta to become the youngest player in history (he was 19) to hit a homerun in the World Series. With that, he surpassed Yankee-legend Mickey Mantle.
Larry Walker was the National League Most Valuable Player in 1997, won seven Gold Glove Awards and was the Best Hitter three times. In 17 seasons, Walker played in 1,988 games in which he recorded 2,160 basehits, including 383 homeruns. Walker scored 1,355 runs and batted in 1,311. Walker was considered a five-tool player, which is hitting for average, hitting for power, combined with speed as baserunner, defense and throwing strength. The outfielder played in three postseasons, including his final two seasons with St. Louis Cardinals, with whom he played in the World Series in 2004. His first postseason was in 1995 with Colorado Rockies.
Six years ago, Walker's name was mentioned on only 10.2 percent of the ballots, but he climbed on the list thereafter. Last year, he received 54.6 percent. In 2007, Walker already had been elected into Canada's Sports Hall of Fame and in 2009 in the Canadian Baseball Hall of Fame.
With Team USA, Derek Jeter played in the first two editions of the World Baseball Classic (2006, 2009). Walker is a member of the coaching-staff of Team Canada since 2009 and as such, participated in three Classics (2009, 2013, 2017). In 2011 and 2015, with Canada, he won the Gold Medal at the Pan American Games.
(January 22)