(Story & Photo by Marco Stoovelaar)

Major League Hall of Fame induction postponed to next year
Nederlands



COOPERSTOWN, New York (USA) - This years induction ceremony for the National Baseball Hall of Fame has been postponed to next year. The ceremony was to take place on July 26 in Cooperstown where the Hall of Fame is located. On Wednesday (April 29), it was announced that the ceremony was cancelled because of health and safety concerns due to the coronavirus (COVID-19) pandemic. The Hall of Fame and Museum also is currently closed.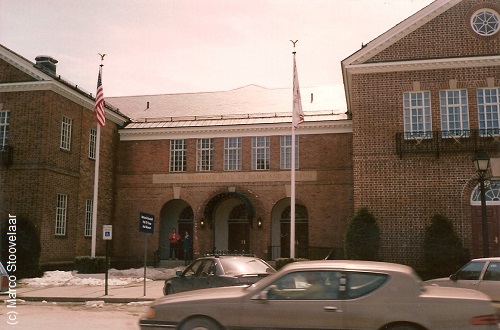 ...The entrance of the National Baseball Hall of Fame...
...and Museum in Cooperstown...
(© Photo: Marco Stoovelaar)

Last year, some 55,000 spectators attended the Hall of Fame induction. This year, the same (or more) total was expected to watch how Derek Jeter, Larry Walker, Ted Simmons and Marvin Miller would officially enter the Hall of Fame. Simmons and Miller were elected in December, Jeter and Walker in January.

They will now be inducted on July 25 next year, together with the Class of 2021. In December, one of the veteran-committees of the Hall of Fame will have its election, to be followed by the annual election in January by the Baseball Writers Assocation of America (BBWAA). In the December-election, besides players, others are also considered for elections, such as coaches, umpires and execitives. In the January-election, Major League-players are eligible who have retired at least five years earlier. Those elected to the Hall of Fame during these two elections will then be inducted together with this years Class. Also honored then will be the winners of this years J.G. Taylor Spink Award (highest award by the BBWAA for baseball-writers presented since 1962), the Ford C. Frick Award (presented annually by the Hall of Fame since 1978 to baseball-broadcasters for major contributions) and the Buck O'Neil Lifetime Achievement Award (presented every three years since 2008 by the Hall of Fame to honor someone who enhances baseball's positive image on society).
In a statement, the Hall of Fame announced: ,,Our Board of Directors has voted unanimously to cancel 2020 Induction Weekend, due to health and safety concerns associated with the COVID-19 pandemic. The Class of 2020 will be inducted in 2021, alongside any Class of 2021 electees, on July 25, 2021''. Jane Forbes Clark, Chairman of the National Baseball Hall of Fame and Museum, added: ,,Induction Weekend is a celebration of our National Pastime and its greatest legends, and while we are disappointed to cancel this incredibly special event, the Board of Directors' overriding concern is the health and well-being of our new inductees, our Hall of Fame members, our wonderful fans and the hundreds of staff it takes to present the weekend's events in all of its many facets. We care deeply about every single person who visits Cooperstown''.
It will be the first time since 1960 that there will be no induction ceremony. Back then, the reason was that there was no one elected during the election earlier in the year.
(April 29)