(Story by Marco Stoovelaar)

Starting Pitchers coming series
Nederlands



AMSTERDAM (Neth.) - On Thursday-evening (September 1), the postseason in the Dutch Major League opens.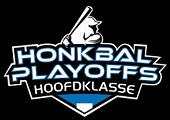 On Tuesday, August 24, the final game (a make-up game) in the regular season was played. Hereafter, the season was interrupted as the Netherlands Under-23 Team participated in the European Under-23 Championship in Italy. All players on the Under-23 roster play for teams in the big league.
On Thursday, the four best teams will play the first game of a best-of-five Play-Off. Curaçao Neptunus finished in first place in the regular season, just a ½ game ahead of reigning champion L&D Amsterdam Pirates. As such, these teams earned home-advantage and will play three games at home when the series needs all five games. Neptunus will face Twins Oosterhout, which finished in fourth place. Pirates meets third-placed HCAW in its best-of-five. The winners of the Play-Offs advance to the best-of-seven Holland Series, which opens on Saturday, October 2.
In the regular season, Neptunus won five of its six games against Twins Oosterhout. Amsterdam Pirates won four of the six games against HCAW with one game ending in a tie.
The Play-Offs could be decided coming Sunday when the third game is scheduled to be played. When a fourth or fifth game is needed, the teams will have to wait until Saturday, September 25 to get into action again.
After coming weekend, the season again will be interrupted. This time for the European Championship, which will be played September 12-19 in Italy.
The teams that finished the regular season in the bottom-four spots will play in the Relegation Pool. The teams will all face each other in a 3-game series, meaning they will play nine games. The team that finishes in last place will play a best-of-three Promotion/Relegation Series against the champion of the First Division. Their postseason also will be interrupted after coming Sunday. However, they will resume again on Thursday, September 23.
With over a month remaining in the 2021 season, some teams might have to make a few adjustments in the upcoming games. This has to do with the fact that some of its players have returned (or will return soon) to college in the United States.
Beneath are the announced starting pitchers for the upcoming series in the big league. As always, these assignments can change on game-days.
(September 1)
PLAY-OFFS (best-of-five, nr. 1 vs. nr. 4)
Roster
CURAÇAO NEPTUNUS (0-0) (34-8)
vs.
TWINS OOSTERHOUT (0-0) (22-19-1)
Roster
Game-info
#
Starting Pitchers Neptunus
G
#
Starting Pitchers Twins
Date, Time & Site
35
LHP Diegomar Markwell (0-0) (10-0)
1
11
RHP Koen Postelmans (0-0) (2-2)
Th. Sep. 2, 7:30 PM, Rotterdam (1)
to be decided
2
6
RHP Simon Gross (0-0) (3-3)
Sa. Sep. 4, 2:00 PM, Oosterhout (2)
to be decided
3
to be decided
Su. Sep. 5, 2:00 PM, Rotterdam (1)
(1) - Neptunus Familiestadion, Sportpark Abraham van Stolkweg, Rotterdam; (2) - Sportpark 'De Slotbosse Toren', Oosterhout
PLAY-OFFS (best-of-five, nr. 2 vs. nr. 3)
Roster
L&D AMSTERDAM PIRATES (0-0) (33-8-1)
vs.
HCAW (0-0) (28-13-1)
Roster
Game-info
#
Starting Pitchers Pirates
G
#
Starting Pitchers HCAW
Date, Time & Site
64
RHP Shairon Martis (0-0) (4-0)
1
7
RHP Dennis Burgersdijk (0-0) (9-1)
Th. Sep. 2, 7:30 PM, Amsterdam (3)
45
RHP Juan Carlos Sulbaran (0-0) (8-2)
2
39
RHP Lars Huijer (0-0) (9-3)
Sa. Sep. 4, 2:00 PM, Bussum (4)
31
RHP Gio de Graauw (0-0) (5-0)
3
to be decided
Su. Sep. 5, 2:00 PM, Amsterdam (3)
(3) - Loek Loevendie Ballpark, Sportpark 'Ookmeer', Amsterdam; (4) - Rob Hoffmann Vallei, Sportpark Zanderijweg, Bussum
RELEGATION POOL (nr. 5 vs. nr. 8)
Roster
QUICK AMERSFOORT (0-0) (7-35)
vs.
DSS/KINHEIM (0-0) (15-27)
Roster
Game-info
#
Starting Pitchers Quick
G
#
Starting Pitchers DSS/Kinheim
Date, Time & Site
29
RHP Jakob Syrén (0-0) (1-3)
1
44
RHP Tom Stuifbergen (0-0) (0-3)
Th. Sep. 2, 7:30 PM, Amersfoort (5)
29
RHP Oskar Syrén (0-0) (0-0)
2
27
RHP Nick Boxelaar (0-0) (3-1)
Sa. Sep. 4, 2:00 PM, Haarlem (6)
to be decided
3
12
RHP Glenn Wassink (0-0) (4-7)
Su. Sep. 5, 2:30 PM, Amersfoort (5)
(5) - XL Lease Park 'Dorrestein', Amersfoort; (6) - Pim Mulier Stadion, Pim Mulier Sportpark, Haarlem
RELEGATION POOL (nr. 6 vs. nr. 7)
Roster
HOOFDDORP PIONIERS (0-0) (15-27)
vs.
SILICON STORKS (0-0) (12-29-1)
Roster
Game-info
#
Starting Pitchers Pioniers
G
#
Starting Pitchers Storks
Date, Time & Site
8
LHP Ryan Huntington (0-0) (3-5)
1
20
RHP Kevin van Veen (0-0) (3-2)
Th. Sep. 2, 7:30 PM, Hoofddorp (7)
55
RHP Mathijs Oosterbeek (0-0) (0-0)
2
25
RHP Twan Naessens (0-0) (0-6)
Sa. Sep. 4, 2:00 PM, The Hague (8)
to be decided
3
to be decided
Su. Sep. 5, 1:00 PM, Hoofddorp (7)
(7) - ETO Ballpark, Sportpark Hoofddorp Pioniers, Park21, Hoofddorp; (8) - Sportpark 'Kijkduin', The Hague