(Story by Marco Stoovelaar; Photos by Henk Seppen, Hans Jansen de Vries & Marco Stoovelaar)
IN MEMORIAM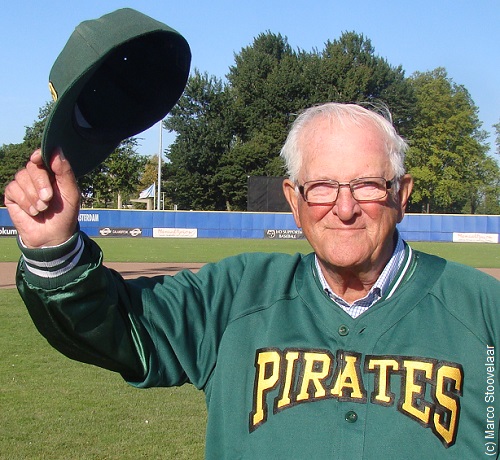 ...Loek Loevendie...
(1932- 2021)...
(© Photo: Marco Stoovelaar)

Club-icon, Mr. Pirates, Hall of Famer, 'Uncle' Loek Loevendie passed away
Nederlands

AMSTERDAM (Neth.) - Loek Loevendie, who was the club-icon of baseball- and softball-club Amsterdam Pirates and fully deserved the name Mr. Pirates, passed away on Saturday (February 6) at age 88. Loevendie, who was 'Uncle Loek' for many, was much decorated and was a pioneer in the field of youth-coaching.

Louis (Loek) Loevendie was born on May 9, 1932 in Amsterdam. He is the younger brother of internationally wellknown Dutch (jazz/opera/chamber music) composer and clarinet player Theo Loevendie, who turned 90 last year and is still active as a composer. From a young age, Loek Loevendie was interested in sports and started to play soccer and baseball.

On February 17, 1959, along with Jaap van der Zee, Rinus Verschuur and Harry Meijers, Loek Loevendie founded a baseball-section at soccer-club Rap. It was the second time that this Amsterdam-based club got a baseball-section. The first was founded in 1937, but was abandoned in 1946, as the club unfortunately lost several club-members during World War II and was unable to form a team. Ten years after the new baseball-section was founded, Rap set up a women's softball-section in 1969 and in 1974, a men-softball section was added. After separating from soccer-club Rap to become an independent club in 1974, the name was changed to Amsterdam Pirates.

When Rap's baseball-team first participated in a competition in 1959, Loek Loevendie was one of its players. Later, he became one of the coaches of the team, as did Jaap van der Zee. At the same time, he continued coaching youth soccer-teams, something he already did since the late forties. In the early sixties, Loevendie, now very active in the baseball-section, switched from coaching soccer-youth to baseball-youth. Some years later, Loevendie began with his famous weekly practice sessions for baseball-youth. In the late sixties, he began publishing advertisements in weekly newspapers and immediately got a lot of reactions. With that, the youth section of Rap-baseball began shaping form. It was the start of a very successful youth section, which captured numerous Amsterdam-league titles, regional titles and national titles. The successes in its youth-section continues until today.

In 1963, the club's youth-team age 14-16 became the first to capture a National Championship-title. That team played in the so-called MB Bakker League, which was named after Dutch baseball-pioneer M.C. (Maarten) Bakker.

From the late sixties through the seventies, Rap/Pirates had a very active youth-section. It's youngest team (Little League, age 8-12) participated in many (international) tournaments thoughout the country. In those years, the league the team played in was called Bleesing, named after another Dutch baseball-pioneer and its longtime Federation-Chairman Emile Bleesing. It even happened that a team traveled from one tournament to another on the same day to play in the Final. And win it. Frequently, one of the first questions Loevendie asked when entered a playing site for a tournament was ''How big is the first prize trophy?''. That was then followed by a statement: ,,We're here to win it''. From 1976 on, the club also was a participant in the annual baseball-tournament at the American Air Force Base in Ramstein (Germany). Since becoming an independent club, Amsterdam Pirates also started to organize its own international youth-tournaments on Queen's Day, April 30, the day the the birthday of the Dutch Queen was celebrated. Of course, Loek Loevendie not only was one of the organisors, he also was one of the coaches of the participating Pirates-teams.

That the club became and was so successful in the late sixties and through the seventies was that Rap/Pirates got a very active youth-committee, but also dedicated and passionate youth-coaches. Besides Loek Loevendie, they included Paul Hamstra, Jaap Meeder, Wim van der Poel, Henk Gupffert, Wim Joost, Herman Koot, Coen Stoovelaar, Kees van Vegten, Herman Spilker and Nico Meijers. Together with these coaches, Uncle Loek created the base for the successful youth-section which the club still has nowadays.

Loek Loevendie always traveled to and from the field on his moped (later, a scooter). Either from his home or straight after work. Simply to be with his club and his players daily. Through the years, Loevendie instructed and coached more than a thousand young players in the club's youth program. Out of this group, more than hundred players went on to play in the Dutch big league. Many also played for the Amsterdam All Stars Teams, which were formed in these years and played tournaments against other regions of the country. Several went on to play in the Netherlands Youth Teams and Netherlands National Team. In the youth-groups Loevendie instructed in the late sixties and early seventies were players like Marcel Joost, Frank Koot, Haitze de Vries, Jan Hijzelendoorn, Ronald Stoovelaar, Marten Walsma, Peter van Erk, Hans Jansen, Harm Schildmeijer, Martin van der Steeg, André van Beest and Laurens van der Poel, who all would reach the big league. The first six also went on to play for the Netherlands National Team.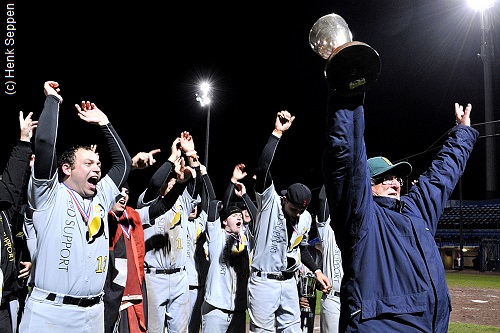 ...Loek Loevendie celebrates the Dutch Championship-title...
...with players and coaches of Amsterdam Pirates in 2008...
(© Photo: Henk Seppen)

In following years, several other players who started their career in the Pirates-youth also went on to reach the Netherlands Team Many of them either played for Loevendie in Little League or got advices from him. Amongst them are Peter Boon, Jeffrey Cranston, Martijn Faneyte, René van Huffel, Patrick de Lange, Byron Ward, Jesse Aussems, Rashid Gerard, Zaïr Koeiman, Bas Nooij and Pim Walsma. Loevendie also trained and coached his own sons Loek jr. and Marco. As a pitcher, the latter also went on to play in the Dutch big league and the National Youth Team.

Also, amongst his young talents were players, who later played professionally, including Rikkert Faneyte, who played in the Major League for San Francisco Giants and Texas Rangers. Also, players like pitcher Tonny Cohen, infielder Raymond Hofer and pitcher Tom de Blok went on to play professionally in the USA.

Amongst his pupils in the nineties were Johnny and Mariekson Gregorius. Their father Didi was a pitcher in the big league baseball-team of Amsterdam Pirates and their mother Sheritsa played with the women's softball-team, which also played in the highest division. In later years, when the family had returned to Curaçao, Mariekson not only developed in a very talented player, but also a Major League-short stop. Mariekson adopted his father's nickname of Didi and went on to play in the big leagues for Cincinnati Reds, Arizona Diamondbacks, New York Yankees and Philadelphia Phillies.

Loek Loevendie had an eye for talent and for details. He saw when someone had something extra and often, he then gave some additional trainings.

For many of these players, as well as longtime club-members, Loevendie simply was known as and always remained 'Uncle Loek' ('Ome Loek').

Not only the youth-section was successful in the seventies. Also, the main-squads in both baseball and softball often finished in the top of their respective leagues. In 1981, the baseball-team promoted to the Dutch big league. The softball-team also promoted to the highest division. Six years later, a dream came through when Amsterdam Pirates defeated Neptunus in the Holland Series to capture the Dutch Championship-title for the first time in club-history. Loek Loevendie was one of the first to be on the field to celebrate with the team with teary eyes and congratulate the players, many of whom had played for him in youth-teams.

In 1982, the club opened a new clubhouse/canteen with a nice terrace, which was located behind rightfield and thus had a great view overlooking the entire field. The first stone of this building was placed (of course) by Loek Loevendie.

After the 2000 season, the club moved from its old site at the Jan van Galenstraat to its current site at Sportpark 'Ookmeer'. There, the club had more space, got two big league baseball-field, a big league softball-field and a youth-field. Also, the club got its own indoor facility.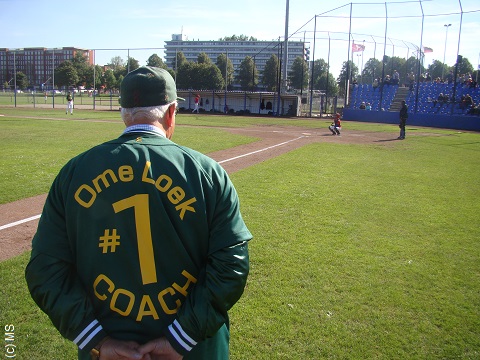 ...Loek Loevendie coaching the final game of his 65-year...
...coaching-career on September 29, 2013...
(© Photo: Marco Stoovelaar)

Some years later, Loevendie established his own baseball- and softball museum, which overlooks the field in the indoor facility. Many memorabilia and photos from the Pirates-history can be seen there. But also from the baseball-history in general. In setting up the museum and categorize all the items, Loevendie got a lot of assistance from Ger Lange, who oversees the museum nowadays.

On Sunday-afternoon, September 29, 2013, Loek Loevendie ended his active career coaching youth-teams. On this day, he coached a youth-team (cadets) of Amserdam Pirates for the last time in a game against Tex Town Tigers from Enschede. Before this game. Loevendie threw the ceremonial first pitch. His coaching-career that spanned a period of 65 years and began in 1948 when he first led youth soccer-teams at Rap at age 16. The last fifty years, he coached baseball youth-teams, his greatest love. After coaching his last game, Loevendie said: ,,I would have loved to continue, but my back is hurting too much. It's time to stop with coaching. But I will remain active for the club. I have many things that I will look after, youth committee, equipment, the museum and much more. And I will continue overseeing the Wednesday-afternoon practices. I will then sit simply on a chair and throw balls to the batters. I love coaching youth-players and instruct them to get better. I'll have plenty to do''.

Indeed, Loevendie continued overseeing the famous Wednesday-afternoon practice sessions until some years ago. Due to health problems, he then was unable to continue. Despite these health problems, he of course came to the site of Amsterdam Pirates as much as possible, as he didn't want to miss something. He always was in attendance when the big league-team of the club played at home.

Besides coaching youth-teams at Rap/Amsterdam Pirates, Loevendie also handled the administrative paperwork regarding games for the club's youth-teams. He started doing so in the late sixties through the early seventies. Some years later, through the early nineties, he did the same work, but then for the senior-teams, as Kees van Vegten then took over this paperwork for the youth. Several times in this period, Loevendie stopped doing the paperwork, but then returned again some years later.

Loevendie also was involved in the caretaking of the playing fields and was the groundskeeper for many years. In the seventies through nineties, he also was the intermediator for opposing clubs whether or not the field was playable incase of rain. In the early years, he shared that position with Doon van der Steeg.

Loek Loevendie also briefly was a member of the Board of Amsterdam Pirates and served as the club's Chairman for some two years in the early seventies. However, he stated that he didn't really like to be a member of the Board. He always said: ,,I'm not a board-member, I'm someone who wants to do things, want to be on the field, want to coach young players''. However, he was a member of the club's youth committee for many years, something he did until some years ago. That fitted him most, as he then was involved in what he loved the most, teaching youth and sharing his ideas. After he had stepped down as Chairman, but also for his many contributions in the previous years, Loevendie was made Honorary Member of the club.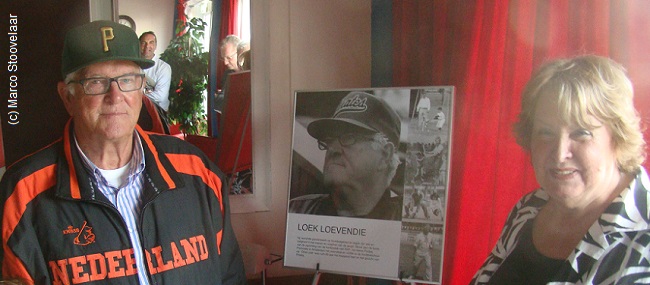 ...Loek Loevendie with his wife Rie after unveiling of his Hall of Fame-plaquette...
...on October 4, 2014 at the clubhouse of Amsterdam Pirates...
(© Photo: Marco Stoovelaar)

In 1970-1974, Loevendie also was the secretary of the Youth Committee of the then-Rayon Amsterdam. Other members of this committee included Bertus Caldenhove, Dolf Davidson, Miel van Heuven, Wim Joost, Joke Lammen, Benno Niemeijer, Dick Pels, Wim van der Poel, Roel Post, Coen Stoovelaar and Victor van Swede. Loevendie served as a deputy-representative for teams playing in the two highest leagues (1974-1975) and Amsterdam-based teams (1983-1989) during the Council-meetings of the Dutch Association.

Through the years, Loek Loevendie was honored several times.

During the anual council meeting of the Royal Netherlands Baseball and Softball Association (KNBSB) on February 28, 1976, the Slugger was handed out to Loevendie. The Slugger is the highest recognition of the Dutch Associaton for persons/organizations who have made a significant contribution to the promotion of baseball and softball in the Netherlands in the previous year(s). Loevendie got the Slugger for his many years of activities in youth baseball and especially his interest for learning the sport to the very youngest of players. For this young group (starting at age 4 or 5), Loevendie compiled the initial game-rules for a game-form before they actually went on to play regular baseball. Loevendie's ideas were then worked out by a bigger group of people, which led to the creaton of peanutball (T-ball).

In 1983, Loevendie was named Member of Merrit of the then-Rayon Amsterdam for his many activities in youth-baseball.

A few years later, Loevendie received a special ring from Amsterdam-based newspaper Het Parool. In those years, this ring was regularly handed out to persons who were very involved in all kinds of activitities, such as sports.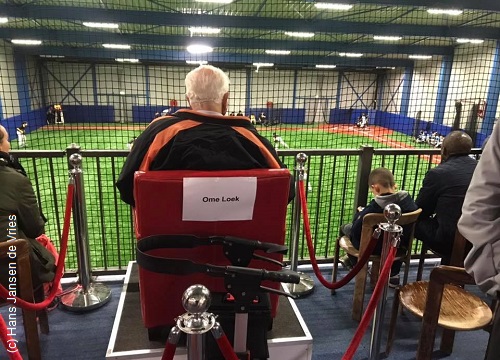 ...Loek Loevendie overlooks the playing field on...
...his personal throne during the annual Ucle Loek...
...Indoor Christmas Tournament in December 2018...
(© Photo: Hans Jansen de Vries)

For his many years of activities in all kinds of capacities within the club of Rap/Amsterdam Pirates, including coaching youth-teams, promoting the sports of baseball and softball, and much more, Loek Loevendie received a Royal Decoration on April 29, 2004. He was then made a Member in the Order of Oranje-Nassau.

On October 4, 2014, Loek Loevendie became the newest member of the Hall of Fame of the Netherlands Baseball and Softball Museum. On this day, he was officially inducted during a pre-game ceremony before Game 4 of the Holland Series between L&D Amsterdam Pirates and DOOR Neptunus at Sportpark 'Ookmeer', the home-site of Pirates. Loevendie's plaquette was unveiled during a meeting in the clubhouse, then he was honored before the start of the game. He became the 49th Hall of Fame-member and was the first since 2009 to be elected.

In December 2014, Amsterdam Pirates organized its first international indoor youth-baseball tournament in its indoor facility. In recognition of his longtime contributions to youth development within the club, the tournament was named after Loek Loevendie. The Big Uncle Loek International Indoor Christmas Baseball Tournament became an instant success and attracted many spectators. In 2018, tournament-organizers Pepijn Beerman and Byron Ward (both former youth-players of Loevendie) hosted the fifth edition. In December last year, due to the coroana-measures, the seventh edition was cancelled. Of course, Loek Loevendie was there in person to witness the young teams (Little League-age), sitting on a specially created throne. Due to health problems, he attended only one day on 2018 and 2019.

On June 2, 2016, at the Stadsschouwburg in Amsterdam, Loek Loevendie received the annual Penning of the Sportraad Amsterdam. This decoration is handed out to a person or organisation/club who has had a major contribution to sports in Amsterdam via courage, vision, ambition or efforts. The jury stated that it 'praised the decades long activities of Loevendie at Amsterdam Pirates and his many contributions to the development of both sports in the city of Amsterdam'. In his acceptance speech then, Loevendie said: ,,I have had a wonderful time with Pirates as a coach and I'm still having a lot of fun giving BeeBall-practices to the youngest players every Wednesday. It is very difficult to step out of the sport''.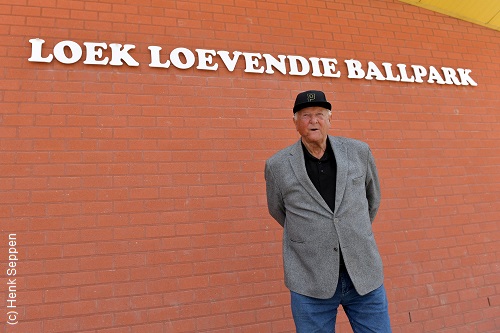 ...Loek Loevendie in front of the new name of...
...the Pirates-complex on May 18, 2019......
(© Photo: Henk Seppen)

In February 2019, Amsterdam Pirates celebrated that the club was founded 60 years ago. On Saturday, May 18, 2019, it was a very special afternoon at Sportpark 'Ookmeer' where both the main baseball- and softball-team of the club played at home against respectively Hoofddorp Pioniers and UVV. In a pre-game ceremony, the club officially celebrated its 60th anniversary. During this ceremony, the new name of the baseball- and softball-complex of Amsterdam Pirates was unveiled: Loek Loevendie Ballpark. Hereafter, a memorable first pitch-ceremony followed, which included Ronald Stoovelaar and Judith van Erk, who were the first players to represent Amsterdam Pirates in the Netherlands Baseball Team and Netherlands Softball Team. Stoovelaar had been one of the many youth-players who played for Loevendie in a Little League-team. Ronald Stoovelaar caught a baseball thrown by then-former Pirates Head Coach Charles Urbanus, while Judith van Erk threw a softball to former teammate Evelien Bode, who was the second youth-player of Pirates to reach the Netherlands Team.

The 2019 season ended with a huge success, as the baseball-team of L&D Amsterdam Pirates wrote history in the Holland Series against Curaçao Neptunus. The team lost the first three games, but then staged a spectacular comeback and became the first team in history with a 3-0 deficit to win the next four games to capture the Championship-title. Uncle Loek was able to participate in the celebrations himself. Also in 2019, the women's softball-team promoted to return to the highest league in 2020.

From the beginning in 1959, Loevendie was on the field almost daily. He simply loved to be at the site of his club and be with others, talking with his many baseball- and softball-friends.

Loevendie couldn't sit still, he always was doing something. Whether it was coaching, instructing, collecting old paper, working in the club-house, preparing the fields, shaping his museum or watching to games. In later years, he just loved attending games, sitting on his personal chair and looked around full of pride. To how 'his' Pirates had grown into a leading club in the Netherlands. And thinking of all the successes through the years of all those youth-teams and youth-players he had coached.

Loek Loevendie was and forever will be not only a club-icon, but also 'Mr. Pirates'. We will miss him deeply.

Goodbye Uncle Loek, rest in peace.

The webmaster of Grand Slam * Stats & News offers his condolences to Loek's wife Riet, his sons Loek junior and Marco and other family and wishes them a lot of strength with this huge loss.

(February 6)

A condolence-register has been opened for Loek Loevendie.