(Story by Marco Stoovelaar; Photo by Henk Seppen)



Jonathan Schoop returns to Detroit Tigers
Nederlands



DETROIT, Michigan (USA) - Jonathan Schoop will wear the uniform of Detroit Tigers again this year. On Saturday (February 6), the club confirmed that the Curaçao-born Schoop, who was a Free Agent, has signed an one-year contract the day before. No financial terms were announced. Schoop's brother Sharlon Schoop plays in the Dutch big league for reigning champion L&D Amsterdam Pirates since 2019.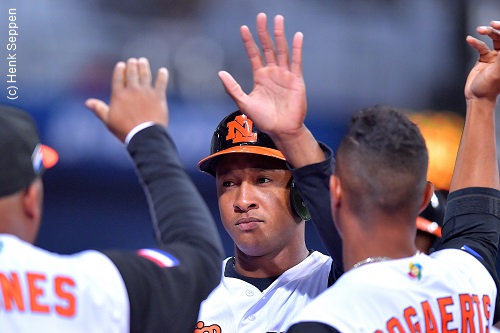 ...Jonathan Schoop is greeted after hitting a homerun for the...
...Netherlands during the 2017 World Baseball Classic...
(© Photo: Henk Seppen)

Schoop is the third Curaçao-born player, as well as Netherlands National Team-member, who has a new agreement for the 2021 season confirmed. On January 27, it was confirmed that Jurickson Profar had re-signed with San Diego Padres. On January 31, it also was confirmed that Andrelton Simmons had come to an agreement with Minnesota Twins. It was then also reported that Didi Gregorius and Philadelphia Phillies had an agreement for two years, but that is not yet confirmed.

In the shortened season last year, Schoop played in 44 of the 60 games Detroit played. He missed the final games of the season due to a wrist injury. Despite that, the 29-year old Schoop had one of his best season in hitting, finishing with a .278 batting average, eight homeruns and 23 runs batted in. Schoop also was a finalist for the Gold Glove Award for second base in the American League. He led the Major League with a .994 fielding average.
In a statement, Detroit Tigers General Manager Al Avila said: ,,Jonathan made a tremendous impression on us last year and we're looking forward to having him back with the ballclub for the 2021 season. Not only were we impressed by the on-field results, but also his leadership and relentless desire to be in the lineup day-in and day-out''.
Jonathan Schoop made his Major League-debut in 2013 playing in five games for Baltimore Orioles. In those games, he batted .286 (4-for-14) with a homerun and scored five runs.
He became a regular in the next season and then played in 137 games for Baltimore, hitting .209. Schoop appeared in 86 games during the 2015 season.
In 2016, Schoop played in ALL 162 regular season-games for Baltimore, then played in 160 in the 2017 season. Besides his defensive qualities, Schoop also showed his offensive power. He then batted .267 and .293 respectively. In those two seasons combined, the second baseman scored 174 runs, batted in 187 and collected 346 basehits, including 57 homeruns. After completion of the 2017 season, Schoop was named Most Valuable Player of the Orioles. In the same season, he played in the All Star Game.
In July 2018, just before the trading deadline, Baltimore traded Schoop to Milwaukee Brewers for three players. After having played in 46 games for Milwaukee in the remainder of the season, Schoop became a Free Agent and signed an one-year contract with Minnesota Twins in December 2018.
Schoop then played in 121 games for Minnesota in 2019, hitting .256 with 23 homeruns and 58 RBI's, but again opted for Free Agency after the season. This time, in December 2019, he signed with Detroit Tigers.
In eight Major League-seasons, Schoop played in 846 games and collected 796 basehits, including 141 homeruns. He scored 409 runs and batted in 415.
In 2011, Jonathan Schoop was a member of the Netherlands Baseball Team that captured the title at the World Championship in Panama. He then also played for the Orange-squad in 2013 and 2017 when it reached the Semi-Final of the World Baseball Classic.
(February 6)