(Story by Marco Stoovelaar; Photos by Henk Seppen & Marco Stoovelaar; Non-credited photos courtesy of the Urbanus-family)
IN MEMORIAM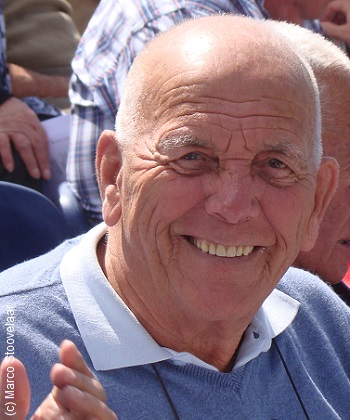 ...Han Urbanus...
(1927 - 2021)...
(© Photo: Marco Stoovelaar)

Dutch baseball-icon, pitching-legend and Hall of Famer Han Urbanus passed away
Nederlands

HAARLEM (Neth.) - Han Urbanus, who played in the Dutch big league in four decades, threw eleven No-Hitters and played in the National Team for 17 years, passed away on Friday (February 5) at age 93. With the Netherlands Baseball Team, Han Urbanus celebrated seven consecutive European titles. Urbanus also took part in Major League Spring Training with New York Giants, was a member of the Netherlands Hall of Fame and was a living legend and an icon in Dutch baseball.

Johannes Hendrikus Urbanus was born on June 22, 1927 in Rotterdam. Han Urbanus was the younger brother of Charles Urbanus, who also was born in Rotterdam in 1914. When Han was around seven years old, the Urbanus-family moved to Amsterdam in the early thirties. It was there that the two Urbanus-brothers got closely involved with OVVO, where they initially started playing soccer. When OVVO created a baseball-section on January 1, 1935, Charles also went on to play baseball. At age eleven, Han accompanied his older brother to a baseball practice. He then fitted a glove, started throwing a ball and the rest is history.

Charles Urbanus became a regular player of the main-squad of OVVO and played for the team through the early sixties. By then, he had turned more to coaching and in the final years of his playing career, he led the Amsterdam-based team as a playing coach.

Han Urbanus became a pitcher early on. The righthander made his debut in the team of OVVO in 1946 when the team promoted to the highest division. A year later (1947), OVVO played in the First Division (which then was the highest league) for the first time. That was the beginning of a very successful period for both the club, as well as the Urbanus-brothers.

In 1949, OVVO captured its first Championship-title. Hereafter, the team also won the title in the next four years. With that, OVVO became the first club in Dutch baseball-history to win the title in five consecutive years (1949-1953). Two years later (1955), the club captured its sixth title.

Other players for OVVO in those early years, besides the Urbanus-brothers, included Gerrie Altink, Hans Boersma, Hennie de Lugt, Frits Meijer, Arie Pieneman, Co Roozendaal, Nico Tuinder, Theo van der Walle and Simon Weij.

In later years, other teammates of Urbanus at OVVO included Jan Bruning, Flip le Cuivre, Aart Kruijs, Hennie Regeling, Max Rietbergen and Martin Rosenkrantz.

Amongst the players joining Urbanus as teammate in the sixties were Jan Adriaansz, Hennie van de Bovenkamp, Loek van Breda, Karel Crouwel, Wim Crouwel, José Faneyte, Hans Onverwagt, Dassie Rasmijn, Jan Schreuders and Martin Stroker.

From the beginning, Han Urbanus was one of those pitchers, who went the distance, whatever the score of the game. After he had gained enough experience in his first two seasons in the highest league (1947-1948), Han Urbanus started to dominate the league from 1949 on. He not only threw complete games weekly, but also regularly struckout ten or more batters each game.

In the first big league-season of OVVO (1947), the team didn't start that well, as it lost its first six games. But on June 22, OVVO won 11-5 against EDO from Haarlem. Han Urbanus threw a complete game, gave up only three basehits, struckout thirteen batters and earned his first victory.

In the 1949 season, he led OVVO to its first championship, being the winning pitcher in ten of the 14 games the team played. Two games ended in a tie. Unfortunately, there are no official statistics from those seasons, but in the 1949 season, Urbanus struckout at least 191 batters. In his career as pitcher, it is estimated that he struckout more than 1.900 batters. With that total, he was the all-time leader for a long time. In the season, Urbanus struckout 20 batters in one game twice, both times against Blauw-Wit, which then was one of the leading teams in the league. Remarkable enough, Urbanus got to these accomplishment while being in military service in that year. He was stationed in the southern city of Vught. In the evening, he conducted practice sessions for southern baseball-clubs PSV, Longa and Pacifico. And in the weekend, he traveled to Amsterdam to be with OVVO.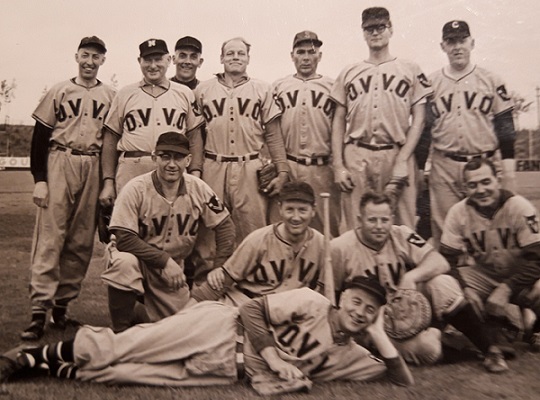 ...The successful Championship-team of OVVO in the 50s...
...Han Urbanus is standing third from left...
...Charles Urbanus is standing third from right...
...Sitting at left is Hans Boersma, who became a longtime...
...umpire and member of the Umpiring Committee...

Urbanus underscored his pitching strenghth in the 1949 season by throwing the first of his eleven No-Hitters, a record nine of them for OVVO in the Dutch big league. In those years, the Netherlands National Team played annual games against Belgium, mostly one at home and one away. On June 19, 1949, Urbanus made his debut in the Netherlands Team and was the winning pitcher in a 6-4 victory in a game played in Antwerp (Belgium). In this game, Urbanus formed a battery with Frits Meijer, who also was his catcher at OVVO. Less than two months later, Urbanus was back on the mound for the Orange Team when it played against Belgium in Rotterdam on August 7. At the site of Sparta, the Netherlands shutout Belgium 14-0. Urbanus went the distance, struckout ten batters and threw a No-Hitter.

Han's brother Charles was the third baseman in the first game and the short stop in the second. Other players in the Netherlands Team during these two games were Teun Gaartman, Joop Geurts, Trinus Holewijn, Gé Hoogenbos, Frits Meijer, Joop Nusse, Joop Odenthal, Wim Prins, Jan Smidt and Cor Wilders. Jan Smidt, who also was a strong pitcher, played in the infield in these two games.

Two years later, on June 24, 1951, Urbanus threw another No-Hitter pitching for the Netherlands against Belgium in Amsterdam in the first of two games played that year. That game, played at the main soccer-stadium of Ajax, was won with a 6-0 score. Geurts, Holewijn and Hoogenbos also returned as players in the National Team, which now also included Piet Duinker, Martin Jole, Henk Keulemans and Hennie de Lugt.

As mentioned, Han Urbanus dominated as pitcher in the highest league from 1949 on, as did his team OVVO. In the fifties, there were many attractive games played when OVVO played against other strong teams as HHC, Schoten, Blauw-Wit, VVGA, EHS and Sparta (which made its big league-debut in 1955). When those teams met, spectators were guaranteed of an attractive game with solid hitting and above all strong pitching. In those years, there were several pitching duels between Han Urbanus and Jan Smidt (HHC), Nico Brands (VVGA), Joop Schuitemaker (EHS) and Jaap de Koning. In 1959, a player made his debut in the team of VVGA and also went on to become a pitching legend: Herman Beidschat, who went on to play for EHS a year later.

Through the years, it has always been said that the pitching rivaly between Han Urbanus and Jan Smidt was the longest and the most attractive, as they were up to each other. Some years ago, Smidt stated that these were always great games to play. ,,I loved to play in those games, but Hannie simply was the better pitcher. He was the better player in everything'', Smidt said in an interview some years ago with the author of this story.

On July 7, 1951, two weeks after his second No-Hitter as pitcher of the National Team, Han Urbanus threw his first No-Hitter in the Dutch big league for OVVO. On that day, OVVO played an away-game at VVGA in what became a pitching-duel, as both Urbanus and VVGA-pitcher Johnny Hoitzing gave up no runs. OVVO won 1-0 with the lone run being scored in the ninth inning on a bad-hop single by Han's brother Charles Urbanus.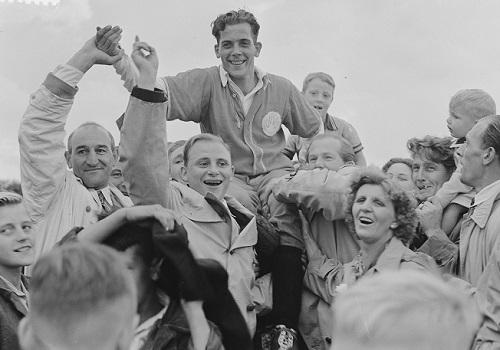 ...Han Urbanus is carried around after winning...
...a Championship-title with OVVO in the fifties...

Two years later, Han Urbanus threw his second big league No-Hitter. On August 16, 1953, OVVO again played at VVGA and this time won 3-0. With the win, OVVO captured the title in the A-Pool. As the highest league had two pools that season, OVVO faced the winner of Pool B after the season in a game that was watched by thousands of spectators at the neutral site of Zeeburgia in Amsterdam. That was HHC, which resulted in another match-up between Urbanus and Smidt, who both gave up only one basehit! OVVO won 2-0 (due to some errors) and captured its fifth consecutive National Championship-title.

From 1954 on, Han Urbanus would throw seven more No-Hitters to become all-time recordholder with nine! A record which will never be broken! Urbanus threw two No-Hitters in one season twice (1954, 1956). Jan Smidt threw four No-Hitters in his career.

Urbanus threw his ninth and final No-Hitter on August 13, 1961. At that time in his career, the 34-year old Urbanus more or less had exchanged the pitching plate for a spot in the infield, playing at second base mostly. However, in the 1961 season, he made a comeback on the mound and showed he still was one of the best (if not the best) pitchers. On the mentioned date, Urbanus shutout Schoten 2-0 and almost became the first pitcher in history to throw a Perfect Game. However, one batter of Schoten was able to reach base. That was Gerrit Nanne, who walked in the sixth inning.

Besides being a great pitcher, Han Urbanus also handled the bat very well. He was a solid hitter with power and regularly also hit a homerun. With that, he was a very all-round player, who was of great value not only for his club OVVO, but also for the Netherlands Team.

Han Urbanus was named Best Pitcher five times in his long and impressive career. He won the award in three consecutive years, 1953, 1954, 1955, then again in 1957 and 1958. In between (1956), Jan Smidt was the Best Pitcher. Urbanus led the league in strikeouts in 1955 with 213, which was the highest total after World War II and the most since Roel de Mon had set a record with 225 in 1940. It took until 1980 for the total of 213 strikeouts being equaled. In that season, American lefthander Craig McGinnis also struckout 213.

Urbanus was the league's Most Valuable Player three times. In 1954 and 1955, he was named Best All-Rounder (the predecessor of the MVP-award), then was the Most Valuable Player in 1961 in his comeback-season as dominating pitcher. In 1959, Urbanus was the Best Hitter with a .348 batting average.

Han Urbanus played in four decades in the highest league (1947-1970). His 24 big league-seasons (for one club) were a record for a long time.

After making his debut in the Netherlands National Team in 1949, Han Urbanus was part of the team through 1965. In the early years of his Orange-period, the National Team only faced Belgium in annual games. The team also played some games against American teams from military bases that were located in then West-Germany.
...At left, a unique playing with a portrait of Han Urbanus...
...At right, a caricature made by wellknown illustrator...
...Dik Bruijnesteijn, which was used in newspapers...
In 1956, the Netherlands Team participated in the European Championship for the first time. Led by playing/coach Henk Keulemans, the team captured the title at the event which was played in Rome (Italy). This was the first of seven consecutive European titles through 1965. During these seven Championships, the Netherlands Team remained unbeaten! Han Urbanus was an important player in all these tournaments, first as a pitcher, in the sixties, as infielder and powerhitter. Two of these titles were captured in front of a home-audience, as the 1958 and 1962 European Championship were organized in Amsterdam. At the site of OVVO, the club of the Urbanus-brothers, a temporary stadium was built and the Netherlands won the title.

It also was in these years that the European rivalry between the Netherlands and Italy started shaping form. The Netherlands won against Italy each time in these seven Championships. However, the head-to-head games always were interesting, whatever the score, as it also would mean a meeting between Han Urbanus and Italian pitching legend Giulio Glorioso.

In 1956 and 1957, the winner of the European Championship also qualified for participation in the Global World Series later in the year. And so, the Netherlands Team traveled to the USA in 1956 (Milwaukee) and 1957 (Detroit) to play against the National Teams of Puerto Rico, Colombia, Venezuela and Canada. This were the first international opponents coming from outside of Europe and it became clear that these teams were much stronger. The Netherlands lost all four games played in the two events, but it gave the players an enormous experience to not only play against these teams, but also play in a big tournament. Beforehand, it was agreed that the players that were part of the team that captured the European title in 1956 and 1957 also would travel to the USA.

Nico Brands, Joop Geurts, Martin Jole, Henk Keulemans, Herre Kok, Henk Lukkien, Jan Smidt, Han Urbanus and Dolf de Zwart participated in both Global World Series. Also playing for the Netherlands in 1956 were Gé Hoogenbos, Ruut Jongeling, Frans Klooster, Ruud Kok, Frits Meijer, Harry Nijhuis and Charles Urbanus. In 1957, the team was completed with Joop Bakker, Nol Houtkamp, Leo Kops, Henny van Lieshout, Piet de Nieuwe and Henny Regeling.

In 1961, the Netherlands Team made another trip to the USA. This time, a series of games was played against the semi-professional team of the Sullivans in Grand Rapids, Michigan. Han Urbanus also was part of the team, but then as an infielder. The pitchers then were Herman Beidschat, Nico Brands, Bobo Echobardo, Jan Smidt and Ruud Zijlstra. The team was led by Ron Fraser, who in 1960 had become the first American coach to be named Head Coach of the Netherlands Team. Han's brother Charles was the Assistant Coach.

A month after returning from the USA, the Netherlands participated in an international tournament in Haarlem, which was to be the first edition of the wellknown Haarlem Baseball Week. Besides the mentioned pitchers, other players then included Simon Arrindell, Joop Geurts, Teun de Groot, Simon Heemskerk, Rickey Kersout, Henk Keulemans, Leo Kops, Ruben Leyssner, Hennie Regeling, Jan Scheuders and Ben Tromp.

Han Urbanus also participated in the second edition of the Haarlem Baseball Week in 1963, which then was the first to be staged at the new Pim Mulier Stadium, which was completed only weeks before.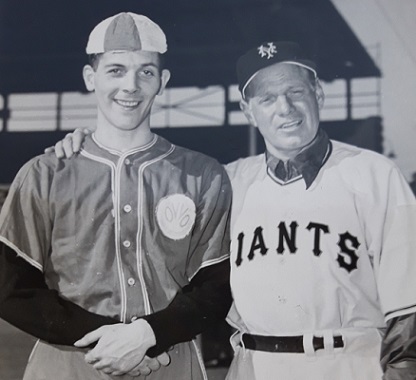 ...Han Urbanus with New York Giants Manager...
...Leo Durocher during Major League...
...Spring Training in 1952 in Phoenix (USA)...

In 1964 and 1965, Urbanus again participated in an European Championship, winning his sixth and seventh title with the Netherlands Team, which was managed by Americans Archie Allen and Glenn Gostick, respectively. In these years, Urbanus mostly played as an infielder. He also underscored that he still was a productive hitter at the international level. In the 1964 Championship, Urbanus hit the lone homerun in the event in Milan (Italy). And in 1965, in Madrid (Spain), the then 38-year old Urbanus went 4-for-4 in a 16-0 shutout-win against Italy with Giulio Glorioso as its pitcher. In that game, Hamilton Richardson, Hudson John and Simon Arrindell homered for the Netherlands.

Other teammates during the 1964 and 1965 European Championships included Herman Beidschat, Arnoud Blom, Wim Crouwel, Rudi Dom, Teun de Groot, Rob Hoffmann, Peter van 't Klooster, Leo Kops, Ruben Leyssner, Boudewijn Maat, Dobi Peters, Ton Terneuzen, Ben Tromp and Dolf de Zwart.

Han Urbanus retired from the Netherlands Team after the 1965 European Championship. At that time, he had played in a record 64 international games for the team. This was by far the most games played, as he was followed by Henk Keulemans (53 games) and Leo Kops (43).

In 1952, the young Han Urbanus got a very unique opportunity, which was one of the many highlights in his long career. The talented pitcher was invited to participate for four weeks in Spring Training with the Major League-team of the New York Giants in Phoenix, Arizona (USA). A year earlier, Urbanus was interviewed by Albert Balink, who was the publisher and editor-in-chief of 'The Knickerbocker', a Dutch/American magazine for Dutch immigrants in the USA. It was Balink who arranged the trip to promote and stimulate the attention for baseball in Europe. In doing so, Balink got a lot of support from New York Giants. Amongst the players of New York Giants in 1952 were Willie Mays, Bobby Thomson, Wes Westrum, Al Dark, Monte Irvin and pitchers Hoyt Wilhelm, Sal Maglie, Jim Hearn and Larry Jansen.

When Urbanus received the invitation early February, he worked as an assistant accountant at an office in Amsterdam. His employer immediately gave his some weeks off to travel to the USA. However, his departure almost came into jeopardy, as attracted angina a week earlier. Luckily, that disappeared after a few days and he was cleared to travel. In an interview back then in the Het Parool newspaper, Urbanus said: ,,I wonder whether I can compete with them. And when they asked me to stay as a professional, I will refuse''. He was described as 'a calm and jovial man of 24 years old'.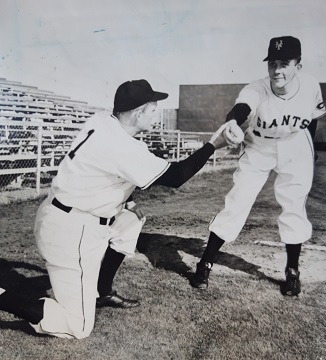 ...Han Urbanus gets instructions from...
...New York Giants Pitching Coach...
...Frank Shellenback...

The then 24-year old Urbanus was the first European player who got the opportunity to be part of a Major League Spring Training-camp. At Schiphol Airport, there were a lot of people waving goodbye to Urbanus and there were speeches by board-members of both the Dutch Association and his club OVVO to wish him luck. With a plane from KLM, Urbanus flew to New York and from there, he traveled by train to Phoenix, being joined by some 15 pitchers and catchers of the Giants. In Phoenix, he participated in daily practice sessions and was observed by Frank Shellenback, the Pitching Coach of New York Giants and a former Major League-pitcher himself. Urbanus also got instructions from famous Giants-Manager Leo Durocher and from pitcher Larry Jansen.

When Urbanus returned a month later on March 15, he was welcomed at the airport by Dick Beets, the President of the Royal Netherlands Baseball Association (KNHB), which celebrated its 40th anniversary a few days later. Urbanus brought an instuction film with him and in the weeks and months following his return, he traveled througout the country to give lectures and clinics about pitching, what he had learned and how it is to be in a professional training-camp. All these lectures were either organized by a club in its canteen or in a rented room and all were packed with many enthousiastic listeners. In an article in the Algemeen Dagblad, Urbanus said: ,,To my great surprise, I found and that pitchers in America are pitching completely different. Besides that, they only focus to pitching and not to be a good hitter themselves''. Urbanus wrote several articles about pitching and 'the proper way to throw a baseball' in HonkbalNieuws.

A year later, Han Urbanus returned to the USA, but this time for a completely different reason. A heavy storm in the night of Saturday, January 31 and Sunday, February 1, 1953, caused a major flood, which became known as the North Sea Flood and struck the Netherlands, northwest Belgium, England and Scotland. A combination of high spring tide and a severe windstorm caused a storm tide. The Dutch province of Zeeland, the southern part of Zuid-Holland and the northwestern part of North Brabant were hit very hard as many dykes were unable to stop the water and the mainland flooded. In the Netherlands, it was estimated that 1,835 people were killed, more than 70,000 were evacuated and many buildings and homes were damaged. Also, some 30,000 animals drowned.

Somewhat over a months later, again invited by Albert Balink, Urbanus traveled to the USA by boat to take part in a special train-trip. Fred Hotchkiss came up with the idea to travel around the State of New York to raise funds for the victims of the North Sea Flood in the 'Plug-the-dike-train'. Hotchkiss was a train-conductor in New York, who learned from the flood by radio and then saw photos the next day in newspapers. He and his wife then thought up the idea of traveling around with the train. His employer made a train available and some hundred volunteers offered to participate. Before its departure in New York, the train was baptized by wellknown actress Jane Wyatt, who was of Dutch descent on her mother's side. Her mother was Euphemia Van Rensselaer Waddington. The Van Rensselaer-family was one of the earliest Dutch families to settle in the new Colony, as early as 1638, in what is now New York City. Jane Wyatt later went on to play a starring role in the sitcom Father Knows Best (201 episodes, 1954-1960) and won three Emmy Awards.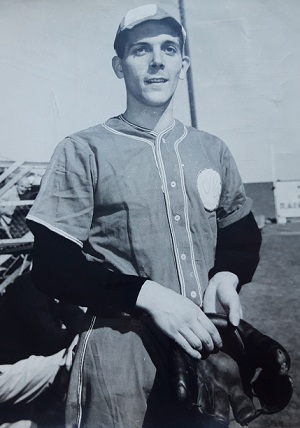 ...Han Urbanus played for OVVO...
...in the big league in four...
...decades (1947-1970)...

In the fifties and sixties, Han Urbanus also served as a member of several committees of the Dutch Association. From 1953 on, Urbanus was a member of the committee that made the selections for the National Team for some years. Other members then were Dick Beets, Dick Baas, Henk Keulemans and Jo Buizert. He returned to this Committee halfway the sixties. Other members then included Cees Boer Sr., Piet van Deenen, Arie van Driel Krol, Toon Fabrie, Jan Kars, Co Molenaar, Joop Nusse and Dick Vonk. In 1970, his last year in this Committee, members also included Henk Hendriks and Aart Kruijs.

In the sixties, as part of this Committee, Urbanus mostly worked together John Heyt, who became a close friend. Heyt also was from Amsterdam, lived near the OVVO-site, but was the longtime Head Coach of Rotterdam-based Sparta, for whom he also had played. In 1963, led by Heyt, Sparta became the first team not from Amsterdam or Haarlem to capture the Dutch Championship-title. Heyt also guided the team to the title in 1964, 1966 and 1967. But tragedy struck on New Years Day 1968. On the evening on January 1, the 42-year old John Heyt, his wife Wil and their 15-year old daughter Marijke left a restaurant in Schiedam. With their car, they drove through dense fog on a poorly lit road on a dark evening. After missing a turn, the car ended up in the water and although help was quickly on the spot, the three didn't survive the accident and drowned.

In 1959-1968, Han Urbanus was a member of the Game Rules Committee together with Dick Baas, Henk de Ruiter, Piet van Deenen and Hans Schotel. Because of his work, Urbanus knew how to handle finances and so, he was a member of the Financial Committee in 1960-1968. Other members included George Andriesse, Wim Baas, John Oosterbroek, Jan Sibille and Dick Vonk. In 1966-1970, Urbanus was a member of the Development Committee. Other members included Piet van Deenen, Jan Kars, Henk Kempen, Henk Knol, Charles Urbanus, Theo Vleeshhouwer and Dick Vonk. Han Urbanus was a member of the Disciplinary Committee in the then-Rayon Amsterdam in 1979-1981.

From the early seventies, after his playing career, Han Urbanus remained active for his club OVVO, together with former teammate/coach Aart Kruijs. After the 1976 season, the main baseball-team of the club separated and continued as Amstel Tijgers. With the new club, both Urbanus and Kruijs served as board-members and led the club for many years. However, after the 1988 season, Amstel Tijgers was unable to continue and merged with Bussum-based HCAW. It was because of this merger that the annual In Memoriam Charles Urbanus Sr. Tournament (which is held since 1981) transfered from Amstel Tijgers to HCAW.

Han Urbanus was decorated several times. In 1952, he received the Slugger for his promotion of the sport of baseball after returning from his trip to the New York Giants and his many lectures throughout the country. The Slugger is the highest recognition of the Dutch Association for persons/organizations who made significant contributions in the promotion of the sports of baseball and softbal in the previous year(s).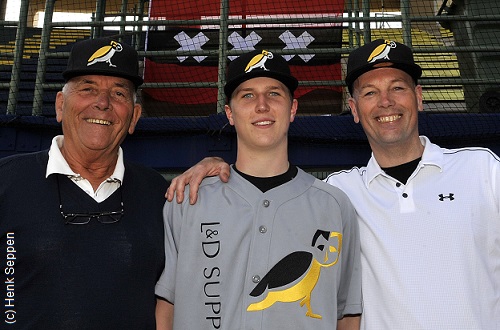 ...Three generations: Han, Nick and Charles...
(© Photo: Henk Seppen)

In 1959, Urbanus got a decoration from the Dutch Association, then was named Member of Merrit in 1963. In 1968, he was named Honorary Member of the Rayon Amsterdam.

On May 3, 1984, Han Urbanus belonged to the second group of 13 persons that was inducted into the Hall of Fame of the Netherlands Baseball and Softball Museum and Hall of Fame. Also inducted then was his brother Charles and Han's longtime friend John Heyt.

Han Urbanus was the pater familias of the wellknown Urbanus-family, which is one of only a few that had three generations playing baseball in the highest Dutch league. Other 3-generation families are Geestman, Artsen and Crouwel, but the Urbanus-family also had three generations in the National Team.

Han's son Charles Urbanus (Jr.) (named after his uncle) followed in his footsteps. Younger son Johan Urbanus also briefly played in the highest league. Daughter Marianne Urbanus played softball, but later became closely involved with baseball- and softball-club Badhoevedorp, where she was a longtime chairman. The club annually organizes a tournament in her remembrance. The Urbanus-dynasty continued with Nick Urbanus, the son of Charles. And just like Han, both Charles and Nick also went on to be part of a Netherlands Team that captured an European Championship-title, making this family even more unique.

Like Han, Charles Urbanus, Jr. also started his baseball-career with OVVO. Like his father, he initially also was a successful righthanded pitcher and later turned into a solid second baseman with good power as a batter. When the baseball-team separated from OVVO, most players, including Charles Jr., transfered to new club Amstel Tijgers.

Overall, Charles played in the Dutch big league in 15 seasons (1971-1976, 1978-1986). He went on to play for the Netherlands National Team for fourteen years and like his father, he was record-holder for most international games played for some years with 131.

After his playing career, Charles became a coach and shared his knowledge in both baseball and softball. In the big league, Charles was the Head Coach of Terrasvogels (softball), whom he led to the Dutch title in 1989. He then led the baseball-teams of Neptunus and Amsterdam Pirates and guided Neptunus to the Dutch title in 1991 and 1993 and Amsterdam Pirates in 2011.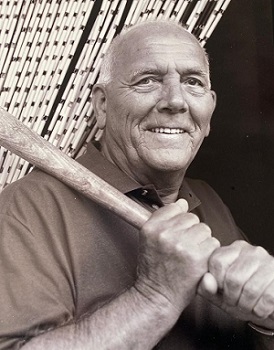 ...Baseball-legend Han Urbanus...

Han's grandson Nick Urbanus played in the Dutch big league for Amsterdam Pirates in 2009-2018. He became the third generation Urbanus in the Netherlands National Team in 2009. Nick also went on to play professionally in the Major League-organization of Texas Rangers.

In the past years, Han Urbanus, accompanied by his wife Riet (who passed away in October 2019), remained a frequent visitor of games of Amsterdam Pirates. To watch their son coach or their grandson play. Han also traveled with Pirates to an European Cup Tournament in Nettuno (Italy) in 2009.

Besides attending many games of the Amsterdam-team, Han Urbanus also always attended annual meetings of former National Team-players which are organized in Haarlem and Rotterdam during the Haarlem Baseball Week and the World Port Tournament. He also attended many meetings of Alumni-club De Kieviten, which regularly organizes get-togethers for persons who have a long and decorated career in Dutch baseball and softball. When attending a game or at a meeting, Han always had a characteristic smile on his face. He always had time for a talk or to greet people. And it always was a pleasure to meet him.

Han Urbanus was a true baseball-legend. Not only in the Netherlands, but also in Europe. He also was a pioneer in pitching and teaching pitching techniques. Through his career, Han Urbanus was driven and passionate to get best out of a baseball-game, not only from himself, but also from his teammates. The same passion was visible in his son and grandson.

Han Urbanus will be surely be missed by the Dutch baseball-family.

The webmaster of Grand Slam * Stats & News offers his condolences to Han's sons Charles and Johan, his grandson Nick and other family and wishes them a lot of strength with this enormous loss.

(February 7)

(All non-credited photos come from a private collection of the Urbanus-family and are published with permission)