(Story by Marco Stoovelaar; Photos by Leones de León)


Roger Bernadina and Jiandido Tromp open professional season in Nicaragua
Nederlands







LEÓN / CHINANDEGA / ESTELÍ / MANAGUA / RIVAS (Nicaragua) - Outfielders Roger Bernadina and Jiandido Tromp have started their season in the professional Nicaraguan baseball league. The season in the Liga de Béisbol Profesional Nacional (LBPN) opened on Thursday (November 4). With that, the 17th professional season in Nicaragua is now one week old.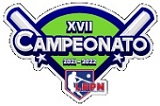 This year, Bernadina played in his first season for Curaçao Neptunus in the Dutch big league after having played for Quick Amersfoort last year. With Neptunus, Bernadina reached the Holland Series, but the team lost the best-of-seven 4-3 against (reigning champion) L&D Amsterdam Pirates. Recently, Neptunus announced that Tromp will play for the team in 2022.
Bernadina and Tromp both play for Leones de León, which currently is in second place with a 2-2 record. Tigres de Chinandega is the leader with three wins in four games. Less than a month before the start of the season it was unsure whether or not Leones would play this season, since it didn't had the necessary resources to guarantee the fulfillment of financial obligations. However, a few days before the start of the season, the club announced that it would participate after all. Leones de León has been one of the most successful clubs in the Nicaraguan league, capturing six titles, including back-to-back in the 2018-2019 and 2019-2020 seasons.
For Tromp, this will be his first season in Nicaragua. For Bernadina, it will be his fourth. Last season, the 37-year old outfielder also played for Leones de León. Bernadina earlier played two seasons for Fieras del San Fernando in 2005-2006 and 2006-2007. Besides playing in Nicaragua and the Netherlands, Bernadina also played in the USA, Mexico, South Korea, Taiwan and Venezuela. In the USA, he played in 548 Major League-games for Washington Nationals (2008-2013), Philadelphia Phillies (2013), Cincinnati Reds (2014) and Los Angeles Dodgers (2014). In South Korea, he played in the highest professional league (KBO) for Kia Tigers (2017-2018) and in Taiwan, he played in the highest league for Lamigo Monkeys (2019). He won the Korean Series in 2017.
...Roger Bernadina & Jiandido Tromp....
(© Photos: Leones de León)
Leones opened the season at home in Estadio Héroes y Mártires de Septiembre with a small 3-2 win against Tren del Norte. In that game, on Opening Day (November 4), Jiandido Tromp was the lead-off hitter and leftfielder for Leones and batted 0-for-4. Roger Bernadina was the centerfielder and also was 0-for-4.

Leones trailed 2-0 halfway the sixth inning, then came alongside. Ofilio Castro then led off with a walk, but was forced out on a grounder by Tromp. With two outs, the team got the bases loaded, then Tromp scored when Adrian Moreno was hit by a pitch. After a pitching change, Leones scored the tying run on a wild pitch. The home-team scored the winning run with one out in the bottom of the ninth on a walk-off single by Castro.

The next day, in an away-game against Tren del Norte in Estadio Rufo Marín in Estelí, it was Leones that suffered an one-run loss. Leones led 4-2 halfway the fourth inning, then the opponent came alongside. After both teams scored once in the fifth, Tren del Norte scored twice in the sixth and went on to win 7-6. In this game, Tromp was 3-for-4, including a homerun. Bernadina batted 2-for-4 with a triple. Trailing 2-1, Tromp hit a 3-run homerun in the top of the second inning, but that was not enough.

Last Wednesday, Leones won 4-1 against Gigantes de Rivas, scoring twice in both the second and eighth inning. Tromp homered again, while Bernadina was 0-for-4 in the away-game at Estadio Yamil Ríos in Rivas. With a 2-0 lead, Leones added two more runs in the eighth when Tromp hit his second homerun of the season.
On Thursday, Leones was shutout 3-0 in a home-game against Gigantes, which is the reigning champion. Leones was limited to only four basehits by three pitchers. This time, Bernadina and Tromp were both 0-for-4.
Besides Bernadina and Tromp, another familiar player is active (again) in the Nicaraguan league. Wuillians Vasquez, who played in the Dutch big league for HCAW in 2010, is back with Gigantes de Rivas as infielder and outfielder.
Initially, the new season was to open on October 29, but that was postponed to November 4 All five teams in the league will play 40 games. After the regular season, the four best teams will continue in a Round Robin. In this Championship Round, the teams will play twelve games each and the two best will qualify for the best-of-seven Final Series. When the Final needs all seven games, the last game is scheduled for January 30.
(November 12)