(Story by Marco Stoovelaar; Photos by Henk Seppen)

Neptunus and Head Coach Ronald Jaarsma separate
Nederlands



ROTTERDAM (Neth.) - Curaçao Neptunus and its Head Coach Ronald Jaarsma have separated, the club announced.on Thursday (October 21). Last Sunday, Neptunus lost the best-of-seven Holland Series against L&D Amsterdam Pirates. Neptunus lost the first two games, then won the next three, but Pirates came back to win Game 6 and 7 to prolong its Dutch Championship-title.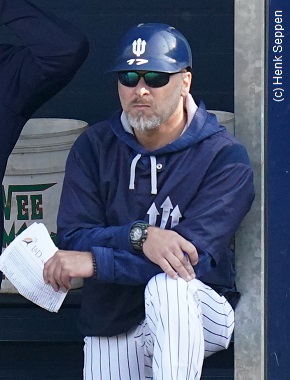 ...Ronald Jaarsma coaching...
...during the Holland Series...
(© Photo: Henk Seppen)

The day after winning the title with Amsterdam Pirates, Head Coach Michael Duursma stepped down, as he is unable to combine coaching in the highest division with his regular job as Coordinator at Baseball Academy Kennemerland Rabbits.

Ronald Jaarsma led Neptunus the past five seasons (2017-2021) after he was named the successor of Evert-Jan 't Hoen in October 2016. Jaarsma led the team to the Holland Series in each of his five seasons. In all these Championship Finals, Neptunus faced Amsterdam Pirates.

The Rotterdam-team captured the title in 2017 and 2018 and appeared to be en route to another title in 2019, as it then won the first three games. However, Pirates then became the first team in history to come back from a 3-0 deficit and win the next four games to capture the title. In last years Holland Series, Neptunus lost the first two games against Pirates, but the Final was then halted due to measures against the coronavirus (COVID-19).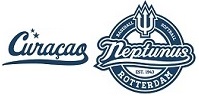 In a statement on its website, Neptunus announced the following:
,,After the lost Holland Series 2021, the board of Sportclub Neptunus has decided to say goodbye to head coach Ronald Jaarsma.
As of the 2017 season, Jaarsma was ultimately responsible for Curaçao Neptunus. Under his leadership, the Rotterdam baseball club became both Dutch and European club champions in 2017 and 2018. Since then, no more titles have been won. Jaarsma's departure coincides with a rejuvenation of the selection that the club must set up for renewed success in the coming years.''
The announcement continues: ,,We are very grateful to Ronald for his commitment and work for Curaçao Neptunus. He has always worked very well with his staff, players and others. has brought the club some nice prizes.
In the coming period, the board will look for a new head coach. This is done both within and outside the club. The new coach will have access to a strong selection that is given a fresh impulse by bringing in a number of promising talents.''
Before becoming the Head Coach of Neptunus, Ronald Jaarsma had been the 3B Coach of L&D Amsterdam Pirates for four seasons. In 2013, he first was the assistant of then-Head Coach Sidney de Jong. Jaarsma then stayed on as 3B Coach when Charles Urbanus succeeded De Jong in 2014.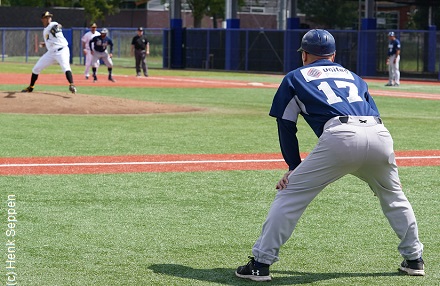 ...Jaarsma always was coaching at 3rd base himself...
(© Photo: Henk Seppen)

Before turning to coaching, Ronald Jaarsma played in the Dutch big league as an outfielder mostly for HCAW, but be also played for Neptunus. After having started his career in youth-teams at HCAW, he went to Neptunus after the 1992 season. There,he played for Tridents (the second team of Neptunus) in 1993-1994, but returned to HCAW, where he played in its second team in 1995. Hereafter, he went back to Rotterdam, again played for Tridents, but also made his debut in the big league-team. Jaarsma then played for Neptunus in 1997-1998 and was on the roster for the 1999 season, but left the team in the first month of the season and returned again to HCAW, where he finished the season. Jaarsma continued playing for HCAW and retired after the 2008 season.

Jaarsma then became the 3B Coach of the Bussum-squad, assisting Jurjan Koenen (in 2009) and Bill Froberg (in 2010). During the 2011 season, Jaarsma took over as interim Head Coach in the second half, replacing Froberg. In the remainder of the regular season, led by Jaarsma, HCAW was 7-14. Hereafter, the team was 6-3 in the Play-Downs to finish in sixth place overall. After not having coached in 2012, he became the 3B Coach of Sidney de Jong, who was named as the new Head Coach of Amsterdam Pirates for the 2013 season. During the 2013 season, Jaarsma filled in for two games at Pirates when Head Coach Charles Urbanus was stricken by the flu.

In 2017, Jaarsma then coached in his first full season as Head Coach in the highest league. While most Head Coaches do the coaching from the dug-out, Jaarsma went on to coach himself at third base, making him one of the few to do so in the highest league. While coaching, Jaarsma almost always characteristically wore dark sunglasses. In his first season, Jaarsma won the European Champions Cup with Neptunus and led the team to the Championship-title. After the season, Jaarsma won the Award for Coach of the Year.

In 2001 and 2002, Ronald Jaarsma played twelve international games for the Netherlands National Baseball Team. In those years, he participated with the Orange Team in one World Port Tournament (2001), one European Championship (2001) and one Haarlem Baseball Week (2002).

(October 21)