(Story by Marco Stoovelaar; Photo by Robert Bos)

Twins Oosterhout closes exhibition season with win vs. DSS/Kinheim
Nederlands



OOSTERHOUT (Neth.) - Twins Oosterhout won 4-2 against DSS/Kinheim on Sunday (April 25) after the first game between these two teams ended in a scoreless tie after nine innings on Saturday. For Twins, this was its first win.
Twins Oosterhout won today on only two basehits (both doubles), while DSS/Kinheim recorded seven basehits. Jarreau Martina accounted for both Twins-basehits.
With today's game, Twins Oosterhout and DSS/Kinheim closed their exhibition season. Coming Thursday, the regular season in the Dutch big league opens. Twins Oosterhout opens the new season with a 3-game series against HCAW, playing an away-game on Thursday and Sunday in Bussum and at home Saturday. DSS/Kinheim begins against Quick Amersfoort also with away-games on Thursday and Sunday. Saturday's game will be played at home in Haarlem.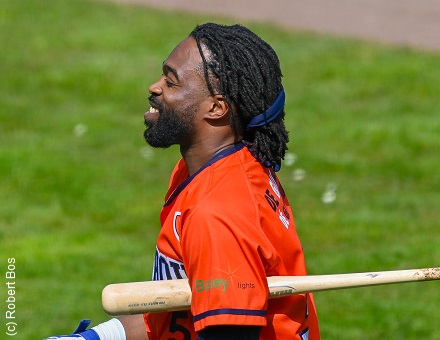 ...Jarreau Martina accounted for the only two...
...basehits (both doubles) for Twins Oosterhout...
(© Photo: Robert Bos)

All four runs scored by Twins Oosterhout in today's game were unearned, as some defensive errors contributed in the scoring. As mentioned, the team recorded only two hits and one of them accounted for the deciding runs. The nine pitchers combined walked 20 batters (both team had ten). On Saturday, there were 26 walks in the game between Silicon Storks and Quick Amersfoort.

Twins Oosterhout opened the score in the bottom of the first inning off of starter Jelle Bing. Lead-off hitter Rayshelon Carolina reached on an error, stole second base and advanced to third base on a following grounder by Tyriq Kemp. Carolina then scored on a grounder by Diamond Silberie.

The home-team doubled its lead in the second at bat. This time, Ruendrick Piternella led off with a walk and moved into scoring position on a passed ball. He then advanced to third base when Luuk Visser reached on an error and scored when next batter Tyson Quolas grounded into a double play. Quolas is one of the pitchers on the Twins-roster, but today, he played in rightfield. Hereafter, Joshua Zara walked, but Jelle Bing then closed with a strikeout.

In the bottom of the third inning, Jarreau Martina doubled with two outs. He was the twelfth batter in the batting order of Head Coach Jeffrey Arends. Martina stranded, as a pop-fly ended the at bat.

Without hitting a basehit, Twins got the bases loaded in the bottom of the fourth inning off of new pitcher Bas Timmer, but failed to add a run. The lefthander walked three batters, Diamond Silberie with one out and Ruendrick Piternella and Luuk Visser with two outs. They all stranded when Tyson Quolas grounded out.

DSS/Kinheim left two runners in scoring position in its first three innings off of starter Pastor Enrique Martínez Chavez. With one out in the first inning, Jochem Koedijk walked and moved to second base on a single with two outs by Donny Kuijper. A flyout ended the at bat. The Haarlem-team was retired in order in the second inning. With one out in the third, Bram Blokker singled, but he was forced out on a grounder by Koedijk. The latter then again got into scoring position, this time on a bunt-single by Jason Jakobus. Martínez closed with a strikeout.

In the top of the fourth inning, DSS/Kinheim got its first two batters on base off of new pitcher Stefan Iannelli. Milan Lammerts and Seb Visser (bunt) both singled, but they also were left behind.
But in the top of the fifth, DSS/Kinheim was more successful, scoring twice to come alongside off of Iannelli. With two outs and Jason Jakobus (fielder's choice) on first base, Donny Kuijper walked. Jakobus moved to third base on a wild pitch, then scored on a single by Milan Lammerts. The bases got loaded when Seb Visser walked. Moments later, Kuijper scored the tying run on a bunt-single (squeeze) by Aidan Finnegan. But three runners were left behind when a grounder ended the at bat.
Twins immediately answered with two runs in its fifth at bat off of new pitcher Ben Neijndorff. Lead-off hitter Joshua Zara reached on an error. After the next two batters had flied out, Railison Bentura walked. Both runners scored when Jarreau Martina hit his second double in the game to put Twins ahead, 4-2. This also was the last basehit Twins recorded today. Martina started the year on the roster of Curaçao Neptunus, but last month, he transfered to Twins for whom he already played earlier.
From the sixth inning on, the game remained scoreless.

DSS/Kinheim got two more scoring opportunities in the seventh and eighth inning, but both times, three runners were left behind.
With two outs in the seventh off of new pitcher Jeffrey Livingston, Milan Lammerts, Seb Visser and Matis Crouwel all walked, but a flyout closed the at bat.
In the eighth, DSS/Kinheim also got the bases loaded with two outs. This time, Jochem Koedijk and Wesley van Hemert walked, then Daan Kuit singled. With three runners on base, Raf Cocu took over the pitching and closed with a strikeout.
Twins Oosterhout also got into scoring position, but was unable to add more runs. In the bottom of the sixth, new pitcher Rick Timmermans walked Tyriq Kemp and Diamond Silberie. The latter was forced out on a grounder by Jason Halman. Kemp moved to third base, but he was eliminated in a double play when Ruendrick Piternella lined out to short stop Milan Lammerts.
In the bottom of the eighth, Twins got the bases loaded off of reliever Nick Boxelaar, who walked three batters. Luuk Bun led off with a walk and stole second base. With one out, Jarreau Martina and Rayshelon Carolina also walked to load the bases. The inning ended when Tyriq Kemp grounded into an 1-2-3 double play.

(April 25)