(Story by Marco Stoovelaar; Photo by Henk Seppen)



Minnesota Twins confirms agreement with Andrelton Simmons
Nederlands



MINNEAPOLIS, Minnesota (USA) - Short stop Andrelton Simmons has come to an one-year agreement with Minnesota Twins, the club announced on Sunday (January 31). The 31-year old Simmons was a Free Agent since October after having played in his fifth season with Los Angeles Angels. In the past days, it already was rumored that Simmons was to sign with Minnesota, but that was officially confirmed on Sunday. The Curaçao-born Simmons, nicknamed 'Simba', will earn 10.5 million dollar this year. A few days ago, it was confirmed that Jurickson Profar has re-signed with San Diego Padres. On Saturday, it was reported that Didi Gregorius and Philadelphia Phillies have an agreement for two years, but that is not yet confirmed.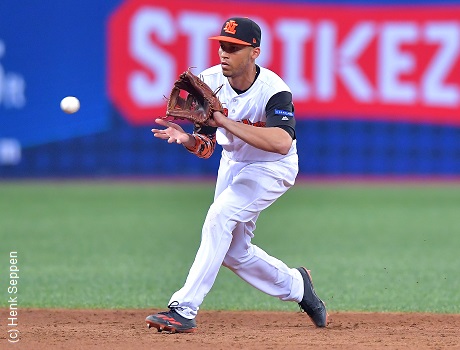 ...Andrelton Simmons with the Netherlands Team...
...during the 2017 World Baseball Classic...
(© Photo: Henk Seppen)

Last season, Minnesota Twins finished in first place in the American League Central Division. In the following American League Wild Card-series, Minnesota was swept in two games by Houston Astros.

With the addition of Simmons, the team upgraded the leftside of its infield, which already has a former All Star in third baseman Josh Donaldson, who joined the team after the 2019 season. In the current off-season, Minnesota also added righthanded reliever Hansel Robles and lefthanded starter J.A. Happ, who also were Free Agents. Robles was a teammate of Simmons at Los Angeles Angels since 2018. Happ plays in the Majors since 2007 and pitched for New York Yankees since 2018.
Andrelton Simmons signed his first professional contract in June 2010 with Atlanta Braves. He made his Major League-debut playing for Atlanta in 2012 and since then, Simmons was praised for his defensive qualities. The short stop won the Gold Glove Award four times (2013, 2014, 2017, 2018). He won the Platinum Gold Glove in 2013 for the best defensive player in the entire National League and was named Overall Defensive Player of the Year in the entire Major League in 2015.
Throughout his career, Simmons made only 88 errors in 4,674 chances in 9,142 2/3 inning. The highest total of errors he made in one season was 14 (three times).
In his first season with Atlanta (2012), Simmons played in 49 games and batted .289 (48-for-166) with eight doubles, two triples and eight homeruns. He scored 17 runs and batted in 19.
From the next season on, Simmons was a regular player for Atlanta and respectively played in 157, 146 and 147 games in 2013, 2014 and 2015. In those seasons, he batted .248, .244 and .265. His best season with Atlanta was 2013 when he collected 150 basehits with 27 doubles, six triples and 17 homeruns, scoring 76 runs and batiing in 59.
In November 2015, Simmons was traded by Atlanta to Los Angeles Angels, together with catcher José Briceno, in exhange for three players.
Hereafter, he played in five seasons for his new club. In the 2017 season, Simmons set new personal highs with 158 games played, 164 basehits, 38 doubles, 77 runs scored and 69 runs batted in. The following season, he improved his personal RBI-record to 75. He then also batted .292, having played in 146 games.
In the shortened 2020 season, Simmons played in 30 games and batted .297 (35-for-118) with seven doubles, which were his lone extra-basehits. He scored 19 runs and batted in ten. His missed the beginning of the season due to an ankle injury.
In October, after his fifth season with the Angels, Simmons became a Free Agent, but in 2021, he will wear the shirt of Minnesota Twins for the first time.
In his nine Major League-seasons, Andrelton Simmons played in 1,060 games in which he collected 1,064 basehits, including 67 homeruns. He scored 456 runs, batted in 406 and stole 67 bases. In 3,954 at bats, he struckout only 386 times.
In 2013 and 2017, Andrelton Simmons played for the Netherlands Baseball Team in the World Baseball Classic.
(January 31)