(Story by Marco Stoovelaar; Photo by Heidenheim Heideköpfe)

Starting Pitchers coming series; New player for HCAW
Nederlands



AMSTERDAM - The first games of the second half of the season are in the books and so, coming Thursday-evening (June 23), the second 3-game series in the Top-4 and Bottom-5 Pools get underway.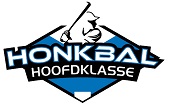 In the opening series of the Top-4 Pool, reigning champion L&D Amsterdam Pirates won two of three games against Curaçao Neptunus, which ended in first place in the first half. In that first half, Pirates also won the first series against Neptunus, 2-1. HCAW, which was in first place until the final round of the first half, opened with a loss against Twins Oosterhout, then recorded a small win in Game 2. In the third game, HCAW decided the outcome (and the win) late from the seventh inning on.
In the Bottom-5 Pool, RCH Memorie Sieraden and DSS/Kinheim won their first two games against respectively Quick Amersfoort and Silicon Storks. In the second game, DSS/Kinheim led 20-1 after two innings, but was unable to add more runs and settled for a 20-9 win. In the third games on Sunday, both teams were left empty-handed. For Storks, the win meant the end of a 17-game losing streak. Hoofddorp Pioniers was off in the first round and on Thursday, the team will play its first game since June 4.
HCAW confirmed that it has added a new player, who will be on its roster temporarily, to make him eligible to play later in the season. Canadian righthanded pitcher Jared Mortensen is now on the roster and he will be playing for HCAW in Thursday-evening's game. Through last weekend, Mortensen pitched for Heidenheim Heideköpfe in the German Bundesliga. There, he appeared in eight games (all starts) and is 7-0 with an 1.38 ERA. In 58 2/3 inning, Mortensen struckout 63 batters and walked only ten. Coming weekend, Mortensen will be back again on the mound for Heidenheim.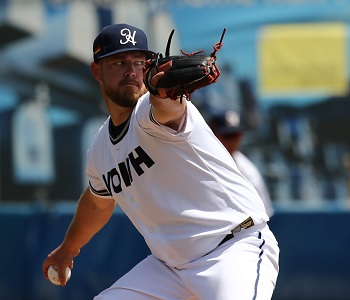 ...Jared Mortesen pitching for Heidenheim...
(© Photo: Heidenheim Heideköpfe)

During the recent European Champions Cuptournament in Bonn (Germany), Mortensen pitched in two games for Heidenheim Heideköpfe. He was the starting pitcher against Amsterdam Pirates and then struckout six batters and gave up eight basehits and two runs in 6 1/3 inning, but had a no-decision. Later, he pitched four innings in relief against Arrows Ostrava (Czech Republic). In that game, Mortensen struckout seven batters and gave up three hits, but also four runs and became the losing pitcher.

HCAW did the same a few weeks ago. On June 2, Phildrick Llewellyn played for HCAW in the series-opener against Neptunus. Llewellyn then played the entire game as third baseman and was 1-for-4. The infielder was on the roster of German club Paderborn Untouchables before joining HCAW. After having played for the Bussum-squad, Llewellyn returned to Germany to complete his season with Paderborn. By playing on June 2, Llewellyn became eligible to play for HCAW later in the season after completion of the German competition.

Last week, HCAW also added outfielder Victor Draijer to its active roster. This season, Draijer initially played in his first season in the Italian Baseball League for Nettuno 1945, but he returned last week and now will be with HCAW for the remainder of the season.

Again, these are the rulings for the second half.

In the second half, the top-four from the first half will play 18 more games (six games against each other) in the Top-4 Pool. The bottom-five teams will continue in the Bottom-5 Pool, playing twelve games (three games against each other). The teams will begin the second half with the total of points gained from the head-to-head results in the first half against the teams they face in the second half pools. The Top-4 Pool ends on Sunday, August 7, the Bottom-5 Pool ends on Sunday, July 31.

As mentioned earlier, the games that are played in the second half all are part of what is the regular season. That means that all individual awards that are handed out to the best players of the season will be based on the statistics and accomplishments in the combined first and second half.

The ranking in the second half will determine the pairings of the three best-of-three Wild Card Play-Offs that will follow.

The two best teams of the Top-4 Pool will face each other in the best-of-three Wild Card Top Series (August 11-14) and also secure a spot in the two best-of-five Play-Offs (August 18-28) that will decide which two teams will advance to the Holland Series (first game September 15). The teams that finish in third and fourth place in the Top-4 Pool will play in one of the two best-of-three Wild Card Bottom Series (August 11-14). The two best teams from the Bottom-5 Pool will first play a best-of-three Wild Card Qualifier (August 4 -7) to decide whom they will meet in the Wild Card Bottom Series. The winners of the Wild Card Bottom Series then also advance to the Play-Offs, the losing teams will play a best-of-five Play-Off (August 18-28) for fifth and sixth place.

Beneath are the announced starters for the games in the upcoming series. As always, these assignments can change on game-days.

(June 22)

Rosters
Live play-by-play & live-streams
TOP-4 POOL
Roster
TWINS OOSTERHOUT (1-2) (12-11-1)
vs.
L&D AMSTERDAM PIRATES (2-1) (17-6-1)
Roster
Game-info
#
Starting Pitchers Twins
G
#
Starting Pitchers Pirates
Date, Time & Site
11
RHP Koen Postelmans (4-4)
1
64
RHP Shairon Martis (4-0)
Th. June 23, 7:30 PM, Oosterhout (1)
10
LHP Ryan Huntington (4-4)
2
54
LHP Nelmerson Angela (4-1)
Sa. June 25, 2:00 PM, Amsterdam (2)
6
RHP Simon Gross (3-3)
3
32
RHP Scott Prins (2-0)
Su. June 26, 2:30 PM, Oosterhout (1)
(1) - Sportpark 'De Slotbosse Toren', Oosterhout; (2) - Loek Loevendie Ballpark, Sportpark 'Ookmeer', Amsterdam
TOP-4 POOL
Roster
CURAÇAO NEPTUNUS (1-2) (21-3)
vs.
HCAW (2-1) (20-4)
Roster
Game-info
#
Starting Pitchers Neptunus
G
#
Starting Pitchers HCAW
Date, Time & Site
45
RHP Juan Carlos Sulbaran (7-1)
1
45
LHP Jim Ploeger (4-2)
Th. June 23, 7:30 PM, Rotterdam (3)
27
RHP Kaj Timmermans (5-1)
2
39
RHP Lars Huijer (5-0)
Sa. June 25, 2:00 PM, Bussum (4)
to be decided
3
7
RHP Dennis Burgersdijk (7-0)
Su. June 26, 2:00 PM, Rotterdam (3)
(3) - Neptunus Familiestadion, Sportpark Abraham van Stolkweg, Rotterdam; (4) - Rob Hoffmann Vallei, Sportpark Zanderijweg, Bussum
BOTTOM-5 POOL
Roster
DSS/KINHEIM (2-1) (11-13)
vs.
HOOFDDORP PIONIERS (0-0) (7-16-1)
Roster
Game-info
#
Starting Pitchers DSS/Kinheim
G
#
Starting Pitchers Pioniers
Date, Time & Site
27
RHP Nick Boxelaar (3-3)
1
38
RHP Koen van 't Klooster (0-1)
Th. June 23, 7:30 PM, Haarlem (5)
3
RHP Martijn Schoonderwoerd (0-0)
2
35
RHP T'sean Martina (2-1)
Sa. June 25, 1:00 PM, Hoofddorp (6)
to be decided
3
6
RHP Yassir Lachkar (1-3)
Su. June 26, 2:00 PM, Haarlem (5)
(5) - Pim Mulier Stadion, Pim Mulier Sportpark, Haarlem; (6) - ETO Ballpark, Sportpark Pioniers, Park21, Hoofddorp
BOTTOM-5 POOL
Roster
RCH MEMORIE SIERADEN (2-1) (10-14)
vs.
SILICON STORKS (1-2) (2-22)
Roster
Game-info
#
Starting Pitchers RCH-Pinguïns
G
#
Starting Pitchers Storks
Date, Time & Site
41
RHP Jeremy Young (5-2)
1
16
RHP Darryl Jamoena (0-8)
Th. June 23, 7:30 PM, Heemstede (7)
to be decided
2
25
RHP Twan Naessens (0-5)
Sa. June 25, 1:00 PM, The Hague (8)
to be decided
3
31
RHP Mike van den Berg (2-6)
Su. June 26, 3:00 PM, Heemstede (7)
(7) - Heemsteedse Sportparken, Heemstede; (8) - Sportpark 'Kijkduin', The Hague