(Story by Marco Stoovelaar; Photo by Henk Seppen)

Amsterdam Pirates ends winning streak HCAW with walk-off homerun
Nederlands



AMSTERDAM - The long winning streak of HCAW has ended. On Saturday-afternoon (May 28), reigning champion L&D Amsterdam Pirates ended the 19-game winning streak of the Bussum-team by winning 2-1 in eleven innings on a walk-off homerun by Kalian Sams.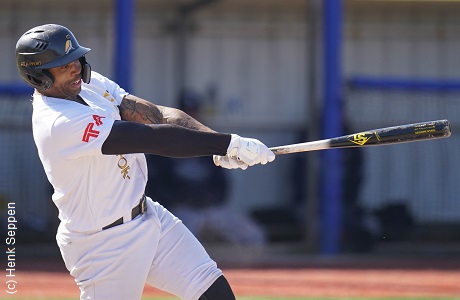 ...Kalian Sams ended HCAW's winning streak with a...
...walk-off homerun for Amsterdam Pirates in 11th inning...
(© Photo: Henk Seppen)

On Thursday, HCAW nipped Amsterdam Pirates 8-7 in the opening-game of the series to extend its winning streak since the start of the season to 19 games. With that victory, HCAW set one club-record and tied another. In 2004, HCAW won the final 18 games of the regular season. And so, with Thursday's win, HCAW broke its single-season record for most consecutive victories. However, the overall club-record for most wins in a row over two seasons was 19. After winning its final 18 games in 2004, the team opened the 2005 season with another victory to make it a 19-game winning streak. That meant that HCAW equaled that club-record.

On Saturday-afternoon, HCAW almost avoided a loss. In the top of the ninth, the team was one out away from its first loss, but came alongside to force extra innings.

In what was a pitching-duel between Shairon Martis (Pirates, 8 2/3 inn., 9 strikeouts, 2 hits) and Lars Huijer (HCAW, 7 inn., 6 strikeouts, 4 hits), Amsterdam Pirates opened the score in the bottom of the seventh inning. With one out, Kalian Sams and Sicnarf Loopstok were both hit by a pitch from Huijer, then the first scored on a single by Rashid Gerard.
That appeared to be the lone run, but in the top of the ninth, HCAW tied the score. With two outs, Bob van der Meer and Brendly Martina singled and after a pitching-change, Jeandro Tromp delivered an RBI-double. But with runners on second and third base, reliever Franklin Van Gurp closed with a strikeout.
After a scoreless tenth inning, Pirates struck in the eleventh at bat when Kalian Sams led off with a walk-off homerun.
And with that, HCAW's long winning streak ended. The streak was the longest in the regular season since Amsterdam Pirates won 22 games in a row in 2018. The record for most consecutive wins was set in 2010 by Neptunus with 23.
(May 28)