(Story by Marco Stoovelaar)

KNBSB annuls all baseball/softball-games through June 30
Nederlands



NIEUWEGEIN (Neth.) - On Tuesday (May 12), the Royal Netherlands Baseball and Softball Association (KNBSB) announced that it has annuled all official regular season games in all baseball/softball leagues for adults/juniors through Tuesday, June 30.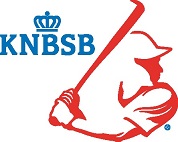 On May 6, the Dutch Government came with another update and then announced a little more freedom regarding the measures taken against the spread of the coronavirus (COVID-19) pandemic. Included in the announcement was that there will be more space for children up to 12 years old, who can do some sports activities again under guidance. Youngsters age 13-18 also are allowed to perform in some sports, also under guidance. From May 11 on, atletes of 19 and older can do some outside sports with each other. In all cases, a 1,5 meter social distance has to be observed. It was also announced that official games and competitions are not possible through September 1.
Announcement KNBSB (in Dutch)
The KNBSB currently is in talks with the NOC*NSF (Netherlands Olympic Committee/Netherlands Sports Federations) regarding the options how to continue. In a statement on May 12, the KNBSB said: ,,The KNBSB is actively in talks with the NOC*NSF and government officials to discuss options for differentiation in this regard. We are working hard via the NOC*NSF to use a different roadmap for summer sports in which league games for baseball/softball may be played earlier. We emphatically do not throw in the towel for our season. As a result, we have decided to cancel the competition matches until June 30, 2020, for both youth and seniors. As soon as we can give more clarity regarding the results of the discussions with NOC*NSF and the government, we will of course let you know immediately.''
By postponing games through that date, the KNBSB keeps a 3-week preparation period intact which comes into effect when it is allowed to start the season when possible.
(May 12)
Schedules Regular Seasons Baseball Major League & Overgangsklasse
Schedules Regular Seasons Women's Softball Golden League & Silver League
Schedule Regular Season Men's Softball First Division
Headlines
News item Government May 6: Little more freedom in measures.