(Story by Marco Stoovelaar)

KNBSB cancels all games through April 27; Opening baseball/softball-seasons delayed
Nederlands



NIEUWEGEIN (Neth.) - On Monday (March 23), the Royal Netherlands Baseball and Softball Association (KNBSB) cancelled all scheduled regular season-games through April 27. The baseball-season in the highest league was scheduled to start on Thursday, April 16, while the two highest softball-leagues, Golden League and Silver League, were to open on Saturday, April 18. The start of the second highest baseball-league ('overgangsklasse') already was delayed, as it was scheduled to start on Friday, April 3.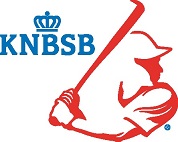 On March 15, it was announced that there would be no sports activities through April 6, following new measures announced by the Dutch Government regarding the coronavirus (COVID-19).
Due to the current situation, no one expected that the seasons would go underway on April 16 and April 18, especially since no team has had time ot prepare. Today (March 23), the KNBSB cancelled all games through Monday, April 27 in order to give teams a 3-week preparation period and with that, the start of the seasons have been officially delayed.
In a statement, the KNBSB said: ,,Before the start of our competitions, the KNBSB always has a preparation-period of some three weeks teams and players need to get into shape and to start the season in a responsible way. That means that the baseball- and softball-competitions cannot start immediately when the Government gives a go-ahead for sports after April 6 or on which other moment thereafter. With this in mind, all scheduled games through Monday April 27 have been cancelled. The KNBSB closely follows the developments regarding the coronavirus. At the moment, several scenarios are being prepared to make up the 'cancelled' games or the give the season another format for after the period when the Government clears the way again for sports activities.''
(March 23)
Schedules Exhibition and Regular Seasons Baseball Major League & Overgangsklasse
Schedules Exhibition and Regular Seasons Women's Softball Golden League & Silver League
Schedule Regular Season Men's Softball First Division
Headlines