(Story by Marco Stoovelaar)

KNBSB annuls all games through June 9; More news regarding competitions
Nederlands



NIEUWEGEIN (Neth.) - On Wednesday (April 29), the Royal Netherlands Baseball and Softball Association (KNBSB) announced what the impact is on the baseball/softball-competions following the extenstion of the measures to prevent the spread of the coronavirus (COVID-19). On Tuesday, April 21, the Dutch Government announced that earlier announced measures have been extended through May 19, while gatherings and events are forbidden through September 1.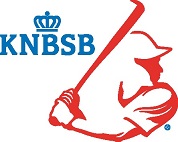 On Wednesday, the KNBSB announced that it has annuled all regular season games in all baseball/softball leagues for adults/juniors through Tuesday, June 9. With this, the KNBSB keeps a 3-week preparation period intact which comes into effect after it is allowed to be active again in sports. Starting today (Wednesday, April 29), youth-players U12 (under guidance) are allowed to participate in practice-sessions of their sports-clubs again, but not to play games.
The section Competition Affairs of the KNBSB conducted a poll under a clubs in recent days. Thereafter, the KNBSB-Board has taken some decisions. ''We try to do everything the enable our clubs/members to play as much possible competition-games this season!'', it states to be the Board's starting-point.
The KNBSB-Board also decided that in all leagues, a champion will be crowned. But there will be no promotions or relegations this season.
Another result from the poll is that there is a wish from the clubs to reverse annuled regular season-games into exhibition games. With this, clubs don't have to arrange exhitbion games themselves in a short period.
When the competitions can open, the regular season in the Dutch baseball big league will not be interrupted. At this moment, the originally scheduled interruption in the Golden League softball will be upheld (August 8-16).
Most clubs want to play longer in the month of October. Currently, the last regular season-games are scheduled for October 4-5. The KNBSB-Board decided that the latest date for regular season-games will be October 18 with a possibility for make-up games on October 25.
In the statement on Wednesday, the KNBSB closes that ''the coronavirus has profoundly changed the world. Baseball and softball are also hit hard. With these decisions, we hope to have clarified various topics. But unfortunately, we don't know (yet) where this crisis will end, what the world will look like and especially what is possible for our baseball and softball competitions. This period therefore requires flexibility from all of us.''
(April 29)
Schedules Regular Seasons Baseball Major League & Overgangsklasse
Schedules Regular Seasons Women's Softball Golden League & Silver League
Schedule Regular Season Men's Softball First Division
Headlines
News item Government April 21: Measures extended; No events through September 1.