(Story & Photos by Marco Stoovelaar; Photos by Franco Bagattini, Dirk Steffen, Fred Versluis, Marco Stoovelaar & Private Photos)
IN MEMORIAM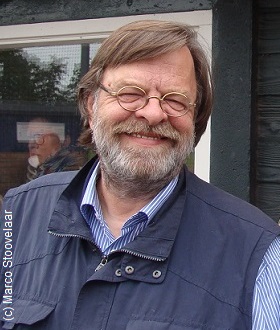 ...André van Overbeek...
(1949 - 2021)...
(© Photo: Marco Stoovelaar)

Former KNBSB-administrator and former ESF-President André van Overbeek passed away
Nederlands

ROTTERDAM (Neth.) - André van Overbeek, who has been an administrator on the club-level, national level and international level for many years, has passed away on Tuesday (May 4) at the age of 71. He has been a member of the Board of the Royal Netherlands Baseball and Softball Association (KNBSB) for 4½ years, led the European Softball Federation (ESF) as its President for eight years and also was a club-icon at Euro Stars, where he was the Chairman.

André van Overbeek was born on December 30, 1949 in Rotterdam. It was in that city that André's career in baseball and softball started in the sixties. Back then, at age 18, he plays soccer at DOS '32 in Rotterdam. At the same time, at Sportpark Vreelust, he also attends games of Sparta, the successful Rotterdam-club, which in those years captured several Dutch Championship-titles. He immediately not only enjoyed the game, but also the atmosphere amongst the hundreds of spectactors. André became an instant baseball-fan. In the following years, he loved to be on a baseball- and softball-field. Not only to watch the game, but maybe more so to be amongst friends and fans of the sports, talking with everyone, drinking and eating somewhat.

When Piet van Ruitenburg, the chairman of DOS '32, decides to set up a baseball-team, André starts playing, as do some of his soccer-friends. Coach of the team is American Charley Brown, who later played as a pitcher for Euro Stars. André himself becomes very involved with Euro Stars in later years. Euro Stars is founded in 1966 when the baseball/softball-section separates from soccer-club RFC to become an independent club. Amongst the first boardmembers of Euro Stars is Rinus van der Ham, who becomes a club-icon. He later becomes the club's chairman and as such is a predecessor in that position of Van Overbeek.

André van Overbeek plays baseball for some 20 years for DOS '32, then starts to focus more on coaching. He retires as a player and starts coaching women softball-teams at both NDC '86 and DOS '32.

In the early eighties, André briefly is an umpire in both baseball and softball in the then Rayon Zuidwest Nederland (Southwest Netherlands). Also in the eighties, he is a member of the publicity commission of this Rayon for some years. Other members in those years are Leo van den Boomgaard, Jan van der Sande and Gerard Vaandrager.

In 1992-1994, André is the chairman of the youth commission of Rayon Zuidwest Nederland. Amongst the other members are Rieke Dirks, Ton Geenen and Charles van der Meijs.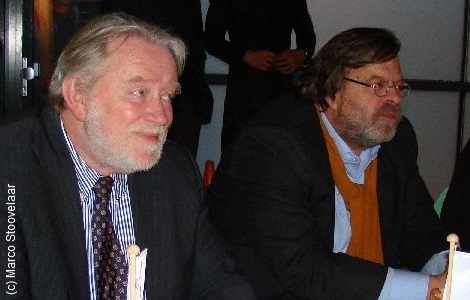 ...André van Overbeek with Anton Kops in 2009...
(© Photo: Marco Stoovelaar)

When his son starts to play baseball for Euro Stars, André follows soon to that club. There, he starts coaching youth teams, but also softball teams. In 1989, he was one of the coaches of the main baseball-squad of Euro Stars with former Netherlands Baseball Team-pitcher Jan Venema as Head Coach. Amongst the players in that team were Hugo Almeida da Silva, Edward Franka, Peter Paul de Heer, Johan Korpel, Mario Reinders, Bas van Rooijen, Leo Voogd and Michael Zwitzer, who all also have played in the Dutch big league. Some of them also continued in coaching, such as Franka, Korpel, Voogd and Zwitzer.

Because of his work, André van Overbeek lives for nine years in the beautifil Russian city of Saint Petersburg, which he called his second hometown. André becomes fluent in Russian, enjoys living in this city, loves its inhabitants and its music. He frequently attends concerts and ballets in the big Mariinski Theater. He also did so when he re-visited Saint Petersburg in recent years. While living in this city, André also is involved in softball, as he coaching and gives practice-sessions to a local team.

After returning from Russia, at the end of the nineties, André becomes a member of several committees at Euro Stars. He also becomes the club's chairman, as well as leading its committees for technical affairs.

His organizational and administrational skills were also used during the World Port Tournament. In 1985, when the first edition is organized, the Organizing Committtee is led by Gerard Vaandrager with whom André worked together in the publicity commission of the Rayon Zuidwest Nederland. André joins the organisational staff and through the years, he is a longtime contributor to the biennial international baseball-tournament in Rotterdam, which is organized in every odd year. He stops his activities for the World Port Tournament after the 2007 edition, but nevertheless, he keeps closely involved in the background.

In September 2004, André van Overbeek becomes an interim-member of the Board of the Royal Netherlands Baseball and Softball Association (KNBSB). He then takes over the duties of Ton Hendriks, who was elected in March 2004, but has to withdraw due to health reasons. In previous months, Hendriks already had asked Van Overbeek to discuss plans. Hendriks suggests André to be his successor and when the first announces early 2005 that he has to withdraw definitively, Van Overbeek is elected on March 12, 2005 and officially becomes a Member of the Board for softball-affairs. In this position, André is responsible for the Topsport Softball Section within the KNBSB and oversees not only the competitions at the highest levels, but also all activities concerning the national softball-teams for both women and men. In this function, he has talks with all coaches and staff-members of the national women (seniors/youth) and men teams, as well as having several meetings and talks with representatives of the Netherlands Olympic Committee (NOC*NSF), sponsors, other dignitaties and of course members of the board of the Dutch softball-clubs.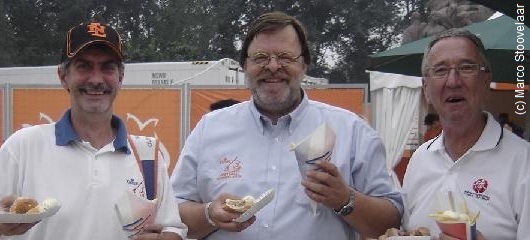 ...André van Overbeek with Ruud van Zetten (right) and...
...Marco Stoovelaar enjoying a snack at the Holland Heineken...
...House during the 2008 Olympic Games in Beijing (China)...
(© Photo: Marco Stoovelaar)

When André van Overbeek was elected in March 2005, the other KNBSB-boardmembers were Jan Rijpstra (chairman), Leo Smallegange (secretary/vice-chairman), Guus van Dee (baseball affairs), Edwin van den Berk (game-officials), Charles van der Meijs (recreational sports), Jacques van Doezum (commercial affairs) and Gijs Langevoort (international affairs). Within a year, Van Doezum, Van Dee, Smallegange and Van der Meijs all resign for various reasons. When a new Board is elected in March 2006, Van Overbeek returns, as do Rijpstra, Van den Berk and Langevoort. They are joined by Ruud van Zetten (secretary/treasurer) and Leny Jansen-van der Gevel (recreational sports). Due to his work as Mayor of the new Municipality of Tynaarloo, Rijpstra steps down in February 2007 and is succeeded by Van Zetten, while Reinoud Wieling becomes the new secretary/treasurer. In 2008, Cees Groot (baseball-affairs) and Gerben Hardeveld (game-officials) join the Board.

Early 2009, André announces he is not available for re-election as KNBSB-boardmember in March, as he is a candidate for the presidency of the ESF. In March, he is succeeded Anton Kops, who was a close friend. However, due to illness, Kops can not assume his position at that time and André stays on as interim-boardmember. Towards the end of August 2009, Anton Kops takes over the duties. Through the years, André van Overbeek and Anton Kops met regularly to discuss plans and ongoing affairs in (international) softball. Anton Kops passed away somewhat over a year ago, on January 2, 2020 at age 74.

As Member of the Board, André van Overbeek frequently visits regular season-games, but also (inter)national events when he serves as Delegate for the KNBSB, As such, André is a visible and dedicated KNBSB-representative, is available for everyone and of course has his own view on the progression of the national teams and competitions, but always enjoyed supporting the softball-teams. In 2007, André has tears in his eyes and is very proud when the Netherlands National Women's Softball Team qualifies for the 2008 Olympic Games in Beijing (China) when the team wins the exciting Olympic Qualifier in 2007 in Italy. As KNBSB-Delegate, when his regular job permits him to do so, André travels as much as possible with the Netherlands National Teams. Of course, he is with the team in Beijing during the Olympics in 2008.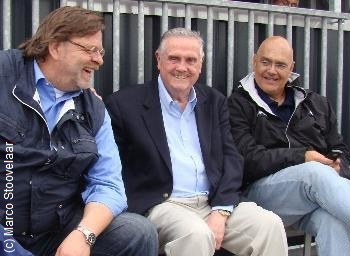 ...André van Overbeek with Don Porter...
...(ISF-President, center) and Ami Baran...
...(ESF-Secretary General) during the...
...European Cup Softball Tournament in...
...2010 in Haarlem (Netherlands)...
(© Photo: Marco Stoovelaar)

His organizational skills, as well as his good contacts, were also recogniozed by the European Softball Federation (ESF). On February 7, 2009, André van Overbeek is elected President of the European governing body, succeeding Mike Jennings (Great Britain). Van Overbeek's election marked the third time that a Dutchman heads the ESF. Theo Vleeshhouwer (1985-1991) and Jos Gieskens (1995-2003) also led the European Softball Federation. Van Overbeek is re-elected as President for a second 4-year term on February 16, 2013, during the ESF Congress in Bled (Slovenia). As Presidents are not eligible for re-election after two terms, Van Overbeek is succeeded by current President Gabriel Waage from the Czech Republic on February 4, 2017, during the annual ESF/CEB Congress in Belgrade (Serbia). In 2018, during the Congress in Paris (France), André receives the Presidential Award from then ESF-President Waage.

On October 24, 2009, André van Overbeek was elected Vice-President for Europe of the International Softball Federation (ISF), together with Ami Baran (Israel). He serves in this position until 2017. In 2016 and 2017, André also is the Chairman of the Hall of Fame Committee Softball for the World Baseball Softball Confederation (WBSC).

In the eight years (2009-2017) that André van Overbeek led the European Softball Federation there were a lot of activities in Europe. The total of membership countries grew, as did the total of both women and men players playing the sport. In those years, also new tournaments were introduced in several age groups. André visited a lot a countries in those years representing the ESF to support these countries with the development of their softball programs.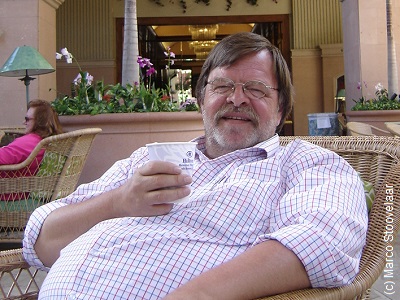 ...André van Overbeek enjoys a drink...
...in the hotel in Honolulu (Hawaii) in 2008...
...during a preparation trip of the Netherlands...
...Softball Team for the Olympics in Beijing...
(© Photo: Marco Stoovelaar)

Despite all his international activities, André remained very involved with Euro Stars, which in 1987 moves from Rotterdam to its current site in Capelle a/d IJssel. Through the years at Euro Stars, amongst the persons with whom André closely worked together were Peter den Boer, Rinus van der Ham, Yvonne Krabbendam and John de Vos, who chaired the club for some years. John and his brothers Aad and Jan became close friends of André. Some years ago, André returned as its Chairman, which he still was. In 2018, as a proud chairman, he addressed the participating teams, officials, spectators and dignitaries when he opened the European Cup Winners Cup Women's Softball Tournament at the nicely renovated complex of Euro Stars in Capelle a/d IJssel. Van Overbeek mentioned that he was very proud that his club had won the bid to organize the event, which was very successfull. During this tournament, but also through the years, André enjoyed sitting in front of the club-house, enjoying the movements and people on the complex. Of course enjoing a drink. In the current Euro Stars-board, André worked with Secretary Peter den Boer and Treasurer Jerry de Cloe.

André van Overbeek was much-liked and respected within the international softball-community. He always had a big smile on his face and enjoyed being around with friends. On a personal note, when the author of this article was the Media Officer of the Netherlands National Women's Softball Team, André and I were roommates in 2008 during a trip to California and Hawaii, as well as during the Olympic Games in Beijing (China). When we were at our room, we talked a lot about softball. And simply enjoyed where we were at that moment, but in the meantime doing everything to make things go smoothly for the players and staff of our National Team.

André's presence at the fields, his passion, dedication, humor and friendship will be missed by many.

The webmaster of Grand Slam * Stats & News offers his condolences to André's family and friends and wishes them a lot of strength with this big loss.

(May 4)