(Story & Photo by Marco Stoovelaar)

Royal Decorations for Pieter van der Ploeg and Jolanda Stockey
Nederlands




HEERHUGOWAARD / AMSTERDAM (Neth.) - Annually, hundreds of persons receive a Royal Decoration in the days ahead of the celebration of the birthday of the King, and before that the Queen, of the Netherlands. His Royal Highness King Willem-Alexander is having is birthday coming Monday (April 27), which is King's Day. In previous years, Queen's Day was celebrated on April 30, the birthday of Queen Juliana, who was Queen in 1948-1980. She was succeeded by her daughter Queen Beatrix, who has her birthday in January, but continued the tradition of Queen's Day on April 30. In 2013, her son Willem-Alexander succeeded her and King's Day was moved to April 27.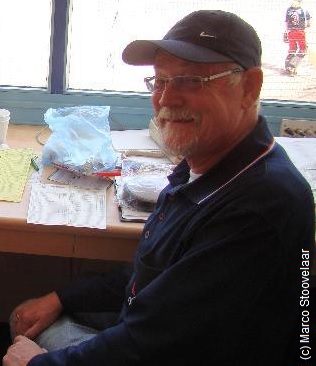 ...Pieter van der Ploeg...
(© Photo: Marco Stoovelaar)

Today (Friday, April; 24), 3.060 persons were informed that they will receive a Royal Decoration. Most of them are volunteers, who are active in communities, clubs and organizations, Normally, these persons are invited to come to the City Hall, where they then are decorated by the Mayor of their respective Municipality. Due to the measures taken for the coronavirus, this is currently not possible and so, they were informed by telephone by the Mayor. The physical handing out of the decorations will be done on a later date.

Amongst the decorated persons today are two, who also have been active in baseball and softball, Pieter van der Ploeg and Jolanda Stockey. Both received the decoration for Member in the Order of Orange Nassau.

Pieter van der Ploeg was a softball-umpire and official scorer in the highest Dutch softball-league for almost 40 years through 2014. In that year, he retired after being one of the Official Scorers during the Women's World Championship Softball in Haarlem (Netherlands). Van der Ploeg has been a Scorer since 1996. Before that, Van der Ploeg was an umpire from 1972 through 1991, most of these seasons in softball. Since 1977, he was an umpire at the national level and some years later, he officiated also internationally. From 1990 through 2018, he also has been very active for baseball- and softball-club The Herons in Heerhugowaard as softball-coach and umpire.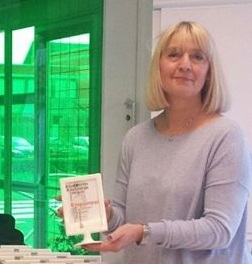 ...Jolanda Stockey...
(© Photo via Facebook)

Currently, Pieter van der Ploeg is still active in four positions in Heerhugowaard, where he lives. Since 2000, he is a volunteer at the Amateur Wine and Beermakers Guild 't Groene Waard, being the Guild's secretary through 2016. Also since 2000, Van der Ploeg is the secretrary and assistant-conductor of the Barbershop Singing Club Heerhugowaard. Since 1999, he is a volunteer at the Foundation 4-day Evening Walk. And since 2008, he is a member (since 2018 as secretary) of the Activities Commission of the VvE Hemelboog Binnen. Pieter van der Ploeg is one of seven persons from Heerhugowaard to be decorated and was called this morning by Mayor Bert Blase.

Jolanda Stockey was called by Amsterdam Mayor Femke Halsema on Friday-morning, who informed her that she has received a Royal Decoration. For many years, Jolanda Stockey is active in health care for younger people in Amsterdam Zuidoost. There, she was the co-founder of baseball- and softball-club Ban Topa Future Stars, which gives young people an opportunity to play sports, but also offers assistence for home work of school. Besides that, Jolanda Stockey organizes other spors activties after school-time, as well as acivities for the community, such as the annual Caribbean Christmas Market.

(April 24)