Dennis Presburg new Head Coach DSS
Nederlands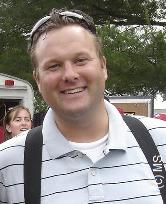 ...Dennis Presburg...
...Head Coach DSS...
(© Ph: Marco Stoovelaar)

HAARLEM (Neth.) - Dennis Presburg is the new Head Coach of the women softballteam of DSS. Presburg succeeds Berend Mannessen, whom he assisted this season, making his coaching debut in the Dutch Major League. Next season, Presburg will be assisted by Werner Angermann, who this year was the Head Coach of DSS-2, which finished in fourth place in the Second Division A. After completion of this season, Mannessen stepped down as coach of DSS, but is available for other interested clubs.

Last year, DSS, in Mannessen's first season as Head Coach with the club, captured the title in the First Division and promoted. This year, the Haarlem-based club returned to the big league after a 24-year absence. After completion of the regular season, DSS shared seventh place with Olympia Haarlem with a 10-22 record. DSS was then one of four teams in the Bottom-4 Ranking Pool to decide the relegation. On September 11, the last day of the 3-week series, Olympia won twice vs. Euro Stars, while DSS was shutout twice by Twins, meaning the Haarlem-club relegated back to the First Division.
Through last year, Presburg played for the baseball-team of First Divisionist DSS, but he retired after the season. This year, he played on a lower level and was a member of the second baseball-team of DSS, which played in the Fourth Division. Dennis' father George Presburg led the Dutch National Softball Team in 1991-1993. Presburg Sr. also led Heiloo (1985 and 1987) and Alcmaria Victrix (1999) when these teams played in the Dutch big league.
(October 1)