Sparks Haarlem captures Dutch championship!
Nederlands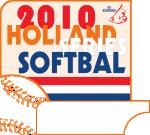 HAARLEM (Neth.) - Sparks Haarlem made it clear from the beginning what their intention was today, especially after the unexpected loss from the day before when Tex Town Tigers turned a 3-1 deficit into an 8-inning 4-3 victory to force a fifth and deciding game. The home team rallied for seven runs in the first at bat en route to an 8-2 victory to capture the Dutch championship and dethrone Tex Town Tigers, which won the title the last two years. For Sparks Haarlem, this was its seventh title since it is playing under this name and its 18th title overall, including eleven championships by its predecessor HHC.

The difference in this series was the offense. Before today's game, Sparks had outhit Tex Town Tigers 33-16 in the previous four games and today, Sparks outhit the Enschede-team, 11-5. But despite the hit difference, it was not clear beforehand which team would be leaving the field as the winner, especially after Saturday's comeback-win by Tex Town Tigers.

But things changed quickly in the first inning. Sparks-pitcher Dagmar Bloeming retired the side in the TTT-first and then the home team sent 12 batters to the plate in its first at bat, with nine of them reaching base, hitting six basehits and scoring seven runs to take a comfortable lead. A lead which decided the game at that very moment. Sparks faced a surprising starting pitcher in Ginger de Weert, instead of ace Lindsey Meadows, who threw Saturday's game. While it is known that the latter currently is bothered by back-problems, is was nevertheless expected that she would start today's game. Afterwards, TTT's Head Coach Karly McKormack explained that she had decided to keep Meadows (who started in leftfield) in relief and bring her in later in the game. And so the pressure in the final game of the season came on the shoulders of the talented Ginger de Weert. Unfortunately, she faced a team that was ready to win from the beginning and that took revenge for Saturday's loss. The righthander faced only four batters, gave up four hits and two runs and then left with a runner on first and third base. She was relieved by Lindsey Meadows, who then completed the game!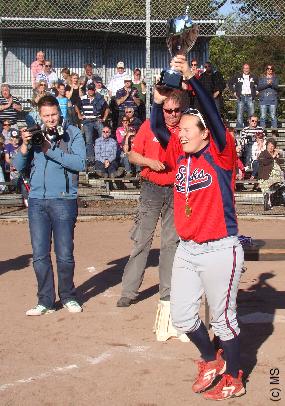 ...Team-captain Kim Kluijskens...
...with the championship trophy...
(© Photo: Marco Stoovelaar)

Nathalie Gosewehr led off for Sparks with a double, then advanced on a bunt-single by Chantal Versluis, who stole second base moments later. A single by Kim Kluijskens then produced the first run, brought Versluis to third base and also led to an outfield-error that enabled Kluijskens to reach second base. A single by Debby Connor then made it 2-0. Hereafter, Lindsey Meadows took over the pitching, but loaded the bases by walking Noémi Boekel. An error on a grounder by Marloes Fellinger then led to two runs and runners on first and third base. Fellinger advanced on a sac-bunt by Areke Spel, but Noémi Boekel, the runner at third base, was unable to move. The bases were loaded again when Kim Kafoé also walked. Next, a single by Kinge Bouma, sacrifice fly by Nathalie Gosewehr and single by Chantal Versluis gave Sparks three more runs and a quick 7-0 lead, before Kim Kluijskens grounded out to end the inning.

Tex Town Tigers got one run back in the second inning. With one out, Lindsey Meadows singled, moved to third base on a single by Nadine Marinus, then scored when the latter got in a caught stealing-rundown.

After the productive first at bat, Sparks Haarlem added only one more run off Lindsey Meadows, who struckout seven batters in the remainder of the game and gave up five more hits. In the second inning, Meadows, who will play in Italy next season, started with two strikeouts, then gave up a single to Marloes Fellinger and walked Areke Spel, but ended the inning with another strikeout.

In the third, Sparks scored its eighth run. Kinge Bouma led off with a single, moved on an one-out single by Chantal Versluis and a force play-grounder (which was a nice play by 2B Lynn Dollekamp) by Kim Kluijskens, then scored when the latter remained at first base on an error during a caught stealing-rundown. In the fourth, fifth and sixth inning, Sparks reached base frequently, but stranded five runners. In the fourth, Marloes Fellinger and Areke Spel both walked with one out, but a strikeout and force play ended the inning. In the fifth, Kim Kluijskens singled and Debby Connor walked with two outs, followed by a grounder. In the sixth, Areke Spel singled with one out, but also was left behind.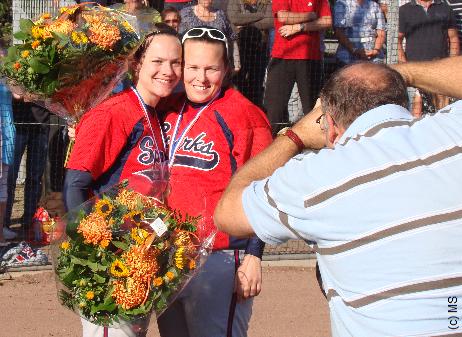 ...Noémi Boekel and Kim Kluijskens...
...retired...
(© Photo: Marco Stoovelaar)

Dagmar Bloeming gave up the second run to Tex Town Tigers in the fourth inning. With one out, Virginie Anneveld singled and Karin Tuk was hit by a pitch. Next, Lindsey Meadows struckout, but Nadine Marinus (who had two of TTT's five hits) singled to bring in the second run. Hereafter, Dagmar Bloeming (who struckout four) retired 10 of the last 11 batters she faced, only interrupted by a single off the bat of Karin Tuk in the sixth inning.

For Kim Kluijskens (who was named the Series Most Valuable Player) and Noémi Boekel (who starts a study to become a pilot), this was the last game in their career. Kluijskens played eleven seasons for Sparks, while Boekel played for the Haarlem-club since 2005 after having made her big league-debut the year before playing for Amsterdam Pirates. Besides that, both also played for the Dutch National Softball Team, with whom they participated in the 2008 Olympic Games in Beijing (China). Kluijskens played in 89 games for the national squad, Boekel in 60. But the question remains, was it really their last game? After completion of last season, Marloes Fellinger, Lynn Geertman, Kim Kafoé and Jolanda Kroesen all retired, but all were back in uniform in the last weeks of the season.

By winning today, Sparks Haarlem realized a first. This was only the third best-of-five Holland Series that went all the way since the format was introduced in 1990. In the previous two series that went five games, the team that won Game 4 trailed 2-1 and also went on the win Game 5. On Saturday, Tex Town Tigers started to do the same. It trailed 2-1, then won Game 4. But today, Sparks Haarlem came back to win Game 5 and capture the title.

Oh, something else. 20 of the previous 24 Holland Series were won by the team that also won Game One. Sparks Haarlem became only the fifth team that won the Series after losing the opening game. Sparks also was the last team to accomplish that. In 2004, they lost the opener to Terrasvogels, but in the end also won the Series, which back then also was the last series that went five games. The only other 5-game Series was in 1994 when Twins won 3-2 vs. HCAW. By the way, in that Series Twins also lost the opener.

(October 10)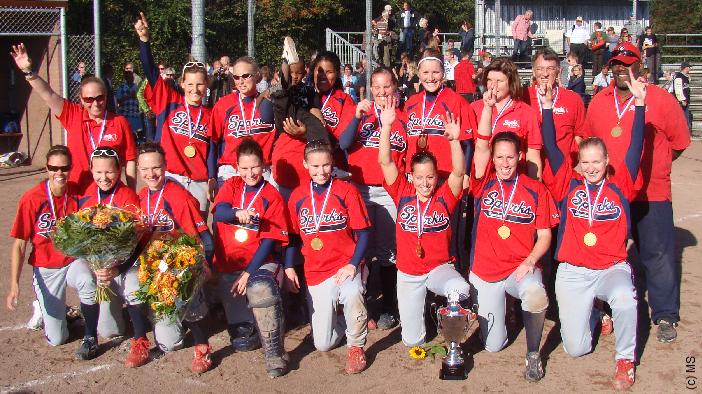 ...Sparks Haarlem - Dutch Champion 2010...
(© Photo: Marco Stoovelaar)

...Nathalie Gosewehr...
...scores the first run...
(© Photo: Fred Versluis)

...Debby Connor singles...
...in the second run...
(© Photo: Fred Versluis)

...Chantal Verluis...
...scores the second run...
(© Photo: Fred Versluis)

...Debby Connor...
...also scores...
(© Photo: Fred Versluis)

...Kinge Bouma singles in another run...
...in the first at bat...
(© Photo: Fred Versluis)

...Kim Kafoé scores the 7th run...
...in the first inning...
(© Photo: Fred Versluis)

...Winning pitcher Dagmar Bloeming...
(© Photo: Fred Versluis)

...Celebration time...
(© Photo: Fred Versluis)

...Celebration time...
(© Photo: Fred Versluis)

...Time for champaign...
(© Photo: Fred Versluis)

...Tex Town Tigers congratulates Sparks Haarlem...
(© Photo: Fred Versluis)
...Sparks Boardmember and Team Manager Sandra Nypels thanks Noémi Boekel and Kim Kluijskens...
(© Photos: Fred Versluis)

...KNBSB-Boardmember...
...Caroline Theunissen...
...hands the championship trophy...
...to Kim Kluijskens...
(© Photo: Fred Versluis)

...Sparks Haarlem celebrates the title...



(© Photo: Marco Stoovelaar)

...The bat-girls...
...with the trophy...


(© Ph: Fred Versluis)