DSS adds young players for next season
Nederlands

HAARLEM (Neth.) - DSS finished the regular season with a tie for seventh place with Olympia Haarlem, but ended up in last place during the three weeks of the following 'ranking round' and therefore relegated automatically to the 'Overgangsklasse'. For DSS, this season was its first in the big league after a 24-year absence, but it last only one year.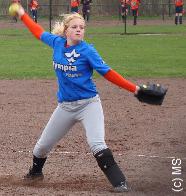 ...Deion van der Voort...
(© Ph: Marco Stoovelaar)

Looking forward to next season, DSS added five young players to its roster, including three from its Junior-team. Five players will not be back with the team next year, including three who retired.

Four of the players, who are coming to DSS, this year made their debut in the highest division, being RHP Deion van der Voort, Infielders Noa Brand and Cher ten Hoope and Outfielder Dominique Sprengers. The fifth newcomer is Catcher/Infielder Madelon Paauwe.

Righthanded Pitcher Deion van der Voort played in 12 games for Olympia Haarlem this season, her first in the Dutch big league, but didn't got an at bat. As pitcher, she threw in six games, all in relief and was 0-0. In six innings, Deion struckout three batters, walked eight and gave up 12 basehits. Deion also played in the big league in one game for the Dutch Junior Team and was 0-1, throwing in two innings.


...Noa Brand...
(© Ph: Marco Stoovelaar)

Noa Brand, Cher ten Hoope and Dominique Sprengers all got a taste of the big league this season, playing in the main squad of DSS. Noa Brand made her debut on Opening Day and was used in five games as a pinch-runner, scoring one run. Cher ten Hoope played in two games, one at third base, and was 0-for-1, which was a strikeout. Dominique Sprengers made her debut in the last game of the regular season, playing in the outfield and going 0-for-1 with a sacrifice bunt.

Catcher/Infielder Madelon Paauwe (pictured left) is coming to DSS from Adegeest, which was coached this season by Piet Pannen.

Pannen also is also active for DSS, where he was the Head Coach two years ago. After the 2008 season, Piet Pannen was succeeded by Berend Mannessen, but remained active for the club on the background. After this season, Mannessen stepped down as coach.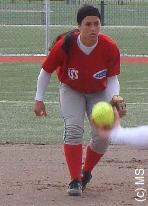 ...Julie Owen...
(© Ph: Marco Stoovelaar)

American Infielder Julie Owen might be back with the team next season, as it is known that she will return to the country next year, but it is still unclear whether she also will be active as a player then. This season, Julie made her debut in the Dutch big league and played in all 32 regular season games. She batted .310 (27-for-87), which was second best in the team, and led the squad by scoring 17 runs. Julie also was second best with eight RBI's and 14 walks. She hit five doubles and two triples. As a second baseman, she committed only five errors in 113 chances.

Veteran players Sonja Pannen (Righthanded Pitcher), Marijke van Veen (Catcher) and Yvette Krooder (Infield) retired after the season.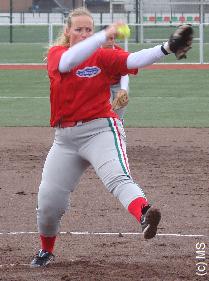 ...Sonja Pannen...
(© Photo: Marco Stoovelaar)

Righthanded Pitcher Sonja Pannen threw in her first big league-games this year for the first time since 2004. The veteran righthander made her big league-debut 21 years ago, in 1989 (when some of her younger teammates weren't even born!), while playing in 39 games for Wassenaar, where she would play in three big league-seasons. From 1992 on, Sonja went on to pitch for Amsterdam Pirates, where she then played in 13 big league-seasons and with whom she won an European Cup twice.

She made her mark right away in her rookie-season, as she won 17 games and threw 212 innings in which she struckout 'only' 93. Her strikeout-totals raised enormously in the following years. After having struckout less then 100 batters in her first five big league-seasons, she was well above the mark in her following years, setting records with 319 in 1997 and 300 in 1998. Through the years, Sonja became the all-time strikeout-leader in the Dutch big league. In 1997, she set career-highs with 19 victories, pitching 220 2/3 inning and striking out 319 batters. A year earlier, she had her best ERA, an astonishing 0.07, pitching in 102 innings. This season, her 14th on the big league-level, Sonja threw in 21 games (20 as a starter) and finished with a 9-12 record. She threw in 126 innings and struckout 132 batters, while walking only 30 and gave up 90 baseshits. Sonja finished the season with a 2.33 ERA.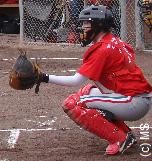 ...Marijke van Veen...
(© Ph: Marco Stoovelaar)

Sonja, who was bothered by some injuries in the last years of her career, developed an unique fielding construction. It is commonly known that when she fielded a ball, her throws to first base weren't always as accurate, so when Sonja fielded a ball, she tossed it to the third baseman, who then completed the throw to first base for the out. In the nineties, Sonja played for the Dutch National Softball Team and participated in the Olympic Games of 1996 in Atlanta (USA).

Catcher Marijke van Veen made her big league-debut this year. Playing in 24 games, Marijke batted .109 (5-for-46), scored two runs and had one RBI. Defensively, she made only five errors in 160 chances.


...Yvette Krooder...
(© Ph: Marco Stoovelaar)

Like Sonja Pannen, Designated Player and Third baseman Yvette Krooder also made her debut the Dutch big league some years ago. In 1996, she made her debut in the highest division, playing in 16 games for Terrasvogels and then hit .250. After playing for Terrasvogels in two big league-seasons, Yvette played in two seasons for TYBB, which then also played in the majors. She returned to Terrasvogels, made a brief comeback in the big league in 2002 and then played an almost full season again for the Santpoort-squad in 2006, hitting .270 and playing in 26 games. This would be her last season on the highest level, until this year, playing for DSS. This season, Yvette was primarily used as a Designated Player, but also played at third base when Amanda Hess pitched. Playing in 27 games, Yvette batted .109 (6-for-55), scored twice and had four RBI's and was second best in the team with six sacrifice bunts.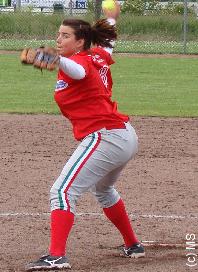 ...Amanda Hess...
(© Ph: Marco Stoovelaar)

Righthanded Pitcher/Third baseman Amanda Hess played a major part in the success last year for DSS when it won the title in the First Division and promoted to the big league. This season, Amanda made her debut on the highest level and played in 30 games. She was the best hitter of the team with a .341 batting average (30-for-88) and also led the team in hits (30), doubles (7), triples (3) and RBI's (25). Amanda hit the lone homerun of DSS this season and her 25 runs batted in was by far the most of the team, as the second best total was eight. She scored 11 runs, but also struckout 23 times, the third highest total of the squad. But after having played her 30th game, which came before the season was interrupted for the second international break, Amanda left the team and returned to the USA.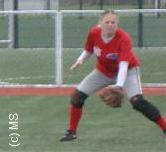 ...Floor Roest...
(© Ph: Marco Stoovelaar)

Catcher/Outfielder Floor Roest was a big league-rookie this season, playing in all 32 games for DSS. She batted .213 (19-for-89), was second in her team with 12 runs scored and batted in five runs. Next season, Floor will play for Iber Lengua Terrasvogels.

DSS will be coached next season by Dennis Presburg and Werner Angermann, who will share the coaching duties and succeed Berend Mannessen. DSS announced the naming of Presburg and Angermann (who played together in the baseball-team of DSS) as their new coaches on October 1.

(November 15)