André Prins returns as Head Coach of Gryphons
Nederlands

ROSMALEN (Neth.) - André Prins confirmed on Wednesday that he will return as Head Coach of Gryphons next season when the team makes its comeback in the Dutch big league. It will mark the first time since 1990 that Prins will be a Head Coach again in the highest division. 21 years ago, Prins led Sparta and that came 18 years after he had last coached in the big league when he was with Westerkwartier in 1972. In between, Prins was both active as an international baseball and softball-umpire and coached softball-teams on all levels. Besides that, Prins coached the National Youth Teams for several years, was a member of the coachingstaff of the Dutch National Team for one year and also coached Carrousel in Russia, as well as the Russian National Team. Last year, Prins headed the French Junior Team during the European Championship in Vienna (Austria) and this year, he led the French National Team during the European Championship in Italy.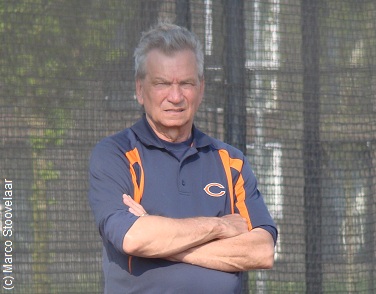 ...André Prins...
...Back with Gryphons in 2012...
(© Photo: Marco Stoovelaar)

In October last year, Prins was named Head Coach of Gryphons after the team ended up empty-handed in the Promotion/Relegation Play-Off vs. Olympia Haarlem. In the 2009 season, Gryphons relegated from the big league to the 'Overgangsklasse'.

This season, Gryphons dominated in the second highest league and on September 3 captured the championship title to promote automatically to the big league in which it played in 2008 and 2009. In the first part of the season, Gryphons finished in first place with a 26-2 record, finishing 10 points ahead of number two UVV. After the league was split, the top-4 continued playing for the championship and started the second half with the won-loss record of the games played against the other three teams during the first part of the season.

Gryphons started the second half with a 10-2 record, then remained unbeaten in this championship pool winning all twelve games to finish with a 22-2 record. With that, Gryphons ended up comfortably in first place and was 38-2 overall this season. After closing the season last Saturday, September 10 with 2-0 and 5-3 victories vs. UVV, Gryphons finished 18 points ahead of UVV. Coming weekend, UVV starts a best-of-five Promotion/Relegation Play-Off vs. Centrals. The winner of that series will play in the big league in 2012.

,,We had no holes in the line-up'', Prins stated after completion of the season. ,,In the second half of the season, we also started to hit very well'', said Prins, who in the off-season also will open his softball-school again.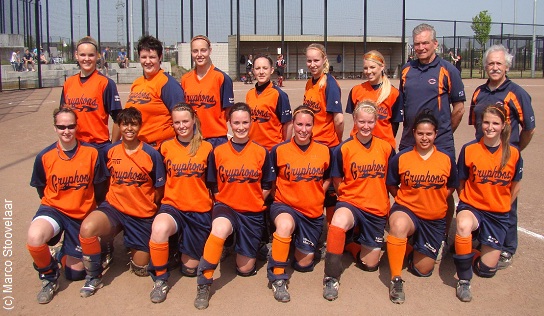 ...The championship team of Gryphons...
(© Photo: Marco Stoovelaar)

Gryphons, which was formed in September 2002 after a merger between De Knuppelaars and HBS, can look back to a strong recordsetting season. The team scored 287 runs and that is the most ever since it first played on the national level in 2006 (First Division), with the old record being 217 (in 2007). The 77 runs it gave up are the fewest since it gave up 73 during the 2007 season (First Division). The 38 victories are by far the most ever for the club since 2006.

During the season, Gryphons underscored its dominance with 17 shutouts, including one Perfect Game. The team registered 356 basehits, including 41 doubles, 37 triples and 10 homeruns to finish with a .351 batting average, .493 slugging average and .421 on base percentage.

The 287 runs Gryphons scored is a record in the second highest division. It breaks the record of 282 set in 2009 by Alcmaria Victrix, which last season scored 240 runs. Since 2001, in nine of the eleven seasons played, there were nine teams who scored 200 or more runs. The only other team to score more than 250 runs in the first decennium of the new century was Zwijndrecht, which scored 251 in 2001. In the nineties, only one team was able to reach the 200-run mark, being The Herons in 1995 with 201. In the eighties, nine teams scored 200 or more runs in the second highest league (First Division until 2008, Overgangsklasse since 2009), topped by 242 by Sparta in 1988, Onze Gezellen with 223 (1986), Zwijndrecht with 217 (1988), Amsterdam Pirates with 214 (1988) and Westerkwartier with 211 (1980).

The 38 victories by Gryphons this season are also a record for the second highest league, breaking the record of 34 set in 2001 by Zwijndrecht. Since 2001, only five teams won 30 or more games. The only other club to win 30 or more games before that in the second highest league was Onze Gezellen, which won 31 in 1986.

(September 14)