Five new players for Terrasvogels
Nederlands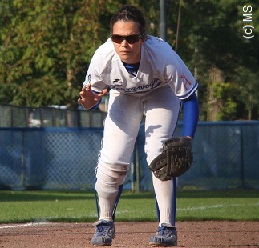 ...Dana Horeman...
(© Photo: Marco Stoovelaar)

SANTPOORT (Neth.) - Hotel Ambassador c.c. Terrasvogels added five players to its roster for the new season, including two National Team-players. Five players are not on the 2013 roster, but four of them remain a member of the club, meaning they can always return to the squad when needed.

The four players concerned all stopped after completion of this season. Veteran 3B Dana Horeman cannot combine her regular job anymore with playing, while 2B (and National Team-player) Meike Witteveen and infielder/outfielder Lotte Holvast decided to do some traveling. Catcher/Outfielder Floor Roest also decided to stop. On the final day of the transfer-period, one player decided to play for another club, as pitcher/infielder MariŽlle Vleugels opted to play for Gryphons.

Dana Horeman, who played 10 seasons for Terrasvogels, batted .316 this season (24-for-76) with six doubles, despite missing some games due to work, scored 13 runs and had 18 runs batted in.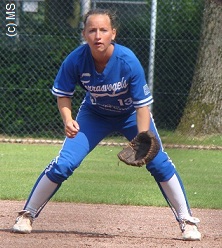 ...Meike Witteveen...
(© Photo: Marco Stoovelaar)

Meike Witteveen batted .299 (40-for-134) with three doubles, five triples, two homeruns and 18 runs batted in. Her 32 runs scored were second best of the team.

Lotte Holvast batted .247 (24-for-97), scored 20 runs and had seven RBI's, while Floor Roest batted .187 (14-for-75) with 11 runs scored and seven RBI's.

MariŽlle Vleugels had the third best average of the team with .324 (33-for-102), scored 23 runs and was second best with 29 RBI's. As a pitcher, she was 12-5 with a 2.45 ERA and 39 strikeouts in 94 1/3 inning.
| | | |
| --- | --- | --- |
| | | |
Coming to Santpoort are infielder Petra van Heijst and infielder/outfielder Yonina Sint Jago, both members of the Dutch National Team. Also coming are catcher/3B Cheryl Hiele, infielder/outfielder Myrthe Smid and pitcher Malou van Dusschoten.

Petra van Heijst returns to Terrasvogels, as she already played for the team in 2005-2008, before returning to Tex Town Tigers, where she had started her career. This season, she batted .278 (30-for-108) for the Enschede-team with 17 RBI's, five doubles and three triples and was second best of the team with 30 runs scored.

Yonina Sint Jago led Gryphons during the regular season with a .345 batting average (38-for-110) and 21 runs batted in. She scored 20 runs (second best) and led the team with six doubles.

Cheryl Hiele, who also comes from Gryphons, missed part of the season due to an injury and batted .200 (8-for-40), scoring five runs and hitting two triples. In the summer, she was a member of the Dutch Junior Team that captured the European title.

Myrthe Smid batted .164 (12-for-73), scored 10 runs and had five RBI's and six doubles playing for Tex Town Tigers.

Pitcher Malou van Dusschoten was 5-3 for Alcmaria Victrix, with whom she captured the Dutch championship-title this season. The righthander appeared in 17 games and struckout 26 batters in 41 2/3 inning, finishing with a 4.20 ERA.

Head Coach Tim Verbrugge and Assistant Coach Ingeborg Berk both stopped, as they cannot combine it with their work. Terrasvogels expects to announce their successors soon.
| | | | | |
| --- | --- | --- | --- | --- |
| | | | | |
(November 1)