This weekend final tournament, final preparations
Nederlands

HAARLEM (Neth.) - Starting on Fridag-evening, April 6, the final preparations will begin for the eight softball-teams that will form this years Dutch big league. Tonight, at the Nol Houtkamp Complex in Haarlem, the 25th edition opens of the annual Jan de Wit Tournament, which will not only be the last pre-season tournament, but also will close the exhibition season for most of the teams. The tournament will be played at the complex which also will be the site for the 2014 ISF World Championship Women Softball, the first time this global event takes place in Europe.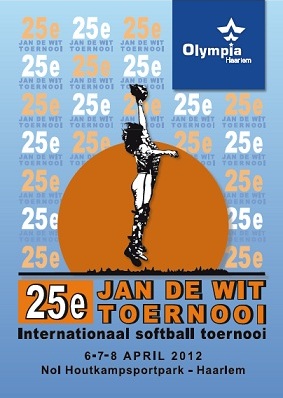 Six of the eight big league-teams are participating in the event, being reigning champion Oolders Omaco Sparks Haarlem, Alcmaria Victrix, Tex Town Tigers, Twins, Gryphons and host Olympia Haarlem. The field of participants is completed with Carrousel from Russia and the National Team of the Czech Republic.
Hotel Ambassador c.c. Terrasvogels closes its exhibition season on Saturday with a double-header at Centrals, while UVV, which will make its comeback in the highest division this season, has no games scheduled in the Easter Weekend.
The exhibition season closes on Monday when Gryphons, which also makes a comeback in the highest league this season, plays a double-header at home vs. Centrals, which last season relegated from the big league.
The regular season opens on Saturday, April 14.
Olympia Haarlem
vs.
Carrousel (Rus.)
7:30 PM
Oolders Omaco Sparks Haarlem
vs.
Alcmaria Victrix
7:30 PM
Gryphons
vs.
Carrousel (Rus.)
11:00 AM
Twins
vs.
Olympia Haarlem
11:00 AM
Czech Republic
vs.
Oolders Omaco Sparks Haarlem
12:45 PM
Alcmaria Victrix
vs.
Tex Town Tigers
12:45 PM
Olympia Haarlem
vs.
Gryphons
2:30 PM
Carrousel (Rus.)
vs.
Twins
2:30 PM
Czech Republic
vs.
Alcmaria Victrix
4:15 PM
Oolders Omaco Sparks Haarlem
vs.
Tex Town Tigers
4:15 PM
Tex Town Tigers
vs.
Czech Republic
6:00 PM
Gryphons
vs.
Twins
6:00 PM
No. 3 Pool A
vs.
No. 4 Pool B
10:00 AM (13)
No. 3 Pool B
vs.
No. 4 Pool A
10:00 AM (14)
No. 1 Pool A
vs.
No. 2 Pool B
11:45 AM (15)
No. 1 Pool B
vs.
No. 2 Pool A
11:45 AM (16)
Loser Game 15
vs.
Loser 16
1:30 PM (3rd/4th place)
Winner Game 13
vs.
Winner Game 14
1:30 PM (5th/6th place)
Loser Game 13
vs.
Loser Game 14
3:15 PM (7th/8th place)
Winner Game 15
vs.
Winner Game 16
3:15 PM (final)
(April 6)