Sparks Haarlem, Carrousel pool-winners
Nederlands

HAARLEM (Neth.) - Dutch champion Oolders Omaco Sparks Haarlem and the Russian team from Carrousel remained unbeaten on Saturday, which was Day 2 of the 25th Jan de Wit Tournament in Haarlem.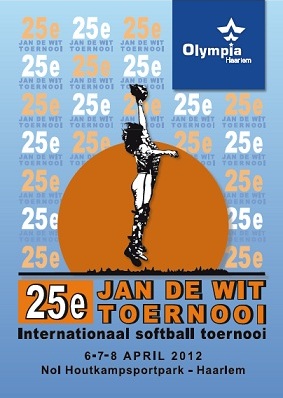 Sparks Haarlem shutout the National Team of the Czech Republic 9-0, then nipped Tex Town Tigers 7-6. Carrousel won 11-6 vs. Gryphons and won big vs. Twins, 8-1.
Organisor Olympia Haarlem finished in second place behind Carrousel by winning 3-0 vs. Twins and 2-1 vs. Gryphons. Twins closed the day with a 6-2 win vs. Gryphons to finish in third place in Pool A, while Gryphons remained winless.
In Pool B, Alcmaria Victrix shutout Tex Town Tigers 7-0, which then won 6-2 vs. Czech Republic after losing vs. Sparks Haarlem. In the afternoon, the Czech squad won 11-2 vs. Alcmaria Victrix.
With this, Tex Town Tigers, the Czechs and Alcmaria finished in a 3-way tie behind Sparks Haarlem. The face-to-face games between these teams gave a new tie and so a run-formula (runs given up divided by defensive innings) had to be used, resulting in Tex Town Tigers finishing in the highest position. The tie between the Czechs and Alcmaria was then decided by the result of their game earlier in the day.
And so, on Sunday, the third and final day of the event, Sparks Haarlem will meet Olympia Haarlem in the semi-final, while Carrousel will play vs. Tex Town Tigers to decide the other finalist.
No games details are available yet
Final Standings Pool A after Day 2
#
Team
G
W
L
T
P
1
Carrousel
3
3
-
-
6
2
Olympia Haarlem
3
2
1
-
4
3
Twins
3
1
2
-
2
4
Gryphons
3
-
3
-
0
Final Standings Pool B after Day 2
#
Team
G
W
L
T
P
1
Oolders Omaco Sparks Haarlem
3
3
-
-
6
2
Tex Town Tigers
3
1
2
-
2
3
Czech Republic
3
1
2
-
2
4
Alcmaria Victrix
3
1
2
-
2
Twins
(No. 3 Pool A)
vs.
Alcmaria Victrix
(No. 4 Pool B)
10:00 AM (13)
Czech Republic
(No. 3 Pool B)
vs.
Gryphons
(No. 4 Pool A)
10:00 AM (14)
Carrousel
(No. 1 Pool A)
vs.
Tex Town Tigers
(No. 2 Pool B)
11:45 AM (15)
Oolders Omaco Sparks Haarlem
(No. 1 Pool B)
vs.
Olympia Haarlem
(No. 2 Pool A)
11:45 AM (16)
Loser Game 15
vs.
Loser 16
1:30 PM (3rd/4th place)
Winner Game 13
vs.
Winner Game 14
1:30 PM (5th/6th place)
Loser Game 13
vs.
Loser Game 14
3:15 PM (7th/8th place)
Winner Game 15
vs.
Winner Game 16
3:15 PM (final)
(April 7)