Tex Town Tigers opens with loss
Nederlands

ENSCHEDE (Neth.) - Tex Town Tigers opened the 30th J.C.J. Mastenbroek Tournament on a chilly Friday-evening with a 6-3 loss vs. Carrousel from Russia.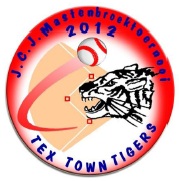 Tex Town Tigers, which is led for the first time by Australian Bill Gates, held the lead twice. In the second inning, Myrthe Smid scored the first run on a wild pitch, but Carrousel came alongside in the next at bat. Tex Town Tigers re-took the lead in the fourth when Martina Lackner scored on an error.
But in the top of the fifth inning, the game turned into Carrousel's favor, as the Russians rallied for five runs, highlighted by 2-run triples by Elena Povarova and Irina Ilyashenko. Tex Town Tigers could add only one more run in its fifth inning (which was the last of the game) when Merel Oosterveld scored on a single by rookie Annemiek Jansen.
(March 30)