Dutch Team opens World Championship vs. USA; Group alignments announced by ISF
Nederlands

PLANT CITY, Florida (USA) - The Netherlands National Softball Team will open the XIV ISF Women's World Championship on August 15 against Team USA, which two years ago lost the final in Canada vs. Japan. The Dutch Team finished in sixth place in Canada.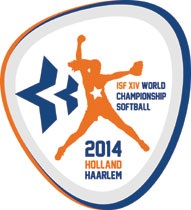 On Friday (April 18), the International Softball Federation (ISF) announced the alignments for Group A and B for the World Championship, which will be held for the first time in Europe. From August 15 through 24, the global event will be staged at the Nol Houtkamp Sports Complex in Haarlem (Netherlands) with participation of 16 national teams.
The first game of the event on August 15 will start at 9:30 AM local time and will feature Chinese Taipei and Australia. At 6:15 PM, the Opening Ceremonies will take place and will be followed at 8 PM by the match-up between the Netherlands and USA, which will be the eighth game scheduled for the first day of the event.
The Dutch Team, which captured three consecutive European Championship-titles (remaining unbeaten) since 2009, will play in Group B in the preliminary round. In the first phase of the event, the Orange meet Australia, Botswana, Chinese Taipei, Dominican Republic, Great Britain and Italy.
Playing in Group A are Canada, China, Cuba, Czech Republic, Japan, New Zealand, Puerto Rico and Russia.
The Gold Medal Game will be played om August 24 at 3 PM, being preceeded by the Bronze Medal Game at 12 PM.
Six months before the first game will be played, the Organizing Committee reports that ticket availability is already more than halfway to being completed sold-out.
Recently, Ms. Beng Choo Low, the ISF Secretary General, visited Haarlem for a site inspection. She said: ,,The Local Organizing Committee is doing a superlative job in building the profile of Europe's first Women's Softball World Championship and is readying the world stage to provide an exciting platform for the athletes from the sixteen National Teams and for the many fans from all over the world who will come to Haarlem to see them''.
She continues: ,,The ticket sales being generated for this world event highlights the spectator interest and the power and potential of softball as a promoter of women's sport, helping shape a sporting world that is more balanced and relevant to women. I am confident the historic first-ever Women's World Championship in Europe will further deepen baseball and softball's collective global footprint, especially in Europe, and will deliver an excellent showpiece in women's sport - leaving a truly unique and lasting legacy for the city of Haarlem.''
(April 18)
Official website World Championship