(Story Marco Stoovelaar; Photos published with permission of Stanley Doney)

New Zealander Stanley Doney new Head Coach Olympia Haarlem: ''This will be a new challenge''
Nederlands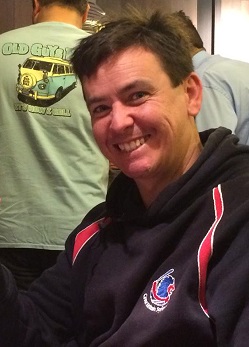 ...Stanley Doney...

HAARLEM (Neth.) - Stanley Doney is the new Head Coach of FysioExpert Olympia Haarlem, the club announced on November 10. Doney succeeds Caroline Powell, who resigned after the season. After leading the team since 2010, Caroline informed the club that she plans to return to the United States.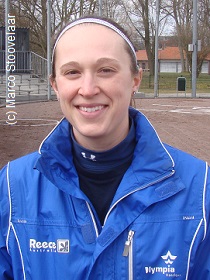 ...Caroline Powell...
(© Photo: Marco Stoovelaar)

Caroline Powell was the team's Head Coach for five seasons and had a successful stint with the club from Haarlem. In 2009, the team promoted back to the Dutch big league and then Caroline Powell took over the coaching in 2010. In her first season, Olympia finished in a tie for seventh place and had to play in the best-of-five Promotion/Relegation Play-Off. The team the secured a spot in the 2011 big league by winning 3-1 vs. Gryphons. Olympia Haarlem then reached the top-4 in each of the next four seasons. In 2011, it finished in fourth place to qualify for the Play-Offs, then was eliminated in the first round when it was swept 3-0 by Oolders Omaco Sparks Haarlem. In 2012, the team finished in a tie for fourth place with Tex Town Tigers and Gryphons with the latter eventually reaching the Play-Offs. In 2013, Olympia finished in third place, then was eliminated in the first round of the Play-Offs, losing 2-0 in the best-of-three to Alcmaria Victrix. This season, Olympia again ended up in third place. The team then won the first round of the Play-Offs, sweeping UVV 2-0. But in the second round, it was eliminated when it lost the best-of-three 2-1 to then-reigning champion Hotel Ambassador Haarlem Terrasvogels. In the following Holland Series, Terrasvogels was dethroned by Sparks Haarlem.

Doney wil be assisted by Inge Duin-Consent, who also served as Assistant Coach of Caroline Powell during her five-year stay with the club.

New Zealander Stanley Doney was born in Sydney (Australia) 37 years ago, but now lives in British capital London. Doney played men softball in New Zealand, Australia and Denmark. While playing, he also started coaching, which he also did in Denmark and England. This year, Doney was appointed as National Programme Manager for the British Softball Federation, which he will continue doing in 2015.

This weekend, Grand Slam * Stats & News editor-in-chief Marco Stoovelaar interviewed Stanley Doney about his long softball-career and him being named coach of Olympia Haarlem for the upcoming season.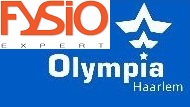 Stanley Doney got in touch with Olympia Haarlem via Caroline Powell. Stanley: ,,She told me that she wanted to return to the USA. I work for the British Softball Federation, go each year to the Zeister Slot Tournament and a few years ago, I met a beautiful Dutch girl, who is from De Bilt. So, I spoke with Caroline for the last two years and we got in touch again about me taking over Olympia. I came over to the club and met with the players. And in the end, they liked to have me as their new coach. Of course, I had to speak also with the BSF, but it was no problem for them that I would also be coaching at Olympia, while also overseeing the British national teams. So, this could work and I agreed to do it.''
As mentioned, Stanley is a New Zealander, but he also has Scottish roots and grew up in Australia. Stanley's mother was born in Glasgow (Scotland) and lived in Australia, where she met his father. By the way, both are from New Zealand. Stanley then lived with his parents in Australia until he was 16 years old and played softball there. Stanley: ,,My parents were very young when they got me. And so, I was able to play with my dad in the same team, which was great. Softball is big in my family and I started to play it at a young age. I'm in softball now for 33 years. Coaching more or less also fell into my lap, so I became a player/coach at a young age. I'm coaching now since 2003.''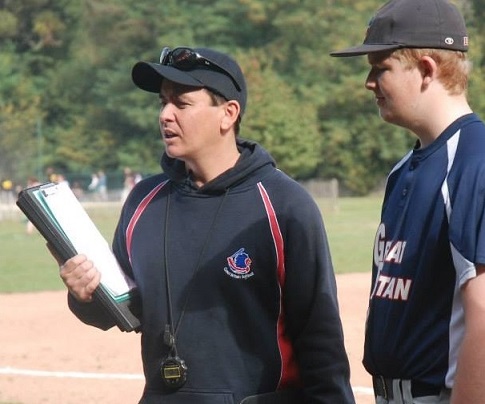 ...Stanley Doney as instructor...

In Australia, Stanley played in both the Premier League as well as for the New South Wales State Team. Stanley: ,,With the Junior New South Wales State Team, we won the national championship when I was 16 and when that was over, my dad said to pack my things, as we were returning to New Zealand. So, I then moved with my parents back to New Zealand, where softball is very strong and I started playing there.''

While in Australia, Stanley played a little baseball when he was in school. Stanley: ,,I attended some scouting sessions of the Atlanta Braves, but I was not strong enough. And as my dad was in softball, I continued in softball.''

New Zealand has been more known for its strong softball, than baseball. But in recent years, the strenghth of baseball starts to grow in the island-nation. This November, New Zealand participated in the first-ever Under-21 World Baseball Championship in Taiwan. Stanley: ,,I had a couple of cousins in that team. Baseball starts to increase in New Zealand. It can grow. New Zealand is a talented sports nation.''

Recently, two New Zealanders even signed a professional contract. Pita Rona signed with the Baltimore Orioles, while Te Wara Bishop was contracted by the Boston Red Sox. Rona, who signed a contract at age 17, played in the Rookie League for the Orioles in 2013 and 2014. Bishop was released. In the past, New Zealander Travis Wilson (who is from Christchurch) played professionally in the USA in 1997-2004, primarily in the organization of the Atlanta Braves. In 2004, he played in Double-A for the Cincinnati Reds. In 2001-2003, Wilson played in Triple-A, but missed becoming the first New Zealander in the Major League.

From 1994 through 2000, Doney played softball as an infielder/outfielder for North Harbor in the New Zealand Premier League. The team is located in Albany, near Auckland, playing its games in Rosedale Park. Coincidentally, without knowing it of course, Stanley Doney and webmaster Marco Stoovelaar were together at the same field 20 years ago in New Zealand. Back then, your webmaster was the media officer, scorekeeper and video reporter of the Netherlands National Women Softball Team, which then toured the North Island of beautiful New Zealand. The trip concluded with a 5-game series against the national team of New Zealand, with two of those games being played at Rosedale Park in Albany. Doney attended one of those games. ,,Yes, I remember that well'', he looks back. ,,I went to one of the games of the Dutch Team. I then got a foul ball, which I still got at home. By the way, the balls were still white back then, instead of yellow. My house is about 10 minutes drive from the field.''

Doney also coached at North Harbor, leading them to the Nationals in 2006. Four internationally experienced Danish players then played for the team, Kim Hansen, Anders Jorgenson, Thomas Hansen and Dennis Kihlgast Jensen.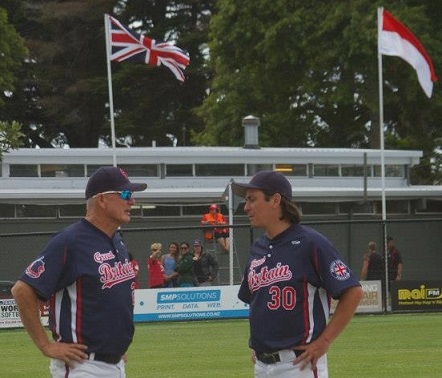 ...Stanley Doney (right) with Russ Snow...
...at the World Championship 2013...

From New Zealand, Stanley Doney travelled to Denmark where he also played and coached. In Denmark, he was active at Gladsaxe Softball Klub, which plays in Gladsaxe, a community near Copenhagen. Stanley: ,,When I got there, the club had one men's team, one women's team and one junior team. In the four years I worked there, the club got some 24 junior teams, we had two men's teams and one women's team. Half of the national team-players came from the club.'' While in Denmark, Stanley also organized clinics for both the Danish Softball Federation, as well as the International Softball Federation (ISF).

In 2008, he started coaching in Great Britain. Through the years, Doney coached all national British teams, including the National Junior Girl's Team during the European Junior Championship of 2010 in Vienna (Austria). In that event, a new format was introduced, as the former A- and B-pool were joined into one tournament. However, the new schedule-format wasn't correctly set up at that time and that led to both Great Britain and the Netherlands being eliminated for the Play-Offs after losing one crucial game. ,,The tournament-schedule worked against us the whole week'', Doney looks back. ,,The fun thing is that during that tournament, there were some players in the Dutch team, who are now on the Olympia-team''. Stanley refers to Rosanne de Vries, Eva Voortman, Dinet Oosting and Suzanne Meiring.

After the event in 2010, Doney decided to coach the Under 19 British Men Softball Team. Later, he went on to coach the Great Britain Men Softball Squad, with whom he qualified for the World Championship, which was held early last year in New Zealand. At that event, Stanley was an Assistant Coach of Head Coach Russ Snow. Stanley: ,,It was homecoming, as the games were played at my home field in Albany''. Earlier this year, he was appointed as National Programme Manager of the British Softball Federation, overseeing the activities of the national softball-teams of Great Britain.

Looking ahead to next season when he will lead Olympia Haarlem, Stanley Doney states: ,,It will be a new challenge for me. I'm looking forward to it. We have a young team and our goal is to become the number one team in the next three years. Sparks is getting a little older now, so we will see whether we can annoy them a little more, haha.''

There will be somewhat of an extra competition next season. Recently, Norman Ames was named Head Coach of DSS, while Erik Vrugt was named Assistant Coach at reigning champion Sparks Haarlem. Ames currently also is the Head Coach of the British National Men Softball Team, while both Vrugt and Doney were coaches of men-teams in recent years. Stanley: ,,So, three men coaches will meet each other in the league. That will be funny and will be an extra competition.''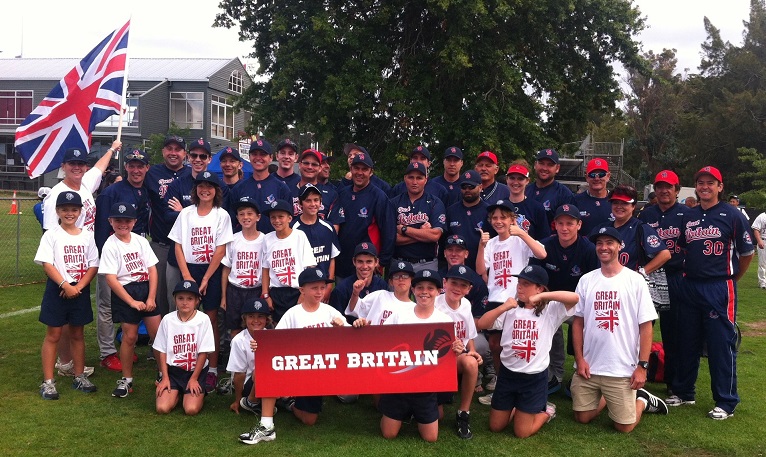 ...Stanley Doney (right, #30) with the British Men Team before the...
...Opening Ceremony of the 2013 World Championship in New Zealand...

,,I'm used to winning most of the time'', Stanley said. ,,I want to keep that going with Olympia. I didn't coach a club-team for some two years, as I worked as a coach with the British national teams. It's fun to doing this coaching again with a team day-by-day. Coaching a club-team is different, it's good to get back in that. We have a group of talented girls at Olympia. It will be an interesting competition next year with six teams.''

Olympia Haarlem will have to do next season without its leading pitcher Lindsey Meadows, who also was productive offensively. The national team-player will be back with Tex Town Tigers in 2015, the club where she already played in 2005-2010. She then played two seasons in Italy, before going to play for Olympia in 2013 and 2014. This season, Tex Town Tigers qualified for the Golden League, which will be the new highest Dutch division next season.

During the upcoming season, British National Team-players Chiya Louie and Alicja Wolny will join Olympia Haarlem. In August, they participated with the British National Team in the World Championship, which was held at the site of Olympia. In the Preliminary Round, Wolny batted .583, while Louie batted .333.

Stanley Doney will become the second coach from New Zealand to be a Head Coach in the Dutch big league. He follows in the footsteps of Glen Roff, who led Terrasvogels in 2008.

Stanley: ,,Of course, I know Glen Roff. When I'm able to coach like him, I will be a happy man. He is a great player and a great coach. It's an honor to follow him to be the second Kiwi-coach in the Netherlands and I will try to maintain the New Zealand-name. At Olympia, we want to look out to the future, built something. I hope to make Olympia and Dutch softball better. To make European softball better. The Dutch Team penetrated in the worlds's top-8 in recent years. It would be great to see Italy and Great Britain joining them and climb further on the ladder. I'm looking forward to next season. Olympia will be a new challenge for me.''

(November 29)