(Story by Marco Stoovelaar; Photo by Fred Versluis)


Lars Looijen gets role in British National Softball Teams Program
Nederlands



MANCHESTER, England (Great Britain) - Lars Looijen, the Team Manager of Dutch Golden League softball-team Olympia Haarlem, has become involved in the National Softball Team Program of Great Britain.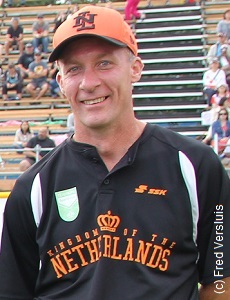 ...Lars Looijen with the...
...the Netherlands SB Team...
...at the 2016 World...
...Championship in Canada...
(© Photo: Fred Versluis)

Last Saturday (February 29), the British Softball Federation (BSF) held its Annual General Meeting in Manchester. Afterwards, the Executive Board of the BSF confirmed several decisions that were made.
Amongst those decisions was the appointment of a treasurer for the Great Britain Management Committee and Great Britain National Teams. At the end of last year, Simon Mortimer stepped down as treasurer after having served in this position for several years. He continues as Team Manager of the National British Softball Team.
The BSF received two applications for the vacant position of treasurer and decided to appoint Lars Looijen. The BSF stated that ''Looijen is based in the Netherlands but has extensive experience as a softball treasurer, having filled this role with the Dutch National Team in the past and currently with the leading Dutch club team Olympia Haarlem''. As treasurer, Looijen will handle the finances for five National Women's Teams, two National Men's Teams and two National Slowpitch Teams.
Lars Looijen was the Team Manager and Business Manager of the Netherlands National Women's Softball Team in 2016. In that year, the National Team finished in fourth place at the World Championship in Canada. The Orange Team was then led by Head Coach Juni Francisca. His Bench Coach was New Zealander Stanley Doney, who also has been active for the BSF in recent years.
Since 2018, Looijen is the Team Manager of Olympia Haarlem, which was the last season that the team was led by Head Coach Stanley Doney. In that year,, the team repeated as Dutch Champion. Last season, the team again qualified for the Holland Series, but then lost to Roef!, which captured its first-ever title.
Before that, he was the Team Manager of Golden League-team Terrasvogels in 2014-2017. There, he also served as secretary of the board. Before joining Terrasvogels, Looijen was involved several years as a softball-coach at Haarlem-based Onze Gezellen.
In the past, Lars Looijen played softball in the highest Dutch league with the men's softball-team Pingu´ns from Haarlem.
(March 5)