(Story by Marco Stoovelaar; Photo by Henk Seppen)


Netherlands Softball Team opens exhibition series vs. Canada with loss
Nederlands



GUELPH, Ontario (Canada) - The Netherlands Softball Team played its first of four exhibition games against Canada on a hot Thursday-evening (June 16). At Exhibition Park in Guelph (near Toronto), the Netherlands lost with a 6-2 score in a game that was well-visited. When the game started, it was 29 degrees (85 F) and a heat-warning had been issued. The Orange-squad arrived in Canada on Wednesday.

The two teams will meet again on Friday, then play a double-header on Saturday. Thereafter, the Netherlands will travel to Surrey at the west-coast, where it will participate in the Canada Cup. The team will play its first game in this tournament next Monday.
After the four games against the Netherlands, the Canadian team will meet the National Team of the Czech Republic in a series of five games. All these games are part of Canada's WNT Celebration Tour, to celebrate the winning of the Bronze Medal last year during the Olympic Games in Japan.
Canada opened the score with two outs in the bottom of the first inning off of Orange-starter Eva Voortman. Erika Polidori then singled, moved to third base on a double by Alysen Febrey and scored on a wild pitch.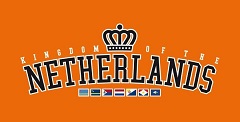 The Netherlands Team got its first baserunner in first inning when Jessie van Aalst was hit on her helmet with two outs by a pitch from Ruby Anderson. Luckily, Van Aalst could stay in the game, but she was left behind on first base. In the top of the second inning, the Orange Team came alongside when Cindy van der Zanden hit a line drive homerun into deep leftfield with one out.
But Canada immediately broke the 1-1 tie in the bottom of the second inning. Lead-off hitter Kianna Jones walked and next batter Callum Pilgrim was hit by a pitch. Eva Voortman followed with a strikeout, but then gave up a 2-run double down the leftfield-line to Larissa Franklin.
In the top of the third inning, the Netherlands got into scoring position again when Britt Vonk led off with a walk, stole second base and advanced to third base via a sacrifice bunt by Brenda Beers. She then stranded on third base.
Canada was then retired in order in its third at bat by Eva Voortman, who was relieved in the fourth by Lisa Hop. The righthander was greeted with a lead-off homerun by Kianna Jones. With two outs, Larissa Franklin also homered for Canada to make it a 5-1 score.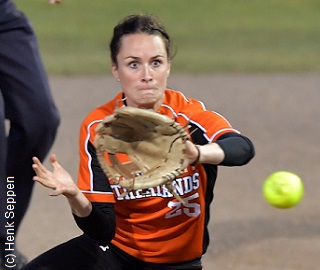 ...Cindy van der Zanden homered and...
...was named Player of the Game...
(© Photo: Henk Seppen)

In the top of the fifth inning, facing new pitcher Nicola Simpson (who entered in the fourth), the Orange Team got a run back when lead-off hitter Laura Wissink drilled the ball over the fence in right-centerfield for a homerun. With one out, Simpson hit Britt Vonk with a pitch, who then advanced on a grounder by Brenda Beers. That brought in new pitcher Morgan Rackel, who got an inning-ending flyout.

In the bottom of the fifth inning, Canada got two baserunners with one out. Lisa Hop then followed with a strikeout, then a grounder ended the at bat.

Canada added an insurance run in the bottom of the sixth off of Lisa Hop. Emma Dorval led off with a pinch-hit single, moved into scoring position on a wild pitch, then scored on an one-out single by Kelsey Harshman. With two outs and a runner on first base, Alysen Febrey drove the ball into deep centerfield, but there, Brenda Beers made a great catch to end the at bat. She jumped up, then caught the ball hanging over the fence for what would have been a homerun!

In the top of the seventh inning, the Netherlands was retired in order and with that, the first game ended with a 6-2 final score.

Afterwards, Cindy van der Zanden was named Player of the Game for the Netherlands. For Canada, that honor went to Larissa Franklin.

Playing for the Netherlands in this game were Britt Vonk (SS), Brenda Beers (CF), Jessie van Aalst (RF), Maxime van Dalen (1B), MariŽlle Vleugels (DP), Cindy van der Zanden (2B), Suka Van Gurp (2B), Dinet Oosting (3B/C), Laura Wissink (C), Annemiek Jansen (LF), Damishah Charles (LF/3B), Eva Voortman (SP) and Lisa Hop (RP).

(June 16)