(Story by Marco Stoovelaar; Photo by Henk Seppen)




Netherlands Slowpitch Team loses twice in Play-Offs European Championship
Nederlands



COLORNO (Italy) - The Netherlands Men's Slowpitch Softball Team suffered two losses on Friday (June 17), the first day of the Play-Off Round of the European Championship in Italy. The Orange Team remained unbeaten in the preliminary round, winning all five games it played. But on Friday, the team lost to Great Britain (21-15) and Ireland (20-11). Later today, the British Team also won against Ireland (20-9).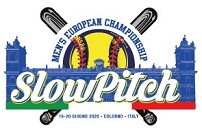 Great Britain is one of the leading countries in slowpitch softball. Since the first Coed Slowpitch European Championship was organized in 1998, Great Britain captured the title in eleven of the twelve editions. In 2017, the team finished in second place. In 2018, Great Britain also won the title in the first-ever Men's Slowpitch European Championship.
In the preliminary round of the current (second) Championship, Great Britain lost only one of its five games. But that was a big 17-2 loss against the Netherlands.
The teams took the head-to-head results from the preliminary round with them to either the Top-3 or Bottom-3 Pool. After the results in today's Play-Off Round (or second round), the Netherlands is now 2-2 to finish in second place in Pool E (Top-3) behind Great Britain. That means that the Netherlands and Great Britain will face each other again in the Semi-Final at 9 AM on Saturday, which is the final day of the event. The winner of this game becomes the first finalist. The loser will meet the winning team of the second Semi-Final between Ireland and Germany in the so-called backdoor-game. The winner of that game then becomes the second finalist. The Final will begin at 5 PM on Saturday.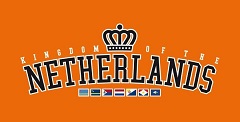 On Friday-morning (9 AM), the Netherlands appeared to be en route to another win against Great Britain, as the team led 15-13 halfway the sixth inning. The Orange Team opened the score with a 7-run rally in the second inning, then gave up three British runs. The Netherlands added three more runs in the third inning, but Great Britain narrowed the deficit to 10-8 via a 5-run rally in the bottom of the third inning. After the Netherlands had scored once in the fourth at bat, the game started to turn around. Great Britain again scored five runs in the bottom of the fifth to take a 13-11 lead. The Netherlands answered with four runs in the sixth, but then the British Team rallied for eight runs with no outs in the sixth to take a decisive lead.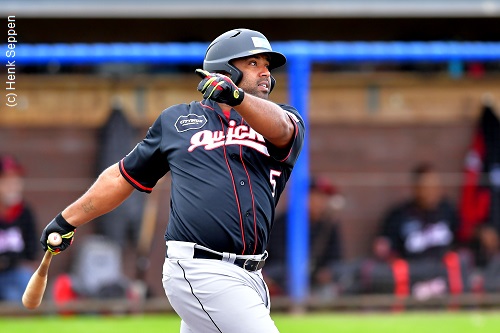 ...Bryan Engelhardt leads the European Championship...
...with 8 homeruns and 22 runs batted in...
...On the photo, he plays for Quick Amersfoort in 2017...
(© Photo: Henk Seppen)

The Orange Team outhit Great Britain 23-22, but also made five errors. In the bottom of the sixth, the first two batters of the British Team walked, then eight consecutive basehits followed, including three doubles and one triple. Siegert Flaneur and Renzo van Kranen both had four basehits, while Jos de Jong and Rinaldo James had three. Bryan Engelhardt homered.

In the afternoon, the game against Ireland again was decided late. Ireland scored seven runs in the top of the first inning, but the Netherlands then scored three runs in its first at bat and added two more in the third. After both teams had scored three runs in the fifth inning, Ireland led only 10-8. The team then scored ten more runs in the next two at bats. After Ireland had scored four runs in the top of the sixth, the Netherlands scored only once. Ireland then took a decisive lead via a 6-run rally in the top of the seventh. This time, the Orange Team managed to score only two more runs in the bottom of the seventh, but was left empty-handed for the second time today.

The Netherlands collected 18 basehits, while Ireland recorded 25, including two homeruns by Ken McCarthy. The most productive Orange-batters in this game were Siegert Flaneur, Renzo van Kranen and Bas de Jong, who all got three basehits. Flaneur homered, as did Bryan Engelhardt. De Jong scored four runs. Engelhardt hit a 3-run homerun in the first inning to account for the first Orange-runs.

Engelhardt now has homered in all seven games the Netherlands Team has played. The lefthanded powerhitter leads the tournament with eight homeruns and 22 runs batted in. Flaneur is now the leading hitter of the Championship with a .741 batting average and also has the most basehits (20).

(June 17)