(Story by Marco Stoovelaar; Photo by Fred Versluis)


Netherlands Softball Team also loses second game vs. Canada
Nederlands



OSHAWA, Ontario (Canada) - The Netherlands Softball Team came into action again on Friday-evening (June 17) to meet Canada for the second time during the WNT Celebration Tour. In Oshawa (near Toronto), the Orange Team lost 9-2. On Thursday, the two teams played the first game. Canada then won with a 6-2 score. On Saturday, the teams will play a double-header against each other.

Today's game was played at Durham Field, the home of the Lords, the softball-team of Durham College and the Netherlands was the home-team. Catcher Charlotte Drijvers, short stop Sterre den Duijn and designated player Lorraine Kieft all made their international debut in tonight's game.
Canada came into scoring position right away in the top of the first inning off of Orange-starter Lindsey Meadows. She gave up a lead-off double to Larissa Franklin, then walked Kelsey Harshman, but followed with a strikeout. A force play and groundout ended the at bat and Franklin stranded on third base.
But Canada then rallied for four runs in the top of the second inning. All runs were unearned, as the rally began with an error on a grounder by lead-off hitter Emma Entzminger. Kianna Jones followed with a double, but then the next two batters were retired. With that, they would have been the second and third out. One of the outs was a sacrifice fly by Kelsey Lalor that brought in Entzminger. With two outs, Larissa Franklin enabled Jones to score on a single and Kelsey Harshman followed with a 2-run homerun.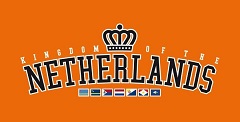 The Netherlands, which used 18 players today, got one run back in the bottom of the second inning off of starting pitcher Samantha Ryan. She hit lead-off hitter Maxime van Dalen with pitch, who then scored when Charlotte Drijvers hit a double in her first official international at bat.
Canada added two more runs in the top of the fourth. With two outs and a runner on second base, Kelsey Harshman hit an RBI-double and then scored herself on a single by Erika Polidori to increase the lead to 6-1.
The seventh Canadian run was scored in the top of the fifth inning off of new pitcher Rebecca Soumeru. The veteran righthander got two quick outs, but then Kianna Jones singled, followed by a walk and a runscoring single by Grace Messmer.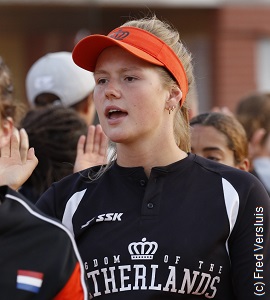 ...Charlotte Drijvers...
...2-for-3, 2 RBI's...
...Player of the Game...
(© Photo: Fred Versluis)

In the bottom of the fifth inning, Lorraine Kieft became only the third Orange-baserunner when she reached on an error with two outs, but her temporary runner Sterre den Duijn stranded on first base.

In the top of the sixth, Canada scored another run when Kelsey Harshman led off with her second homerun in the game. Canada left runners behind on second and third base, but now led 8-1.

The Orange Team got another scoring opportunity in the bottom of the sixth when it got the bases loaded with one out. Lead-off hitter Britt Vonk reached on a missed catch-error, then pinch-hitter Cindy van der Zanden singled. With one out, Maxime van Dalen was hit by a pitch, which loaded the bases, then Charlotte Drijvers delivered a runscoring single. But a double play then ended the at bat.

Canada also scored again in the top of the seventh, thanks to an RBI-double by Kelsey Harshman, who was 4-for-4 (two doubles, two homeruns), walked, scored three runs and batted in five runs. Afterwards, she was named Player of the Game for Canada. For the Netherlands, the Player of the Game was Charlotte Drijvers who was 2-for-3 (one double) and batted in both Orange-runs.

Playing for the Netherlands in this game were Britt Vonk (LF), Annemiek Jansen (CF), Cindy van der Zanden (PH/CF), Jessie van Aalst (RF), Damishah Charles (PH/RF), Maxime van Dalen (1B), Brenda Beers (PR), Charlotte Drijvers (C/OPO), Lizzie Clarijs (3B), MariŽlle Vleugels (PH), Sterre den Duijn (SS), Eva Voortman (PH), Lorraine Kieft (DP/C), Dinet Oosting (PH), Suka Van Gurp (2B), b>Laura Wissink (PH), Lindsey Meadows (SP) and Rebecca Soumeru (RP).

(June 17)