Boise Manager Davis suspended
Nederlands
EVERETT (USA) - Jody Davis, Manager of the Boise Hawks (Chicago Cubs), was suspended for six games and got a undisclosed fine on Sunday, one day after he took his team off the field during the first inning of the game at the Everett AquaSox (Seattle Mariners). Davis stated that the safety of the players was in jeopardy due to the field conditions after a long rain delay.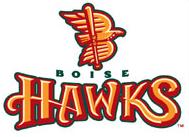 Davis was handed the suspension by Bob Richmond, the President of the Northwest League (short season single-A). ,,I've been in this business a long time, 28 years with the Northwest League alone, and I've never ever had that situation before'', Richmond said to a reporter of the Idaho-Press Tribune. ,,He was wrong and that's why we had to take the action we did. It's just a very serious thing that we're not going to put up with. When the umpires say something, you have to do it.''
Davis got support from several fans, who say he did the right thing in protecting his players and that he now is punished for doing that. Some of them stated that the league and the clubs think of earning money first and then of the safety of the players in the second place.
Davis can return to the field on August 15 when his team is hosting Everett.
(August 8)