(Story by Marco Stoovelaar; Photo by Henk Seppen)

HCAW records first exhibition win against Quick Amersfoort
Nederlands



BUSSUM (Neth.) - HCAW and Quick Amersfoort played their first exhibition game of the season on Thursday-evening (April 15) in Bussum. Under acceptable weather conditions, HCAW recorded an 8-2 win in the 7-inning game.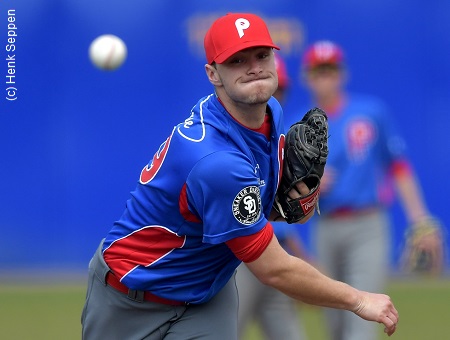 ...Lars Huijer pitching for Hoofddorp Pioniers in 2019...
(© Photo: Henk Seppen)

Coming weekend, HCAW will play two games against L&D Amsterdam Pirates, Saturday in Amsterdam, Sunday at home in Bussum. Quick Amersfoort meets DSS/Kinheim on Saturday at home in Amersfoort and on Sunday in Haarlem.

In their first exhibition game, Quick Amersfoort played with a batting order of ten players, while HCAW used thirteen batters.

In tonight's game, Lars Huijer made his first appearance in a HCAW-uniform. Last season, the righthander pitched for Hoofddorp Pioniers, but left the team in August and completed the season pitching for Heidenheim Heidek÷pfe in Germany. With that team, he captured the German Championship-title.

In his first outing, Huijer threw four strong innings, striking out eight batters. He faced only ten batters in the first three innings, but got two baserunners. After having struckout the first two batters in the first inning, he gave up a single to Taylor Clemensia, but he was forced out. Huijer struckout the side in the second at bat, then in the third, he walked lead-off hitter Pascal Zegwaard, who last season played for HCAW.

Quick-starter Jan-Willem Geerts retired the side in his first inning, then got two baserunners in the second. With one out, Rodney Daal reached on an error and with two outs, Kevin Dirksen walked. Johannes Veroen Garcia, who also transfered from HCAW to Quick after last season, then took over the pitching and got an inning-ending flyout.

HCAW then scored its first run in the bottom of the third inning off of Veroen. With one out, Julian Goins doubled. Goins, who last season played for Curašao Neptunus, advanced on a passed ball, then scored on a 2-out single by rookie Dion Frank.
Quick then had a productive fourth inning off of Huijer. With one out, Rachid Engelhardt singled and Taylor Clemensia doubled. Both scored on a single by Rowan van Hoek, who himself was left behind on second base.
HCAW re-took the lead with two outs in the bottom of the fourth off of lefthander Jhan Rifaela. Victor Draijer then singled and moved to third base when a force play-grounder by Max Draijer ended in a throwing error. Both Draijers played for Hoofddorp Pioniers last season. Victor Draijer then was the Most Valuable Player and the Best Hitter with a .500 batting average. He also had a 21-game hitting streak, hitting a basehit in all regular season-games played by Pioniers. Both scored on a single by Rodney Daal, which gave HCAW a renewed 3-2 lead.

In the next three innings, Quick Amersfoort was held scoreless by rookies Ruben Dekker and Jack Wagner. In the fifth, Dekker gave up a 2-out single to Bas Wiers. Wagner then threw the next two innings and also allowed one batter to reach base. He walked Rachid Engelhardt with one out in the sixth.
With HCAW leading 3-2, Rik Jalvingh took over the Quick-pitching in the fifth. The lefthander, who last season played in the second team of HCAW, retired the side, but then gave up two runs in the sixth. Bob van der Meer (error) and Dion Frank (single) then both scored on a single by Oliver van der Wijst Severino, who this season will play in France. Jalvingh then retired the next three batters.
HCAW scored three more runs in the seventh off of Amar van Zwieten. Max Draijer and Rodney Daal both walked and executed a double-steal. Draijer then scored on a sacrifice fly by Arthur Bonevacia. Kevin Dirksen followed with a runscoring single, then scored himself on a double by Jules Cremer, who is former player of Quick. That also ended the game.
(April 15)