(Story by Marco Stoovelaar; Photo by Henk Seppen)

DSS/Kinheim outscores Quick Amersfoort in exhibition game
Nederlands



AMERSFOORT (Neth.) - DSS/Kinheim recorded a 12-3 victory on Saturday-afternoon (April 17) in a 9-inning exhibition game against and at Quick Amersfoort. Last weekend, DSS/Kinheim opened its exhibition-season with a split against Silicon Storks. Quick Amersfoort played its first exhibition game last Thursday-evening and then lost to HCAW.
In today's game, there were 23 basehits. Fourteen of them were hit by the visiting DSS/Kinheim. Host Quick Amersfoort collected eleven basehits, but managed to score only three runs, which were all scored in the last three innings.
DSS/Kinheim was held scoreless in its first three at bats by lefthander Jhan Rifaela, but then scored a run in the fourth. Jason Jakobus led off with a bunt-single and moved into scoring position when a grounder by Donny Kuijper ended in an error. Jakobus then scored on a single by Milan Lammerts.

From the fourth inning on, DSS/Kinheim kept on scoring. The Haarlem-team added two runs in the top of the fifth off of new pitcher Johannes Veroen Garcia. With two outs, Jochem Koedijk walked, moved on a passed ball and scored on a following single by Jason Jakobus. The latter then stole second base and scored the next run on a single by Donny Kuijper.
DSS/Kinheim also scored twice in the sixth at bat. This time, Nick Hofer led off with a single, was awarded second base on a balk and reached third base on a wild pitch. With one out, Matis Crouwel walked. Thomas Bos followed with a runscoring single and Crouwel went on to score on a sacrifice fly by Jochem Koedijk.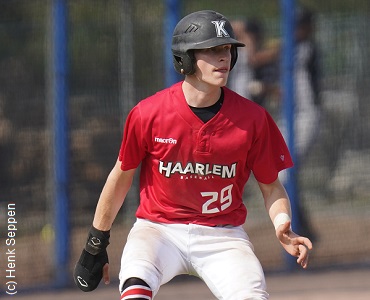 ...Nick Hofer had 3 hits and scored 3 runs...
(© Photo: Henk Seppen)

DSS/Kinheim took more distance in the top of the seventh thanks to a 5-run rally which raised the lead to 10-0. That was done off of Pascal Zegwaard, who is an outfielder/catcher and threw the final three innings for Quick Amersfoort. With one out in the seventh, DSS/Kinheim got the bases loaded when Aidan Finnegan and Nick Hofer singled and Marcel Tolenaars reached on an error. A single by Matis Crouwel then led to two runs. Moments later, Crouwel was forced out on a grounder by Thomas Bos, but that also led to an error, enabling Tolenaars to score. The bases got loaded again when Jochem Koedijk singled and Jason Jakobus reached on an error. Two more runs were then added on a double by Daan Kuit.

Quick Amersfoort was kept scoreless by starter Jelle Bing, who gave up two basehits in four innings. The home-team got into scoring position in the first and second inning, but was unable to score. With two outs in the first, Rachid Engelhardt doubled, but was left behind. In the second at bat, Amar van Zwieten led off with a double, then Pascal Zegwaard walked. The DSS/Kinheim-defense then turned a double play on a grounder by Brandon Rijnbergen, which moved Van Zwieten to third base. Next batter Mees Robberse walked and when he took off to steal second base, Van Zwieten was eliminated at the plate. Quick was then retired in order in the next two innings.

Bas Timmer took over the Haarlem-pitching in the fifth. With two outs, he got the bases loaded when Brandon Rijnbergen, Mees Robberse and Bas Wiers all singled. But the three were left behind, as a grounder ended the at bat.

Trailing 10-0, Quick Amersfoort scored its first two (unearned) runs in the bottom of the seventh off of Ben Neijndorff, who had taken over the pitching in the previous inning. Amar van Zwieten and Pascal Zegwaard both reached on an error, then both scored on a single by Brandon Rijnbergen, who himself was left behind on third base.

DSS/Kinheim scored two more runs in the eighth. Aidan Finnegan led off with a walk and scored on a following double by Nick Hofer, who then scored with two outs when Thomas Bos reached on an error.

Quick Amersfoort scored its third and final run in the bottom of the ninth off of Nick Boxelaar. With two outs, Bas Wiers singled and scored on a double by Kaj Berkel.

(April 17)