(Story by Marco Stoovelaar; Photo by Henk Seppen)

HCAW shuts out Amsterdam Pirates in exhibition game
Nederlands



AMSTERDAM (Neth.) - HCAW shutout L&D Amsterdam Pirates 7-0 on Saturday-afternoon (April 17) to record its second exhibition-win. Last Thursday-evening, the Bussum-team opened with an 8-2 win against Quick Amersfoort.
For Amsterdam Pirates, this was its first exhibition game. Last weekend, the team had two games scheduled against Twins Oosterhout, but they were cancelled due to weather conditions. HCAW had an intersquad game scheduled last weekend.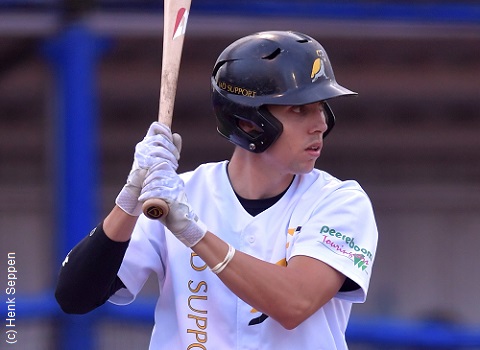 ...Victor Draijer (on the photo playing for Amsterdam...
...Pirates in 2019) was 4-for-4 against his former teammates...
(© Photo: Henk Seppen)

Amsterdam Pirates, which is the reigning champion, was limited to ony three basehits by four pitchers. On the other hand, HCAW collected 14 basehits, also off of four pitchers. Victor Draijer, who last season was the league's Best Hitter and Most Valuable Player when he played for Hoofddorp Pioniers, was 4-for-4, scored three runs and batted in one. In 2019, Draijer played for Pirates with whom he then captured the Dutch Championship-title.

HCAW opened the score with two runs in the top of the first inning off of lefthander Nick Veltkamp. Rookie Dion Frank led off with an infield-hit, then Berend Ruben walked. With one out, the two executed a double-steal, then both scored on a 2-out single by Victor Draijer.
In the second inning, Rodney Daal (lead-off) and Kevin Dirksen (with one out) singled, but they were left behind.
Mike Groen took over the Amsterdam-pitching in the third inning. He then retired the side, but gave up HCAW's third run in the fourth. Victor Draijer led off with a single and went on to score on a 2-out double by Arthur Bonevacia.
Amsterdam Pirates was held scoreless in the first three innings former teammate Jim Ploeger, who transfered to HCAW after last season. The lefthander walked Gilmer Lampe with two outs in the first inning, but he was forced out. In the second and third inning, Pirates again reached base with two outs. In the second, Rashid Gerard and Niels van Weert both singled. The inning ended when Gerard was caught stealing at third base. And in the third, Roelie Henrique singled, stole second base and advanced on an error, but was left behind on third base, as Ploeger closed with a strikeout.
Nick Keur, also a lefthander, succeeded Ploeger in the fourth inning. He retired the side in the fourth, then walked lead-off hitter Jair van Borkulo in the fifth. Keur then struckout the next three batters and Van Borkulo, who had advanced on a passed ball, stranded on second base.
HCAW scored another run in the top of the sixth off of newcomer Robyn Clara, who transfered to Amsterdam after having played for DSS/Kinheim last season. With one out, the bases got loaded when Victor Draijer singled, Max Draijer walked and Arthur Bonevacia also singled. The latter was then forced out on a grounder by Kevin Dirksen, but that also led to the run.
HCAW took more distance by scoring three runs on five basehits in the seventh off of Kevin Geestman, who last year played for Onze Gezellen in the second highest league. With one out, Berend Ruben and Julian Goins singled, then both scored on a double by Oliver van der Wijst Severino, who himself was eliminated trying to advance to third base on the throw to the plate. With two outs, Victor Draijer delivered his fourth basehit of the afternoon, then moved to third base when Max Draijer reached second base on a throwing error. A single by Rodney Daal then led to the third run in the inning and raised the lead to 7-0.
Amsterdam Pirates was also unable to do something back in its final three at bats off of Arij Fransen, who this season will play professionally again in the organization of Cincinnati Reds.
(April 17)