(Story by Marco Stoovelaar)

Midden-Nederland Cup Tournament cancelled again
Nederlands



LOOSDRECHT (Neth.) - Organizing club Hilversum Hurricanes announced on Wednesday (March 3) that for the second year in a row it had to decide to cancel its annual international Midden-Nederland Cup tournament. The ninth edition was scheduled for March 20 and 21.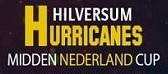 Last year, the event was cancelled after the first measures were announced against the spread of the coronavirus (COVID-19). Now, a year later, due to current measures and uncertainties, the tournament has been cancelled again.

In a statement, organisor Cees van Ancum said: ,,With a heavy heart, the organization of the annual Midden-Nederland Cup announces that the event will be canceled due to corona. It is very unfortunate, but this is force majeure, we do not want to take any risks. This is a tournament that I have been organizing with love, passion and dedication over the years with the help of a large number of enthusiastic volunteers. I think everyone can imagine with how much pain in my heart I had to take the heavy decision together with our board to cancel the Midden-Nederland Cup this year as well''.
Van Ancum continues: ,,It is still extremely uncertain how long it will take before everything returns to 'normal'. That is why it is neither responsible nor feasible to organize the Midden Nederland Cup this year. Because the well-being of our participants, spectators and volunteers is our first priority''.
Hilversum Hurricanes now hopes to organize the ninth edition in 2022.
In 2019, the last edition was organized with the participation of ten teams, including the National Teams of Germany and Ireland. In the Final, Germany shutout UVV 6-0 to win the tournament, which always attracts many spectators.
The tournament was first organized in 2011. After the first two tournaments were won by UVV, the third edition rained out in 2013. Since 2014, the event has been organized annually.
(March 3)