Holder, Foster new coaches UVV; Samboe joins roster
Nederlands

UTRECHT (Neth.) - Royce Holder is the new Head Coach of UVV, the club announced on Sunday-afternoon. The American will be assisted by Cliff Foster, who will be the Pitching Coach and Conditioning Trainer in the new season. UVV also announced that Catcher Giovanni Samboe is coming to Utrecht. Last week, UVV agreed to come back to the Dutch big league to take the vacant spot after Almere Magpies withdraw. Holder succeeds Edwin van Scharenburg, who retired after UVV was initially eliminated in the Promotion/Relegation Play-Off vs. Almere Magpies.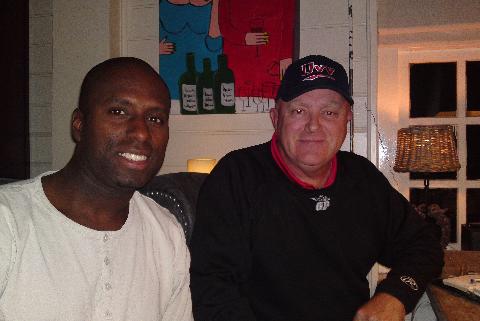 ...Cliff Foster and Royce Holder - new coaches UVV...
(© Photo: UVV)

In recent days, UVV also announced the coming of Outfielder Danny Rombley (Neptunus) and Righthanded Pitcher Jurjen van Zijl.

The last two seasons, Royce Holder guided the team of Vos Cardinals from Oss to two consecutive championship titles. After promoting from the Third Division in 2009, Cardinals also won the title in the Second Division D this season. On Saturday, October 2, Cardinals won the decisive game against contender Roef! convincingly 11-5 to capture the title to promote to the First Division.
Before coming to the Netherlands, Holder, who is a fulltime baseball coach, was the Bench Coach in 2008 of the Grand Prairie AirHogs in the independent American Association. In the year before, Holder was the Manager of Texas Heat, whom he guided to second place in the Continental Baseball League, another independent league. After being the Hitting Coach of the Bend Aviators in the independent Central League in 2005, Holder coached the 16 and under team of the Fort Worth Drillers in 2006 and was a coach of Americas Baseball Camp in Argyle (Texas) the same year.
Holder also had a long 12 year career (1981-1992) as a softball-player and played for the 18-and-over team of Dallas/Fort Worth, which won three state championships between 1994 and 1999.
Royce Holder is a native of Fort Worth (Texas), where he attended Texas Wesleyan College, where he also played basebal.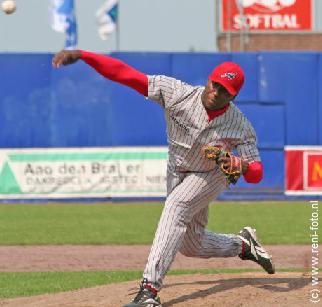 ...Cliff Foster while pitching for Almere...
(© Photo: www.reni-foto.nl)

Cliff Foster, who served as Pitching Coach for UVV before, is no stranger in Dutch baseball, as he pitched in the highest division for three different teams. The righthanded pitcher made his debut in the Dutch big league in 2005 when he threw for Mr. Cocker HCAW. In his first Dutch season, he appeared in 25 games, was 5-1 and earned 10 saves, while striking out 41 batters in 46 1/3 inning and finishing with a 2.14 ERA. In the following winter, Foster pitched in Australia and returned in 2006 to play again for HCAW, where he also initially served as Pitching Coach.

However, after having a fine first season in Bussum, Foster encountered some control problems and walked 38 batters in 30 innings, but also struckout 27. He withdraw as Pitching Coach to only focus on his pitching, but in June 2006, HCAW and Foster (who was 1-6 with two saves) separated. The next year, he appeared in eight big league-games for Almere Magpies, struckout 13, walked 22 in 9 innings and was 0-2 with one save.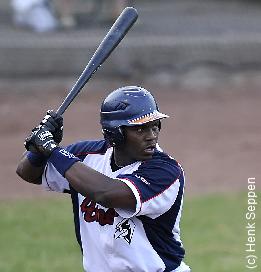 ...Giovanni Samboe...
(© Photo: Henk Seppen)

In 2008, he made his last appearances in the Dutch big league, throwing in four games for Corendon Kinheim, this time striking out 13 and walking 25 in 10 2/3 inning, while finishing with an 0-2 record. As Pitching Coach, Foster succeeds Patrick Leemans at UVV. This year, Foster was the Head Coach of Gryphons, which finished in a tie for ninth place in the First Division B.

Before coming to the Netherlands, Foster played several seasons professionally. In 1992 and 1993, he played in the Single-A for the Oakland Athletics, where he struckout 65 batters in 73 1/3 inning in his first season, then 146 in 140 1/3 inning in the next, appearing in 40 games combined. After having thrown one more game in the 1995 season for the Rookie League-team of Oakland, Foster went on to play in independent leagues the years after. In 1997, he was 4-2 for the Canton Crocodiles in the Frontier League, then played three more seasons in 2002-2004 for the Amarillo Dillas, Camden Riversharks and Newark Bears in the Central League and Atlantic League, throwing mostly as reliever and winning 11 games, while striking out 79 batters.

Giovanni Samboe has played in four big league-seasons with Almere Magpies. After having played in the youth for UVV, he went on to play for First Divisionist Quick Amersfoort, with whom he reached the Promotion Pool for the big league in 2004. With a .345 average, Samboe was the best hitter of Quick, which was unable to promote. The next year, Samboe played for Almere Magpies and made his big league-debut, hitting .289 (second best of the team) and scoring 18 runs. The catcher then also played with Almere in the big league in 2006 and 2007, hitting .253 and .241 respectively, but then the team relegated to the First Division. Samboe kept on playing for the team, which promoted back to the big league last year. This season, he batted .241, which was the second highest average of the team, whom he led with 14 RBI's.

(October 17)