Hoofddorp Pioniers announces roster changes
Nederlands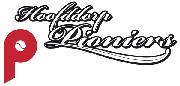 HOOFDDORP (Neth.) - Hoofddorp Pioniers announced their roster changes on Monday, involving 19 (!) players. Pioniers confirmed that 10 players have left the team after completion of the season, including one who played only one game. Two new players are coming to Hoofddorp, while four young players, who already made their big league-debut this year, are being placed on the roster. Also, three players are returning in a Pionier-uniform and another will be available fulltime again. So, in total ten 'new' players have been to the roster. Also returning in Hoofddorp is Robert Klaver, who will be the Head Coach again for the Hoofddorp-squad. The naming of Klaver, who coached Pioniers in 2002-2005, already was announced on September 20. In his four seasons in Hoofddorp, Klaver led the team to the Play-Offs each year.

Not returning next season is main sponsor Konica Minolta, which supported the team the last 32 years, meaning the team is without a main sponsor at the moment.


...Nik Gumeson...
(© Ph: Utah)

Newcomer Nik Gumeson is an infielder, who will be used as an utility player next season by Head Coach Robert Klaver. Through May of this year, Gumeson played for the Utes, the baseball-team of the University of Utah, where he was a teammate of Mark-Jan Moorman, who will return to Hoofddorp next season, despite several rumors that he was leaving. At Utah, Gumeson played in 44 games and batted .326. The American collected 60 basehits, including 12 homeruns, scored 30 runs and had 36 runs batted in. In 2009, Gumeson, while at Utah, was so-called 'redshirted', meaning he was not eligible to play for the baseball-team in order to make him eligible to play in the 2010 season. 2009 would have been his Senior year at a college, which would be his last. Through a special ruling, players can be 'redshirted' to make them eligible for a following year. Before coming to Utah, Gumeson played one season for Lamar University, where he hit .286. In 2006-2007, Gumeson played for the College of Southern Idaho, where he was an All-Region Player in both seasons. In 2007, he led his team with 42 RBI's and batted .451. Before he started his collegiate career, Gumeson was an All-State and All-Region Player for Riverton High School.

Another newcomer in Hoofddorp is Jason Orman, who probably will be the regular second baseman. Orman is coming to Pioniers from Almere Magpies, where he made his big league-debut this season. In his first year at Almere, Orman joined the team after the start of the season and appeared in 23 games. He batted .311 (23-for-74), scored seven runs and had six RBI's, had 84 assists, but also committed 12 errors.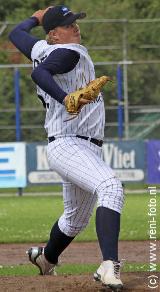 ...Kjeld de Lincel...
(© Photo: www.reni-foto.nl)

Four talented young players, who this season played in the Rookie League-team of Pioniers, are being added to the big league-roster. All made their big league-debut towards the end of this years regular season. Righthanded Pitcher Lars Huijer made his debut on June 29, when he pitched the last 2 2/3 inning of a game vs. Sparta-Feyenoord, which was won 9-3. Huijer, whose brother Sven pitches professionally in the organization of the Boston Red Sox, struckout three batters in his lone game, walked one and gave up two basehits, but no runs.

Kjeld de Lincel made his first big league-appearance on August 5, throwing 4 1/3 inning in relief of a 10-3 loss vs. DOOR Neptunus. De Lincel, who was the last of three pitchers (including his brother Mica de Lincel) in this game, struckout three batters (including National Team-player Eugène Kingsale), walked two and gave up only one basehit and no runs. Three days later, the lefthander made his second and last appearance when he was the fourth of six pitchers used by Pioniers in another game vs. Neptunus, which won 3-0. In his two innings, De Lincel faced seven batters, walked only one and got six groundouts (including a sac-bunt).

Skip Visser played in his first big league-game on August 14 when he was the starting catcher in a 13-1 win vs. Almere Magpies and it was a memorable debut. In his first big league at bat, Visser singled, but then struckout in his next at bat. In the sixth inning of this game, Pioniers rallied for eleven runs and Visser batted twice in this inning. In his first, he walked and scored on a wild pitch and later in the inning, Visser tripled in two runs and later also scored himself again. He then also caught a complete game the next day vs. Almere (a 2-1 win), which was the last game of the regular season. This time, he went 0-for-2, struckout once and also walked once.

Infielder Zerzinho Croes made his debut on August 12 in the first game of a 3-game series vs. Almere Magpies, which Pioniers won 5-1. Croes, who played at second base, flied out and grounded out in his first two at bats, but then singled in his next two. Three days later, in the last regular season-game, Croes entered in the sixth inning and went 1-for-1 with an RBI in his lone at bat.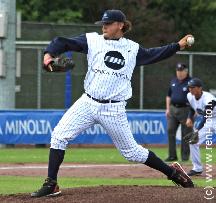 ...Conrad Orman...
(© Photo: www.reni-foto.nl)

Lefthanded pitcher Conrad Orman, a nephew of former Pionier (and current Neptunian) Richard Orman, will be with the team the entire season next year, having last pitched for them in 2008. The lefthander already pitched for Pioniers in parts of three previous seasons. In 2005, he made his debut in a Pionier-uniform, appearing in two games. In 3 1/3 inning, Orman then struckout one batter, but walked seven and gave up three (earned) runs. In 2006, Orman again threw in only two games for Pioniers, this time throwing nine innings, striking out six, walking six and giving up 10 hits. Later in the year, Orman returned to Hoofddorp to participate in the Play-Offs, where he lost a game, then was the winning pitcher in Game One of the Holland Series vs. Corendon Kinheim, which then went on to win the championship. After not being with the team in 2007, Orman returned the next year, throwing in three games (three starts) and 16 1/3 inning. Orman struckout 18 batters, walked 10 and gave up 10 hits, while finishing with a 2-1 record.

In 2005-2008, the Aruban pitcher played professionally in the organization of the Baltimore Orioles after signing a contract the year before at age 17. In his first two professional seasons, Orman pitched in the Rookie League-team of the Orioles which was based in Venezuela, where he was 10-7 and striking out 137 batters in the two years combined. In 2007, he was with the Rookie League-team in Florida (USA), where he was 8-2. A year later, the 23-year old Orman appeared in only seven games (all in relief) for the Bluefield Orioles, another Rookie-Team of the Orioles, where he was 0-1, before being released. Last year (2009), Orman played for Palfinger Reggio Emilia in the Italian Baseball League, where he threw in 15 games (including three starts), striking out 27, walking 34 and giving up 34 basehits and finishing with a 2-3 record.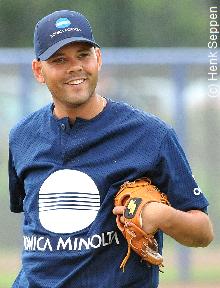 ...Robin van Doornspeek...
(© Photo: Henk Seppen)

Closer Robin van Doornspeek also returns again to full action in 2011. The righthander missed the entire 2010 season due to surgery to his elbow. In 1999, Van Doornspeek made his debut in the Dutch big league, while pitching for Kinheim in four games in which he was 0-1, threw 11 innings and struckout nine. He then was used in five games during the 2000 season and then went on to pitch for Konica Minolta Pioniers. Van Doornspeek pitched four seasons in Hoofddorp, where he became the regular closer in 2003 and 2004, earning 23 saves and striking out 58 in 53 innings. Van Doornspeek then played one season for DOOR Neptunus in 2005 and two for ADO, before returning to Pioniers for the 2008 season. After his debut, Van Doornspeek, who also played for the Dutch National Baseball Team, developed into a pitcher with a fine control. In six of his last seven seasons, he struckout out more batters than innings pitched and didn't walk much hitters. His best season was 2003, when he was 3-0 with 13 saves, while striking out 32 in 30 1/3 inning in which he walked only nine batters. In 2009, Van Doornspeek was 1-3 with four saves.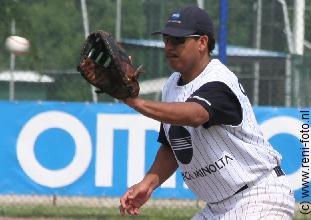 ...Dè Flanegin...
(© Photo: www.reni-foto.nl)

Dè Flanegin is playing for Pioniers since 1992, making 2011 his 19th with the Hoofdddorp-club, including 18 in the Dutch big league after the team promoted in 1992. The veteran, who moved from the outfield to first base later in his career, initially was the Hitting Coach this season. After the 2008 season, Flanegin initially retired and returned to Aruba, but came back in 2010 to be a member of the coaching staff. When the team went through some injuries, Flanegin returned to active duty this season and played in 16 games, mostly as the designated hitter. He batted .317 (13-for-41), hit two homeruns, scored three runs and had eleven RBI's. Flanegin is one of only a few players that have played 500 or more games in the Dutch big league (619 to be exact) and belongs to an even smaller group that played all those games for one club. So far, Flanegin registered 760 basehits, including 40 homeruns. In 12 of his 17 big league-seasons, Flanegin hit 40 or more basehits, including a career-high 67 in 1999. Next year, Flanegin will return to being a fulltime player and will be no member of the coaching staff.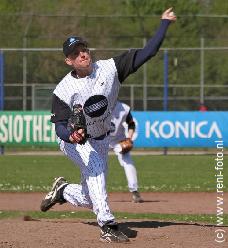 ...Jan Řeháček...
(© Photo: www.reni-foto.nl)

Lefthanded Pitcher Jan Řeháček also will return to Hoofddorp in 2011. In 2008 and 2009, he already pitched for Pioniers. In 2009, Řeháček appeared in 18 games, finished with a 3-1 record and one save, while striking out 27 in 24 1/3 inning and a 1.48 ERA. In July of last year, the Czech signed a professional contract, left Pioniers and briefly pitched in the Rookie League-team of the Minnesota Twins, appearing in only four games in which he struckout seven batters in six innings and being 1-0. But he was released earlier this year. In 2008, Řeháček threw in 20 games for Pioniers, striking out 37 in 39 2/3 inning and winning two games in relief. Řeháček, who played for Arrows Ostrava in his home country before coming to the Netherlands, also is a member of the Czech National Team and currently participates in the Intercontinental Cup in Taiwan.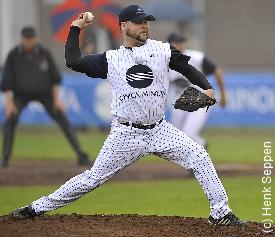 ...Eddie Aucoin...
(© Photo: Henk Seppen)

As of now, righthanded starting pitcher Eddie Aucoin will return to Hoofddorp for a second season. The American was 7-5 with an 1.72 ERA, starting 14 games in which he threw 94 innings. Aucoin struckout 67 batters, while walking only 19. Before coming to the Netherlands, Aucoin pitched in Germany from 2006-2009 for four different teams. He also played professionally in Independent Leagues in 1998 and from 2003-2005. Besides that, Aucoin played in Sweden (2002) and the professional Winter League in Colombia (2004-2005). Before the start of the 2006, he got a try-out with the Toronto Blue Jays, was about to play in the AA-team, but then was released due to a knee injury. He then decided to come to Europe. ,,In principle, Aucoin will be back, but in case, he will not return to Pioniers next season, another American pitcher will come'', Head Coach Robert Klaver said.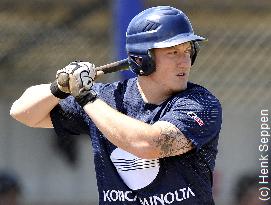 ...Lennart Koster...
(© Photo: Henk Seppen)

Outfielder Lennart Koster will play for Mr. Cocker HCAW in 2011. This year, he played in his first and only season for Pioniers after having played four seasons for DOOR Neptunus. This season, Koster led Pioniers in hitting with a .344 batting average (33-for-96), hit eight doubles, scored 16 runs and had 15 RBI's. Koster, who missed some games early in th season due to an injury, struckout only 12 times, but committed nine defensive errors. Last year, Koster was a member of the championship-team of Neptunus, hitting .309 with 30 basehits, including his second big league-homerun. For Koster, that was his fourth and final year with Neptunus. In 2008, he appeared in 41 games for Neptunus and batted only .241. While this was the lowest batting average of the regular players, he led the team that season with 33 runs batted in. After having played for Tridents, Koster made his big league-debut in 2006 with the Rotterdam-squad, then was the third best hitter of the team the next season with a .328 average.

Righthanded pitcher Arshwin Asjes, who was 2-3 with two saves in 15 games (four starts) in his first season with Pioniers and in the Dutch League, will play for Neptunus next season. Asjes came to the Dutch League after played professionally in 2009 and being released during Spring Training this season. Neptunus announced the coming of Asjes on October 15.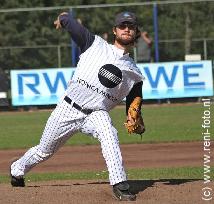 ...Maarten Mulder...
(© Photo: www.reni-foto.nl)

Reliever and closer Maarten Mulder returns to Mr. Cocker HCAW, the club where he made his big league-debut in 2003. In his rookie-season, the righthander appeared in 16 games and was 2-0 with one save, while striking out 14 in 29 1/3 inning. A year later, he threw in only five games for HCAW, whom he then left to pitch for Amsterdam Pirates the next season. In his first season in the capital, Mulder was 3-1 with two saves, throwing 18 2/3 inning in 13 games. In 2006, Mulder was 3-2 with two saves and led the Amsterdam pitching staff (who threw 20 or more innings) with an 1.78 ERA. In 2007, Mulder pitched in his first of four seasons in Hoofddorp. After going 1-1 in his first season with Pioniers, he had two fine seasons in 2008 and 2009 going 3-0 and 4-0 respectively. 2009 was his best season so far, as he not only recorded a career-high with four wins, he also registered the most strikeouts with 19 (in 27 innings). This year, he was 0-2 with a 3.86 ERA and earned one save in 11 games, while striking out 11 in 14 innings and walked only three, but gave up 12 basehits.

Righthanded starter Jurjen van Zijl left Pioniers to play for UVV, which will return to the big league next season. Van Zijl was 9-4 this season (his first and only in Hoofddorp) and started 15 games in which he struckout 75 batters in 97 innings, walking only 20. UVV announced the coming of Van Zijl on October 16.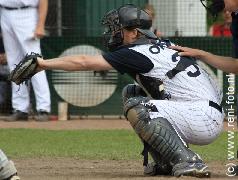 ...Wouter Kamstra...
(© Photo: www.reni-foto.nl)

Catcher Wouter Kamstra will play for DSS in the 'Overgangsklasse' next season, the club where he also played last year. This year, Kamstra played in only 11 games for Pioniers, hitting .077 (1-for-13), scoring once and having two RBI's. Kamstra made his big league-debut in 2007, while playing for Almere Magpies, appearing in seven games and hitting .133.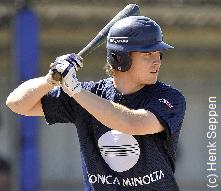 ...Jeffrey de Vrieze...
(© Photo: Henk Seppen)

Jeffrey de Vrieze, also a catcher, retired in mid-season this year. He played in 21 games, batted .204 (10-for-49), scored three runs, hit four doubles, had eight RBI's, but struckout 16 times. Last year, De Vrieze hit .221 with one homerun. In 2008, he was a regular player in his first season with Pioniers. He batted .278, scored 15 runs and had 13 RBI's, while hitting two homeruns. De Vrieze came to Hoofddorp from Almere Magpies, where he batted .119 in 2007 and .152 in 2006. The catcher made his big league-debut in 2004, playing in five games for Almere. While playing for Almere-2, De Vrieze signed a professional contract and briefly played in the organization of the Florida Marlins. In 2004 and 2005, he played in 51 games total in the Rookie League-team of the Marlins, collecting 18 basehits.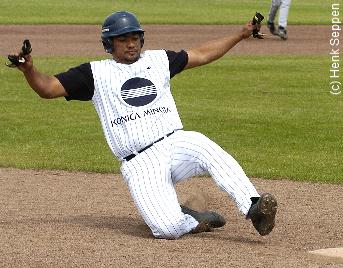 ...Jourick Blanco...
(© Photo: Henk Seppen)

First baseman Jourick Blanco played in only one game for Pioniers this season. On August 5, he entered the game against DOOR Neptunus as a pinch-hitter and delivered a 2-run single. He remained in the game as first baseman and later grounded into a force play. In 2007 and 2008, Blanco played in almost two full seasons for Pioniers. In his first year, he batted .250, then hit .278 in 2008. While this was the ninth highest average of Pioniers, he led the team with 35 RBI's, 11 doubles and six homeruns. Next season, Blanco will play for Sparta-Feyenoord. In 2005 and 2006, the Aruban played professionally in the organization of the Baltimore Orioles. He then played in 115 games in the two seasons combined in the Rookie League-team of the Orioles in Venoco (Venezuela), hitting eleven homeruns. In his two seasons in Venezuela, Blanco was a teammate of Conrad Orman, who will pitch for Pioniers in 2011.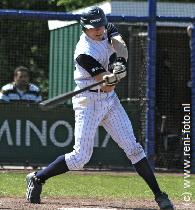 ...Tjerk Hogervorst...
(© Photo: www.reni-foto.nl)

Outfielder Tjerk Hogervorst will play next season for RCH-Pinguïns ('Overgangsklasse'), which will be coached by former Dutch big leaguer and national team-player Tjerk Smeets, who retired after this season as an active player. This season, Hogervorst played in 22 games, hitting .208 (11-for-53), scoring seven runs and had only one RBI. Last year, the outfielder played a full season in Hoofddorp, hitting .198 with 20 basehits and scored 15 runs. 2008 was Hogervorst's first season in the big league and also his best, as he finished with a .284 average. In that year, Hogervorst (who will turn 20 next month) signed a professional contract with the New York Mets, but never played professionally.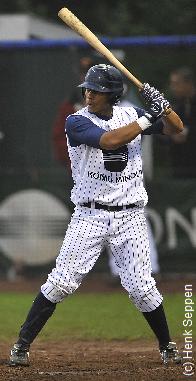 ...Shurty Tremus...
(© Photo: Henk Seppen)

Shurty Tremus will play for UVV in 2011. Tremus made his big league-debut in 2005, playing for ADO after coming from Tridents. In his first big league-season, he batted .179 and committed 20 errors as a middle infielder. After the 2006 season, Tremus went to Mr. Cocker HCAW, where he played the next two seasons. In his first year in Bussum, he batted .263 and was second-best in the team with 35 basehits. A year later, he shared the lead at HCAW with Randy Daal, scoring 19 runs. Tremus then went back to ADO for the 2009 season, where he batted .240 and hit his lone big league-homerun. This season, his first with Konica Minolta Pioniers, Tremus played in 40 games, batted .202 with 26 basehits, including seven doubles, scored 16 runs and had 10 RBI's, but also led the team with 15 errors.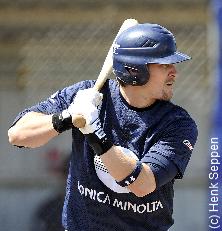 ...Jakub Malik...
(© Photo: Henk Seppen)

Like Arshwin Asjes, Jurjen van Zijl, Wouter Kamstra, Lennart Koster and Shurty Tremus, centerfielder Jakub Malik also left Pioniers after played only one year in Hoofddorp. The Czech outfielder was the third best hitter of the team with a .248 average (34-for-137), scored 17 runs and had 16 RBI's. In 2008 and 2009, Malik was the best hitter of RCH, hitting .318 (50 basehits) and .324 (44 hits) respectively. Malik will remain in the Czech Republic next season.

New Head Coach Robert Klaver, who returns in a Pionier-uniform after five years, will be assisted in 2011 by Peter Barentsen and Theo Geerman. Klaver will coach from the dug-out, while it has yet to be decided who of the other two coaches will coach at first and third base. New in the coaching staff is Dave Draijer, who will be the Pitching Coach, but also remains available himself as a pitcher.

,,The balance is back in the team'', Klaver stated. ,,I think that we are having a very good team. I brought back the number of players on the roster. We now have built a small group with some 12 position players and eight pitchers. I don't need more players. If we need additional players, we can bring them up from our Rookie League-team. We now already have added four young, talented players from that team to the big league-roster. I'm happy to be back as coach, it's fun again. I'm have the utmost confidence in this team.''

(October 25)