Dutch Team opens World Cup with narrow win
Nederlands

AGUADULCE (Panama) - The Dutch Baseball Team opened the World Championship in Panama on Sunday-afternoon, October 2, with a narrow 2-1 victory against Taiwan. In Estadio Remón Canteras in Aguadulce, the Dutch Team hit only five basehits, but one of them proved to be decisive. On Monday, the Dutch Team meets Greece.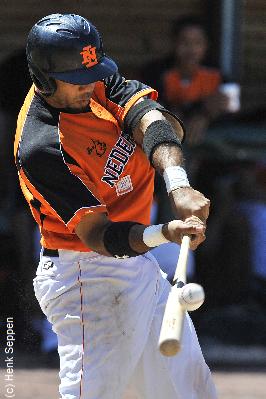 ...Vince Rooi...
...2-run single...
(© Photo: Henk Seppen)

Both teams were retired in order in the first at bat, then Dutch starter Shairon Martis also had an one-two-three inning in the second. He was then supported with two runs in the bottom of the second inning. Taiwanese starter Yao-Lin Wang had struckout Dwayne Kemp and Sidney de Jong in the first at bat, but in the second, he gave up a lead-off single to Curt Smith. However, he was forced at second base moments later on a grounder by Sharlon Schoop, who then stole second base and advanced to third base on a single by Bryan Engelhardt. After Engelhardt also had stolen second base, Vince Rooi connected for a single enabling both runners to score and give the Dutch an early lead.

After giving up the runs, Wang retired 11 of the next 12 batters and got some nice defensive support in the sixth inning. Mariekson Gregorius led off with a single, but then was picked off first base by the catcher. Next, Sidney de Jong walked, but then Curt Smith grounded into a double play.
Shairon Martis retired the first nine batters in a row, including three strikeouts. But he then gave up three singles in the fourth inning. Po-Ting Hsiao led off with a single, advanced on a sacrifice bunt and a grounder, then scored on a single by Chun-Hsiu Chen. Another singled followed, but then Taiwan stranded two runners.
In the next three innings, Martis retired nine of the next 10 batters, including three strikeouts. Tom Stuifbergen then took over in the eighth inning and struckout the side!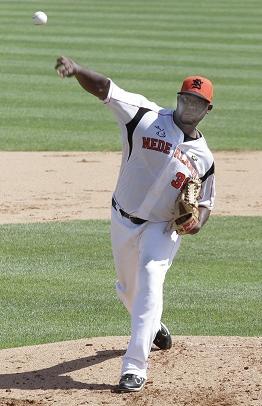 ...Winning Pitcher Shairon Martis...
(© Photo: IBAF)

In the eighth inning, the Dutch team got another baserunner when Danny Rombley led off with a single, but, after advancing on a sac-bunt by Shaldimar Daantji, he stranded on second base. The Dutch then held on to the minimal lead in the top of the ninth inning. Stuifbergen started with his fourth consecutive strikeout, then gave up a single, but a foul-out and fly out ended the game.

The starting line-up was as follows:
Dwayne Kemp (LF, 0-for-4), Mariekson Gregorius (SS, 1-for-4), Sidney de Jong (C, 0-for-2), Curt Smith (1B, 1-for-3), Sharlon Schoop (2B, 0-for-3), Bryan Engelhardt (DH, 1-for-2), Vince Rooi (3B, 1-for-3), Danny Rombley (RF, 1-for-3) and Shaldimar Daantji (CF, 0-for-2).
No changes were made during this first game.

Also on Sunday-afternoon:
Cuba shutout Australia 14-0 in seven innings on 16 hits, including a grand slam homerun by Barbaro Arruebarruena. Former Neptunus-pitcher Dushan Ruzic started for the Aussies.

Nicaragua failed to hold onto an early 4-0 lead against Germany, which arrived at 2 AM in the morning in Panama after a flight-delay. But in the end, Nicaragua won 5-4 thanks to a sac-fly in the sixth inning by Esteban Ramirez. Dutch Umpire Henri van Heijningen was behind the plate in this match-up.

Canada, which won the bronze medal two years ago, won big vs. Puerto Rico, 9-1.

In the evening:
Reigning champion USA was to meet Japan, but their game was canceled due to rain before it even started.

The game between Italy and the Dominican Republic started later due to rain and was won by the Dominicans, 7-0.

Venezuela nipped South Korea, 5-4.

(October 2)