Huge win Dutch Team vs. Greece
Nederlands

AGUADULCE (Panama) - The Dutch Baseball Team on Monday-afternoon won big vs. Greece, which was shutout 19-0 in a game that ended after 4 1/2 inning due to the international 15-run difference, which comes into effect in the fifth at bat.

The Dutch Team produced 14 basehits, including three by Dwayne Kemp, Curt Smith and Vince Rooi and homeruns by Mariekson Gregorius (2-run), Smith (3-run) and Danny Rombley (2-run). The Greek Team hit only four basehits off Juan Carlos Sulbaran, who pitched all five innings.

The Dutch rallied for eight runs in the second and nine in the third at bat to take a huge lead.

Last year, Greece finished in fourth place on the European Championship in Germany to qualify for this years World Cup. During that event, the Dutch Team shutout Greece 'only' 10-0. In two previous games, the Dutch Team held Greece also scoreless, scoring 13 runs combined. In the four games played so far between the two countries, the Orange have now scored 42 runs and gave up none!
---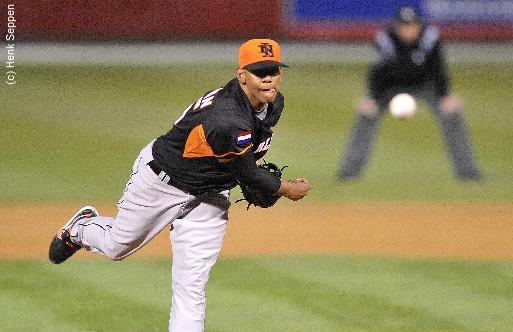 ...Winning pitcher Juan Carlos Sulbaran...
(© Photo: Henk Seppen)

The game began quietly. Dutch starter Juan Carlos Sulbaran retired the side in the first at bat, then Danny Rombley walked with one out in the first Dutch inning. But, with two outs, he was caught stealing.

In the second inning, Sulbaran retired the first two batters, then gave up a double to 45-year old veteran Erik Pappas, who played professionally from 1984-1996 for seven different organizations and played in 104 Major League-games for the Chicago Cubs (1991) and St. Louis Cardinals (1993-1994). But when Pappas tried to score on a single by the next batter, he was thrown out at the plate by leftfielder Dwayne Kemp, ending the inning and the lone scoring opportunity for the Greek squad.

Moments later, the Dutch Team started its offensive show, hitting six basehits and scoring eight runs in the second at bat. And they did it with two outs! It all started with a double by Curt Smith, but then Sharlon Schoop struckout and his brother Jonathan Schoop (who made his first start) popped out. Next, Smith scored the first run when Vince Rooi singled, which was followed by a 2-run homerun by Mariekson Gregorius. Shaldimar Daantji and Dwayne Kemp then singled and both scored when an error was made on a grounder by Danny Rombley. Another error followed on a hit by Sidney de Jong and then the two runners scored when Curt Smith (who already had doubled in this at bat) homered. Next batter Sharlon Schoop was then hit by a pitch, which led to a pitching change. The inning then ended when Jonathan Schoop again flied out.
In the third inning, Sulbaran walked a batter with one out, but came out of the inning unharmed, as the Dutch defense turned a double play. In its third at bat, the Dutch topped their outing of the previous inning and this time rallied for nine runs on six hits. Vince Rooi led off with a single and stole second base, while Gregorius struckout. Shaldimar Daantji then walked and he, and Rooi, scored when Dwayne Kemp followed with a triple. Danny Rombley then accounted for the third Dutch homerun and lifted the lead to 12-0. And it wasn't over yet. The bases got loaded when Sidney de Jong walked and both Curt Smith and Sharlon Schoop were hit by a pitch. Greek Manager Jim Essian (a former Major League-player) then brought in his third pitcher of the day, who got an infield-fly from Jonathan Schoop, but then gave up an RBI-single to Vince Rooi (his second single in this at bat). Hereafter, the new pitcher made a throwing error on a grounder by pinch-hitter Xander Bogaerts, uncorked a runscoring wild pitch, re-loaded the bases by walking Shaldimar Daantji and gave up 2-run single to Dwayne Kemp (who therefore also had two hits in this inning). The bases were loaded again when pinch-hitter Kalian Sams also singled, but then, with pinch-hitter Shawn Zarraga in the batter's box, the inning ended when Daantji was eliminated by the catcher trying to score on a wild pitch.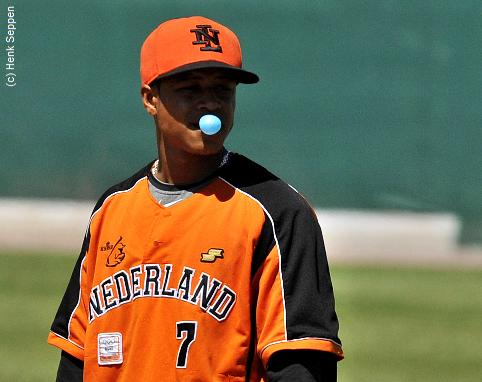 ...Dwayne Kemp - 3 hits, triple, 2 runs, 4 RBI's...
(© Photo: Henk Seppen)

After completion of the third inning, the game was interrupted for some 20 minutes due to rain, but when it resumed, the Dutch Team added two more runs in the fourth inning. Zarraga led off with a single and Curt Smith followed with the 14th Dutch basehit, but the lead runner was forced out on a grounder by Sharlon Schoop. An error on a force play-grounder by Jonathan Schoop then led to a run and Vince Rooi followed with an RBI-grounder that increased the lead to 19-0, before two outs followed.

Juan Carlos Sulbaran (who struckout four) gave up singles with one out in the fourth and fifth inning, but never let the Greek come near home plate. The righthander gave up only four basehits.

All nine starting players in the Dutch line-up, as well as the three replacements, reached base at least once in this game, including four times by Smith. Except for Jonathan Schoop all nine starters scored at least once, also led by Smith, who scored four runs. Kemp led the team with four RBI's, while Smith and Rooi had three each.

Today's starting line-up was as follows:
Dwayne Kemp (LF, 3-for-4), Danny Rombley (RF, 1-for-2), Sidney de Jong (C, 0-for-2), Curt Smith (1B, 3-for-3), Sharlon Schoop (2B, 0-for-2), Jonathan Schooop (DH, 0-for-4), Vince Rooi (3B, 3-for-4), Mariekson Gregorius (SS, 1-for-2) and Shaldimar Daantji (CF, 1-for-1).
The following changes were made:
Xander Bogaerts pinch-hit for Gregorius and became the new short stop, Kalian Sams pinch-hit for Rombley and took over in rightfield and Shawn Zarraga pinch-hit for De Jong and took over behind home plate.

Also on Monday-afternoon:
Italy shutout Australia 7-0 to win its first game.

Cuba registered its second shutout, beating the Dominican Republic, 3-0.

Canada also won its second game, winning 3-1 vs. Japan, which played its first game after their match-up vs. the USA rained out on Sunday. That game will be made-up on Wednesday.

(October 3)