Brian Farley, Curt Smith honored by IBAF
Nederlands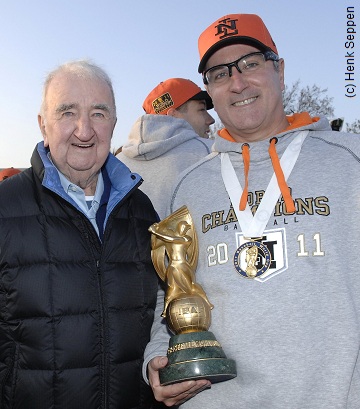 ...Brian Farley (with his father Barney)...
...IBAF Coach of the Year...
(© Photo: Henk Seppen)

ARLINGTON, Texas (USA) - Three weeks after being named Coach of the Year at Convention of the European Baseball Coaches Assocation, Netherlands Baseball Team Manager Brian Farley also was named Coach of the Year by the International BAseball Federation (IBAF) during its Congress, which it held this weekend in Dallas.

On Sunday-evening, during its Gala Dinner, the IBAF presented the awards of its Honors Program, which are being handed out since the eighties. The awarding ceremony during the Gala Dinner was hosted by the Texas Rangers at their stadium in Arlington, near Dallas.
Brian Farley was named 2011 Coach of the Year for leading the Dutch squad to the world title, while Eduard S. Martin was named 2010 Coach of the Year for leading Cuba to the gold medal in the Intercontintental Cup.
Brian Farley commented to IBAF as follows: ,,I would like to express my thanks and gratitude to the International Baseball Federation for awarding me as the Coach of the Year for 2011. As my fellow coaches know all too well, the best coaches have the best players. I am also extremely grateful to my technical, medical and support staff who are responsible for a great deal of our success and so I wish to share this award with them. It is indeed a great honor to receive this award knowing the caliber of my peers in the world of international baseball. Our success will hopefully act as a catalyst for bringing more youth players into the game of baseball not only in The Netherlands but throughout Europe. This, in turn, will hopefully succeed in changing the landscape for baseball in the future and usher in a return to the Olympic agenda''.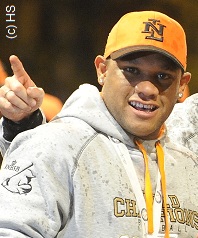 ...Curt Smith...
...IBAF Player of the Year...
(© Photo: Henk Seppen)

Awards were also handed out to the Players of the Year for both years. For 2010, the award went to Hector A. Olivera (Cuba), the MVP, Best Hitter and All Star second baseman during the Intercontinental Cup. For 2011, the winner is Curt Smith of the Dutch Team and the MVP of the recent World Cup.

Curt Smith said to IBAF: ,,It is a tremendous honor to be named the IBAF Athlete of the year. I could not have won this award without the help and encouragement of my teamates, coaches, fans, and the guidance of God. There are a lot of players who are worthy of this honor and it is a great feeling to be considered among them''.

There also were two Umpires of the Year being named. For 2010, Keisuke Kotani (Japan), who was the Home Plate Umpire in the final of the Intercontinental Cup, and for 2011 Adam Dowdy (USA), who was the Home Plate Umpire in the final of the recent World Cup in Panama.

Junior Athletes of the Year were Wei-Tzu Lin (2010), the MVP and All Star third baseman of the AAA World Cup and Zachary Collins (2011), the MVP, Homerun King and All Star catcher of the AA World Cup.

The Women Athlete of the Year was Ayako Rokkaku (Japan), the MVP of the Women Baseball World Cup in 2010.

Federation of the Year were Taiwan (2010), that hosted the Intercontinental Cup and won the AAA World Cup and Panama (2011) for hosting the World Cup.

(December 4)