Dutch win again; almost in Play-Offs
Nederlands

PANAMA CITY (Panama) - The Dutch Baseball Team remained unbeaten on Thursday-afternoon by winning its fourth game in row, as the match-up with Puerto Rico ended in a 5-0 shutout. With this, the Dutch almost secured a spot in the Play-Offs (or quarter finals), as it will advance in case of a tie with either Puerto Rico, Japan or Taiwan or a combination with these countries. However, there is still a theoretical possibility of a 3-way tie, including Puerto Rico, USA and the Dutch Team (in case the USA beats the Dutch). In that case, a run formula will be used to determine the ranking. This means, that Friday's game of the Dutch vs. USA will be decisive, but of course games played by Puerto Rico also will be of influence, as they have to win all remaining games vs. Greece, Japan and Taiwan, which is a real possibility.

Another 3-way tie was possible, including Japan, Panama and the Dutch with the run formula to come into effect. But this scenario was erased in the evening when Panama won 6-2 vs. Japan. All other 3-way ties will be in favor of the Dutch.

Puerto Rico fielded an all-professional (four active, the rest former) team against the Dutch squad, including five players of 32 years old or older, who were all former Major Leaguers. The oldest player was 41-year old veteran and designated hitter Josť Valentin, who played 16 seasons in the Major League (1992-2007), hitting 249 homeruns. The other four players in the Puerto Rican starting line-up with Major League-experience were CF Jesus Feliciano (32 yrs, 2010), SS Luis Figueroa (37 yrs, 2001; 2006-2007), RF Hiram Bocachica (35 yrs, 2000-2007) and LF Cesar Crespo (32 yrs, 2001-2004). Also, three of the four pitchers used had professional experience, including former Major Leaguer Juan Padilla (34 yrs, 2004-2005) and one active pro.
---

Again, the Dutch Team combined timely hitting with fine defense and strong pitching in a quick two hours and 15 minutes game at Estadio Rod Carew in Panama City. The Dutch outhit Puerto Rico, 10-5, including two homeruns. Defensively, the team played errorless ball and turned a double play. But the major factor today was the pitching of righthanders Tom Stuifbergen and David Bergman. Stuifbergen threw seven innings, gave up all five hits and struckout two batters. Bergman then retired the side in the eighth and ninth inning, finishing with two strikeouts. Combined, Stuifbergen and Bergman retired 16 of the last 17 Puerto Rican batters!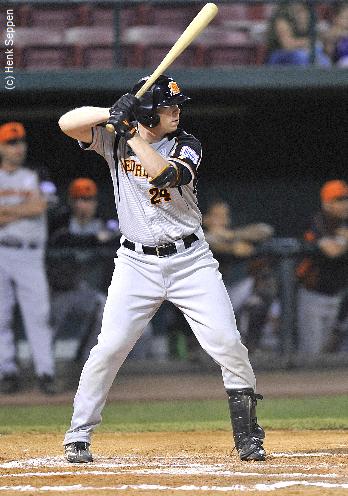 ...Sidney de Jong...
...homerun, RBI-single...
(© Photo: Henk Seppen)

After Puerto Rico was retired in order, the Dutch Team immediately struck in the first at bat. With two outs, Sidney de Jong drilled a delivery of starter Andres Santiago over the leftfield-fence for a homerun and a quick 1-0 lead! Before today, the veteran catcher was held hitless in eight at bats and also didn't have an RBI yet.

Puerto Rico then got its only realy scoring opportunity in the second inning. Stuifbergen hit lead-off hitter Neftali Soto, then walked Josť Valentin. A bunt-attempt by next batter Cesar Crespo then failed, as the former Major Leaguer popped up the ball, which was caught by Stuifbergen. The bases then got loaded when Cristian Vasquez singled. But then, the Dutch defense ended the inning by turning a 4-6-3 double play on a grounder by Jeffrey Dominguez.

Puerto Rico turned an inning-ending double play in the third inning on a grounder by Danny Rombley after Shaldimar Daantji had singled with one out.

The Central Americans then briefly threatened again in the fourth inning when it got two runners on base, but this time with two outs. Crespo and Vasquez then singled, but a force play ended the inning.

In the home of the fourth inning, the Dutch Team doubled its lead. Mariekson Gregorius led off with a single and scored all the way from first base when Curt Smith doubled after Sidney de Jong had struckout. Sharlon Schoop then walked, which led to a pitching change. New pitcher Juan Padilla then got a force play-grounder from Bryan Engelhardt, which brought Smith to third base, but he stranded there when Jonathan Schoop flied out.

With the last out on the force play in the fourth inning, Stuifbergen started a string of retiring nine batters in a row into the seventh inning. While Stuifbergen dominated on the mound, the Dutch Team added two important insurance runs in the sixth at bat. Curt Smith led off with a walk and advanced on a grounder by Sharlon Schoop and then Bryan Engelhardt homered to make it 4-0.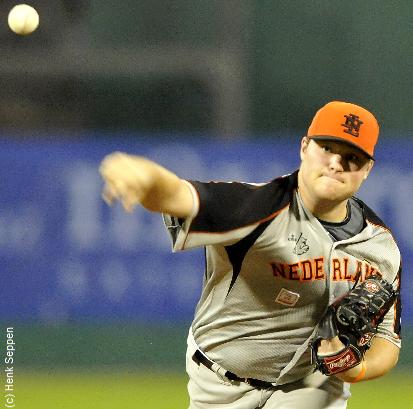 ...Tom Stuifbergen - winning pitcher...
(© Photo: Henk Seppen)

In the seventh inning, with two outs, Stuifbergen gave up a single to Dominguez, but he would be the last Puerto Rican runner in this game. In its seventh, the Dutch added another run. Lead-off hitter Shaldimar Daatji reached base on a throwing error, then was ruled safe at second base when Danny Rombley followed with a double play-grounder. Pitcher Padilla fielded the ball and threw it to second base, where second baseman Wilberto Ortiz then threw to first base to complete a double play. However, Panamanian umpire Vincente Troudard ruled Daantji safe at second base, meaning the grounder only led to the elimination of Rombley at first base. Hereafter, Mariekson Gregorius followed with his third single in the game, bringing Daantji to third base. Daantji then scored when Sidney de Jong also singled, which led to another pitching change.

In the eighth, the Dutch got their first two batters on base. Bryan Engelhardt led off with a single, then rookie Jonathan Schoop hit his first basehit in a Dutch uniform after going 0-for-6 in his previous at bats. But after another pitching change, Engelhardt was caught stealing at third base in a double-steal situation, then a flyout and strikeout ended the at bat.

Tom Stuifbergen was very effective on the Dutch mound, as 14 of the 21 outs during his pitching came on grounders. Only one out was made in the outfield, as four flyouts were registered in the infield. The remaining two outs were strikeouts.

In the eighth inning, David Bergman took over and again did very well in his role as reliever. In the eighth, the righthander got three flyouts. In the ninth, Bergman started with another flyout, then struckout former Major Leaguers Josť Valentin and Cesar Crespo.

Dutch Manager Brian Farley had slightly changed his batting order for today's game. Dwayne Kemp, who was the lead-off hitter in the previous three games, today batted in the number 8 slot, while Danny Rombley, who batted eighth in two of the previous games and second in the other one, today was the lead-off hitter. Farley couldn't use Vince Rooi today, as he is still recovering from the leg-injury he sustained on Tuesday against Japan. Rooi also might not yet be available for Friday's game against reigning World Champion USA.

Today's starting line-up was as follows:
Danny Rombley (RF, 0-for-4), Mariekson Gregorius (SS, 3-for-4), Sidney de Jong (C, 2-for-4), Curt Smith (1B, 1-for-3), Sharlon Schoop (2B, 0-for-3), Bryan Engelhardt (DH, 2-for-4), Jonathan Schoop (3B, 1-for-4), Dwayne Kemp (LF, 0-for-4) and Shaldimar Daantji (CF, 1-for-3).
Except for the pitching change, no other moves were made today. Jonathan Schoop made his first defensive start.

Also on Thursday:
In the afternoon, Australia won 4-3 vs. Nicaragua and Venezuela outscored the Dominican Republic, 6-3. In this last game, Dutchman Henri van Heijningen was the umpire at second base.

Greece lost only 3-0 to the USA, which on Wednesday also had won the make-up game against Japan.

In the evening, Canada shutout Taiwan, 4-0, Cuba won 4-1 vs. South Korea and Panama defeated Japan, 6-2.

In the Dutch group, Japan, Taiwan and Greece have now lost all of their games. However, they all still have a theoretical chance of reaching the Play-Offs, but to do that, the USA and Puerto Rico have to be involved in a 3-way tie to bring the run-formula into effect.

(October 6)