Amsterdam takes 2-1 lead in Holland Series
Nederlands

AMSTERDAM (Neth.) - L&D Amsterdam Pirates opened a 3-game home stand on Friday-evening with a 6-2 victory to take a 2-1 lead in the best-of-seven Holland Series vs. Vaessen Pioniers. The game was originally scheduled for Thursday-evening, but then rained out. Amsterdam initially took a 2-0 lead, saw Pioniers come alongside, but then immediately re-took the lead and also took charge of the game. Game 4 will be played on Saturday.
---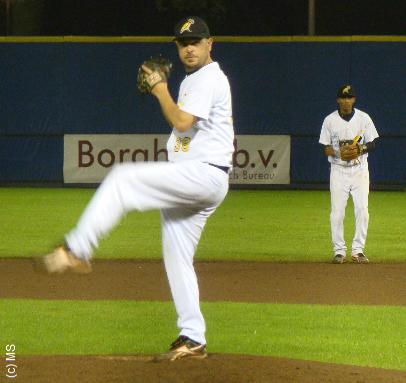 ...Winning pitcher Rob Cordemans...
...8 innings, 9 StrikeOuts...
(© Photo: Marco Stoovelaar)

Rob Cordemans started for Amsterdam and had another fine outing. The veteran righthander struckout nine batters, gave up only five hits and threw eight solid innings. Jurrian Koks closed the game for the home team. Pioniers' Head Coach Robert Klaver opted to start with lefthander Mika de Lincel, saving ace Eddie Aucoin for Saturday's Game 4. De Lincel was the first of six pitchers used by Pioniers.

Both teams were retired in order in the first at bat, then got a baserunner in the second at bat. For Pioniers, Norbert Lokhorst singled with one out and stole second, but then was eliminated on a comeback-grounder to starting pitcher Rob Cordemans by Mervin Gario, then a grounder ended the at bat. In the home of the second, Kenny Berkenbosch singled with two outs. The inning then ended when Percy Isenia had a hard collission with first baseman Mark-Jan Moorman, who was trying to catch a pop-fly, but also was standing in the runway of Isenia. While Moorman was attended by the physical therapist, the 4-man umpiring crew got together and declared Isenia out for interference.

After Cordemans had retired the order again in the third inning, Amsterdam struck with two runs in the home half. Bas Nooij led off with a double, then Rashid Gerard reached on a bunt-single. Nooij, who advanced on the bunt, then scored moments later on a sacrifice fly by Wesley Connor. Next, Roelie Henrique was hit by a pitch of De Lincel. The two runners then advance when an error was made when Gerard was caught stealing and a sac-fly by Sidney de Jong led to the second run.

Pioniers then equaled the score in the fourth inning. With one out, Nik Gumeson singled, then Mark-Jan Moorman (who was able to finish the game after the collission two innings earlier) homered to make it 2-2. But that was all Cordemans would allow, as the 36-year old righthander retired 14 of the next 16 batters, including five strikeouts and gave up only two more hits. In total, he retired the side in five of the eight innings he pitched.

With the score tied at 2-2, Amsterdam immediately re-took the lead in the home of the fourth inning when Kenny Berkenbosch homered with one out. It marked the end for Mika de Lincel, who was relieved by Shane Gnade, who then ended the inning with two groundouts.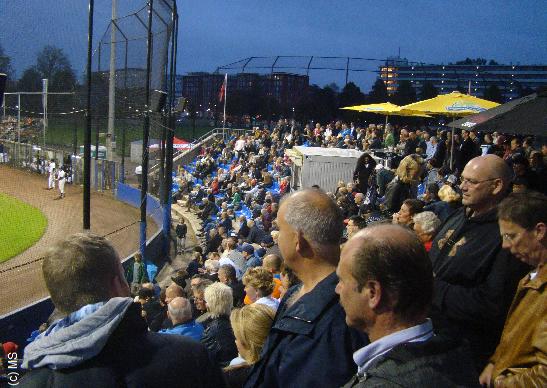 ...Almost 1100 spectators visited Game 3...
(© Photo: Marco Stoovelaar)

After the sides were retired in order again in the fifth, Pioniers got a runner in the sixth when Nik Gumeson singled with one out, but he stranded on first base. Amsterdam then added a run in its sixth. With one out, Bas de Jong singled and scored when Vince Rooi followed with a double, but he was thrown out at third trying to stretch it into a triple. After next hitter Kenny Berkenbosch walked, Jean-Paul Gulinck became the third pitcher for Pioniers and closed the inning with a flyout.

Gulinck then started with a strikeout in the seventh, but then walked Rashid Gerard and Wesley Connor and was replaced by Kjeld de Lincel. The lefthander was greeted with an RBI-double by Roelie Henrique. After he walked next batter Sidney de Jong intentionally, Pioniers' Head Coach Robert Klaver came out again to make another pitching change. This time he brought in Swen Huijer, who had returned a few days earlier after having completed his second professional season in the organisation of the Boston Red Sox. The tall righthander got a force play-grounder from Bas de Jong, but that also enabled Connor to score another run. A flyout then ended the inning, but Amsterdam had increased the lead to 6-2.

Amsterdam got more baserunners in the eighth inning. Huijer then hit lead-off hitter Kenny Berkenbosch and walked Bas Nooij with one out. Hereafter, Huijer was replaced by Scott Ronnenbergh, another active pro who just returned after completing his second season in the Rookie League-team of the Seattle Mariners. The lefthander did fine, as he struckout Rashid Gerard and Wesley Connor to end the inning.

In the ninth inning, Jurrian Koks took over for Cordemans. He gave up an one-out single to Mark-Jan Moorman, but then Norbert Lokhorst grounded into a double play to end the game.

(September 9)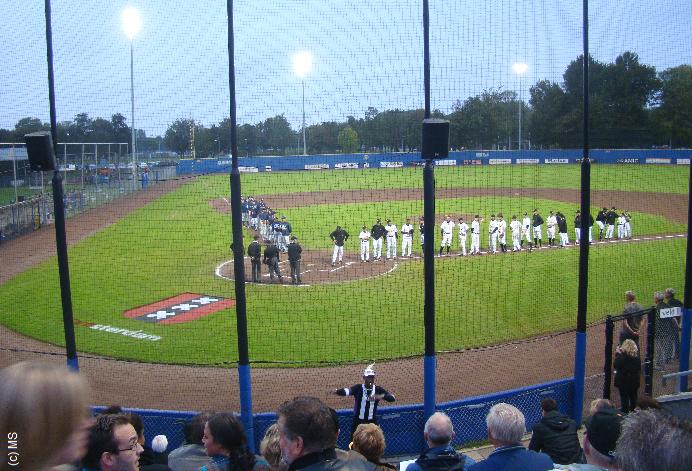 ...The players are introduced before the game...
(© Photo: Marco Stoovelaar)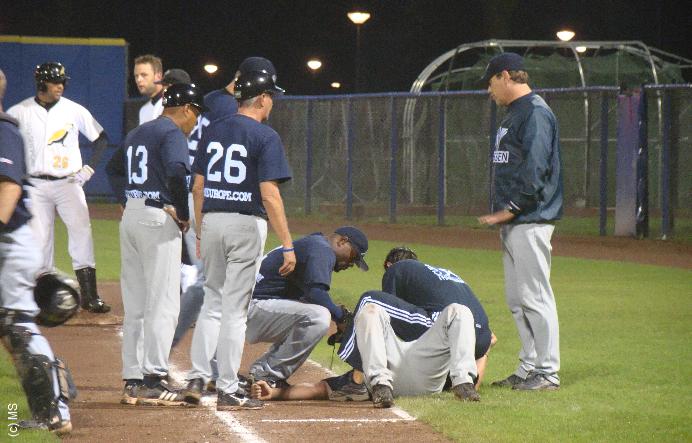 ...Pioniers' Head Coach Robert Klaver (right), 3B Coach Theo Geerman (13)...
...and 1B Coach Peter Barentsen (26) watch while...
...Mark-Jan Moorman is attended after the collission in the 2nd inning...
(© Photo: Marco Stoovelaar)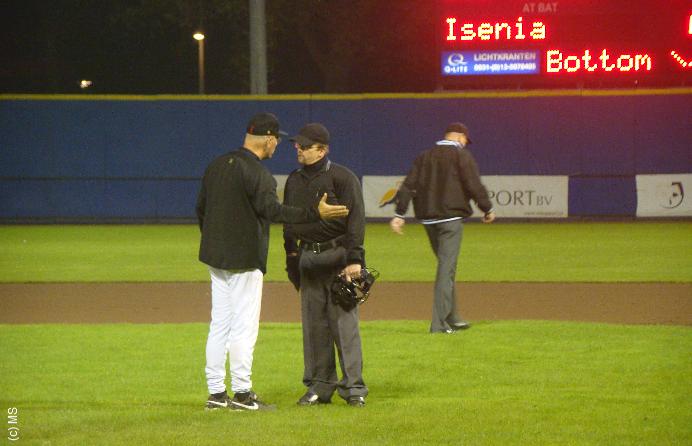 ...Home Plate Umpire Roy van de Wateringen explains to Pirates' Head Coach...
...Charles Urbanus why Percy Isenia is ruled out after the collission...
(© Photo: Marco Stoovelaar)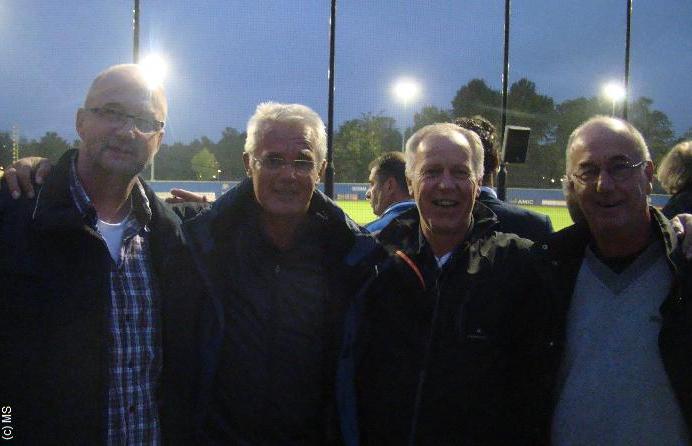 ...Former big league-players Tom Geestman, Marten Walsma, John Ludenhoff...
...and Wim Geestman attended tonight's game...
(© Photo: Marco Stoovelaar)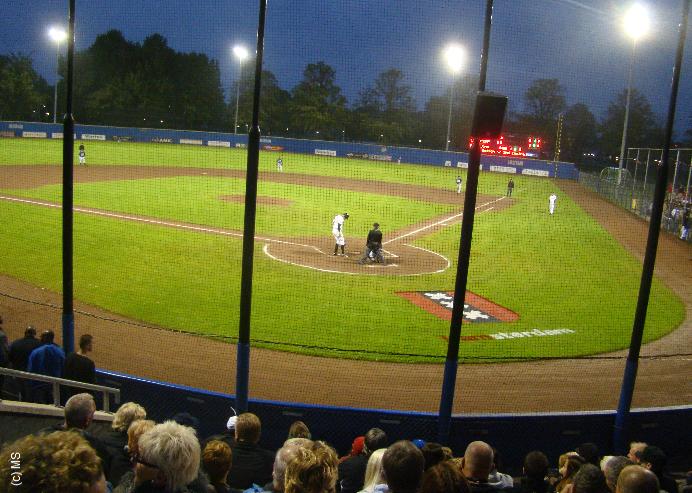 ...Amsterdam took a 2-1 lead in the best-of-seven Holland Series...
(© Photo: Marco Stoovelaar)