Eelco Jansen, Ronald Jaarsma help Antwerp to promote
Nederlands

ANTWERP / LOUVAIN-LA-NEUVE (Belgium) - Dutch former big league-players Eelco Jansen and Ronald Jaarsma helped Belgian baseball-team Antwerp Eagles to win the title in the Belgian Second Division and promote back to the First Division, which is the highest league in the country.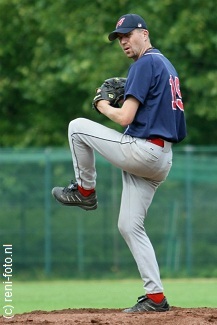 ...Eelco Jansen...
...during his second start...
...for Antwerp Eagles...
(© Photo: www.reni-foto.nl)

On Saturday, September 3, Eelco Jansen was the starting pitcher for Antwerp Eagles in a home game vs. Brussels Kangaroos. Jansen, who is the Head Coach of Dutch big leaguer Corendon Kinheim, threw six innings and was the winning pitcher. In the same game, Ronald Jaarsma, who took over as Head Coach for Mr. Cocker HCAW in May, was the designated hitter. Also playing in this game were former Dutch big leaguers Frans Richardson and Berti Richardson. Antwerp Eagles won the game 13-3. The next day, without the Dutch input, the Eagles shutout the Kangaroos 20-0 at Brussels.

Today, Saturday, September 10, Jansen and Jaarsma again played for Antwerp Eagles, which now was playing at home against Louvain-la-Neuve Phoenix. Jansen again was the starting pitcher, while Jaarsma was the designated hitter. Jansen threw 5 2/3 inning and again was the winning pitcher, as the Eagles won 13-8 to capture the title in the Second Division and promote to the First Division. The next day, at Louvain, the Eagles lost 6-3.

Eelco Jansen last pitched in the Dutch big league in 2004 for Kinheim and then was the Pitching Coach of Amsterdam Pirates in 2005 and for Kinheim in 2006-2008 before becoming their Head Coach in 2009. Ronald Jaarsma played in his last full season for Mr. Cocker HCAW in 2008, before becoming the team's Assistant Coach. Towards the end of May this year, Jaarsma took over the team as interim Head Coach.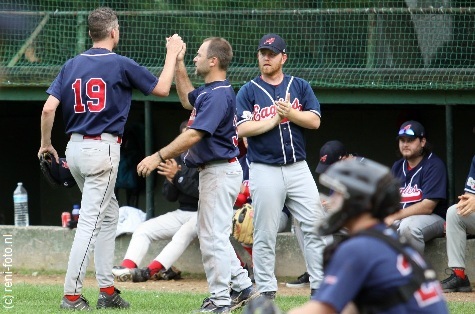 ...Ronald Jaarsma high-fives Eelco Jansen...
...when he leaves the mound in the 6th inning...
(© Photo: www.reni-foto.nl)

Antwerp Eagles finished in second place in the first half of the season with a 7-3 record, while the Brussels Kangaroos finished in first place winning eight of their 10 games played. In the first half, the seven teams in this league played single games on Saturday. After this first half, the league was split with the top-four continuing to play for the championship and the promotion. But in the second half, the teams had to play games on both Saturday and Sunday. As the roster of the Eagles initially was compiled for only Saturday-games, it needed expansion for the second half and therefore, the Dutch (former) players were approached. Players who are registered before August 1 are eligible to play for Belgian teams, meaning Jansen and Jaarsma were able to play for the Eagles after completion of their own season in the Netherlands. Antwerp Eagles is coached by former Dutch big leaguer Patrick Vielvoye.

Currently, the Eagles have won eight of their 10 games in the second half, followed by Beveren Lions, Louvain and Brussels. This coming weekend, the Eagles will close their season playing at Beveren on Saturday and meeting this team at home on Sunday. Last season, the Eagles finished in third place in the Second Division, but this time won the title and will return to the big league in 2012.

Antwerp Eagles is one of the oldest baseball clubs in Belgium and probably the most known. It was founded in 1923 as Antwerp Black Cats, which merged with Rizla Baseball Club in 1974 to become Scaldia Shipping Baseball Club. In 1976, the club changed its name and became Royal Antwerp Eagles Baseball & Softball Club. In 1983, Antwerp Eagles captured its first Belgian Championship-title and it remained champion through 1989. The club still plays at the cozy complex in Antwerp, which it calls home now for many years and was the site of the Intercontinental Cup in 1983.

(September 10)

...The championship is celebrated...
(© Photo: www.reni-foto.nl)

...Coach Patrick Vielvoye and Eelco Jansen...
(© Photo: www.reni-foto.nl)