Rudy Dirksen new Head Coach Mr. Cocker HCAW
Nederlands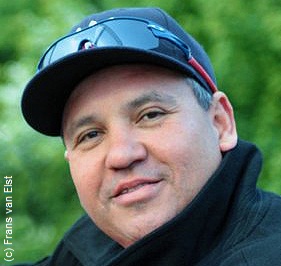 ...Rudy Dirksen...
...New Head Coach...
(© Photo: Frans van Elst)

BUSSUM (Neth.) - The management of Mr. Cocker HCAW announced today that its big league baseball-team will be led in 2012 by Rudy Dirksen. The 51-year old Aruban-born Dirksen succeeds Ronald Jaarsma, who was the interim as Head Coach since the end of May. Currently, Dirksen is the Head Coach of the Rookie-team of HCAW, which still has a chance of winning the Dutch championship. For Dirksen, it will be he first time that he will be active as a Head Coach in the Dutch big league.

Before coming to HCAW this season, Dirksen was one of the coaches of UVV, which last season won the championship in the 'Overgangsklasse' and took over the vacant big league-spot when Almere Magpies withdrew, therefore returning this season to the highest league.
On May 31, Ronald Jaarsma became the interim Head Coach when HCAW dismissed Head Coach Bill Froberg. At that moment, HCAW was 6-15 and in a tie for sixth place. Jaarsma was Froberg's Assistant Coach when the season started. When the coachmove was announced, Frans Groot remained in the staff as its Pitching Coach, while Roy Berrevoets was added as Bench Coach.
Since Jaarsma took over, the team was 7-14 and finished in seventh place in the regular season. In the following Play-Downs, HCAW was 6-3 to finish in second place, meaning a sixth place overall.
Earlier, Jaarsma had announced that he didn't had the ambition of continue as Head Coach. The Assistant Coach of Dirksen has not yet been announced.
(September 11)