Dutch defeat Koreans in Second Round-opener!
Nederlands

CHITRÉ (Panama) - The Dutch Baseball Team on Tuesday-afternoon opened the Second Round of the World Championship in Panama with a 5-1 win against reigning Olympic champion South Korea. The Dutch are now 3-1 in the Second Round, making them an even more serious candidate to compete for a medal next Saturday. The win was the fourth in a row vs. South Korea in World Cup-play after having won 6-1 (2005), 5-1 (2007) and 4-2 (2009). The last loss against the Asians on a World Cup dates from 1998, when South Korea won 8-4. The two countries didn't meet in 2001 and 2003.

Major roles in today's game were for Dutch starter Tom Stuifbergen, rightfielder Kalian Sams and second baseman Sharlon Schoop, as their contributions were major in today's win.

Also on Tuesday-afternoon, Australia surprised with a big 7-0 shutout-win vs. Canada, meaning both teams are now 2-2. Australia outhit Canada 11-3 and had a good outing from starting pitcher Ryan Searle, who gave up only three hits in 7 1/3 inning. Tim Kennely hit a solo-homerun in the third inning. Dutch umpire Henri van Heijningen was at third base in this game, while Dutch scorer Linda Steijger was the Official Scorer, along with Italian colleague Erika Sojat.
---

Today's game was played at Estadio Rico Cedeño in Chitré instead of Estadio Rod Carew in Panama City. All games scheduled for today and tomorrow were moved to either Chitré or Santiago, because a lot of rain was predicted for the area around the Panamanian capital.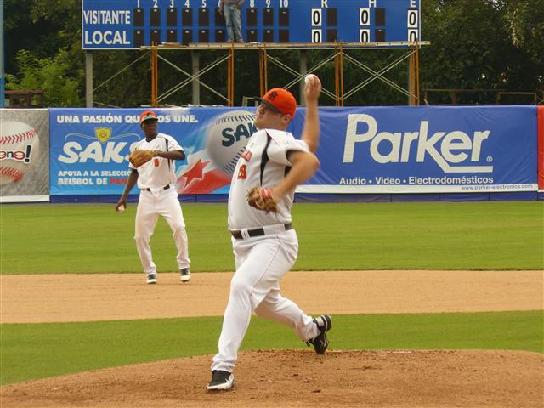 ...Winning pitcher Tom Stuifbergen...

In the first four innings, both teams were held scoreless by their starting pitchers Tom Stuifbergen and Jong-Huen Park. The Koreans reached base more than the Dutch and got scoring opportunities in the second and fourth at bat.

After Stuifbergen retired the side in order in the first inning, he gave up one-out singles to Ji-Young Lee and Hyun-Suk Yung, but then a foul-fly to catcher Sidney de Jong followed and Stuifbergen himself finished with a strikeout. In the third, the righthander gave up an 2-out single to Kyoung-Min Hur, but he then picked him off first base. In the fourth, Korea got the bases loaded with one out. Chang-Ming Mo and Ji-Young Lee then singled and Hyun-Suk Yung walked. An infield-fly then accounted for the second out and 1B Curt Smith then caught a line drive to end the inning.

Starting with the last two outs in the fourth inning, Stuifbergen then dominated in the next four innings, as he retired 14 of the last 15 batters he faced, including the last 11 in a row!

On the Dutch side, Sidney de Jong walked with two outs in the first inning, but then Curt Smith struckout. In the second inning, Sharlon Schoop walked with one out, but then Korean starter Jong-Huen Park struckout next batters Jonathan Schoop and Kalian Sams, but both would play a big role three innings later. In the third at bat, Shaldimar Daantji led off with a single, then moved on a failed pick-off, but was thrown out when tried to reach third on the throwing error. Another single followed, this time by Danny Rombley, but then Mariekson Gregorius grounded into a double play.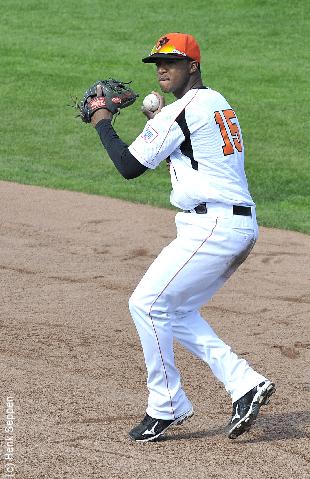 ...Sharlon Schoop - 3-run homerun...
(Photo: Henk Seppen)

After the side was retired in order in the fourth (two more strikeouts), the Dutch Team struck in the fifth inning. With one out, Jonathan Schoop walked, then Kalian Sams followed with a homerun that gave the team a 2-0 lead.

Three more runs were then added in the sixth inning. First, Mariekson Gregorius singled, but was caught stealing, then Sidney de Jong walked. Curt Smith then flied to rightfield, which led to a pitching change. Jong-Huen Park, who had struckout seven batters in 5 2/3 inning, was relieved by Sung-Bum Na, who was greeted with a single by Bryan Engelhardt. Na immediately was taken off the mound and replaced by Jin-Woo Im, but he also got a warm welcome, as Sharlon Schoop hit a 3-run homerun over the fence in short rightfield that made it 5-0!

The new pitcher then retired the side in the seventh inning and was relieved by Ji-Woong Yoon in the eighth, who walked Curt Smith with two outs, but then followed with his second strikeout in the at bat.

After having thrown strongly in the fifth, sixth, seventh and eighth inning (that followed four good innings in the beginning of the game), Tom Stuifbergen was relieved by Orlando Yntema in the ninth inning. He gave up Koreans lone run when Chang-Ming Mo led off with a homerun. But then a groundout accounted for the first out. Next, three pinch-hitters entered the game. After the first fouled out, the second walked, but then the third grounded out to end the inning.

Today's starting line-up was as follows:
Danny Rombley (LF, 1-for-4), Mariekson Gregorius (SS, 1-for-4), Sidney de Jong (C, 0-for-2), Curt Smith (1B, 0-for-3), Bryan Engelhardt (DH, 1-for-4), Sharlon Schoop (2B, 1-for-2), Jonathan Schoop (3B, 0-for-2), Kalian Sams (RF, 1-for-3) and Shaldimar Daantji (CF, 1-for-3).
Dutch Manager Brian Farley made no changes in today's game, except for one pitcher.

In the evening, Panama won big vs. Venezuela, 11-4 on 15 basehits. Leading 3-1, Panama rallied for seven runs in the fifth inning on five hits, including four RBI-doubles that accounted for all runs.

Cuba remained unbeaten, but narrowly won 8-7 vs. USA, which had a good start in the Second Round after nearly not making it a day earlier. Cuba, which had 17 hits, scored three runs in the first inning, but then Tommy Mendonca led off the second with a homerun for the USA, which then added three runs in the third to take a 4-3 lead. In the home of the third, Alfredo Despaigne hit a 2-run homerun to put Cuba ahead again in a 4-run rally. In the fifth, the USA narrowed the deficit to 7-6 on a 2-run single by Mendonca, but Cuba added an insurance run in the seventh on a single by José Dariel Abreu. Team USA scored only one more run in the eighth.

(October 11)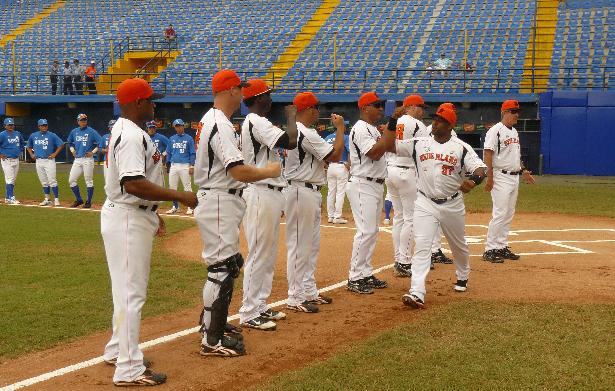 ...Dutch players are introduced in Estadio Rico Cedeño in Chitré...