Kenny Rinkema, another rookie. The sixth run followed in the sixth at bat, when Joep van Els (error) scored on the second double by Van Doesburg.

In the meantime, Almere had scored three runs of its own. In the second inning, HCAW-starter (and rookie) Robin Schel walked Siegert Flaneur, who then scored on a single by Daan de Vries. Reliever Joey Eijpe then gave up two more runs in the sixth inning on a 2-out, 2-run double by Flaneur, that made it 6-3. Flaneur is the lone player of last year's Almere-team to be back with the squad this season. Almere, which is led this season by former pitcher Peter Callenbach, has a complete new squad as a result of most playing leaving after completion of last season.

HCAW added three runs in the seventh on three hits and two errors, then rallied for six runs in the eighth at bat. In this inning, Almere-pitcher Gabriel Gaderski walked five batters, gave up two hits and was credited with all six runs.

HCAW collected 17 basehits, including five by Wesley Bernadus, who went 5-for-5, scored three runs and had three RBI's vs. Almere, where he played himself last season. Rookie Kenny Rinkema had four RBI's. Almere had 12 basehits off four pitchers.

Line Score & Box Score
Exhibition Standings & Schedule
---
RCH-Pingu´ns vs. Corendon Kinheim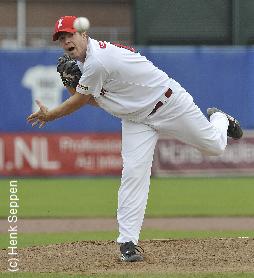 ...Patrick Beljaards...
(© Photo: Henk Seppen)

At Heemstede, Kinheim took a 2-0 lead in the first inning, but trailed 3-2 after four at bats. After Kinheim-starter Duko Jansen threw two scoreless innings, veteran lefthander Patrick Beljaards gave up three runs in the next two innings.

From the fifth inning on, RCH-Pingu´ns didn't add more runs off relievers Steven van Groningen, Pim Walsma and rookie Jorn van Ingen. It took until the seventh inning for Kinheim to come back and turn the game around. Kinheim scored three runs in both the seventh and eighth inning to win 8-3 vs. RCH-Pingu´ns, which will be coached this season by Tjerk Smeets, who last season played for Kinheim, but retired as player. RCH-Pingu´ns had to do without its rookie-coach this game, as Smeets was in Florida as Bullpen Coach of the Dutch National Team.

Because of the trip to Florida of the Dutch Team, Kinheim had to without RHP David Bergman, RHP Nick Stuifbergen, LHP Nick Veltkamp, C Jason Halman, OF Dirk van 't Klooster and DH Bryan Engelhardt and therefore used several players of its Rookie Team in today's game.

Line Score
Exhibition Standings & Schedule
---
Sparta-Feyenoord vs. Euro Stars
At Breda, Sparta-Feyenoord lost 4-3 to Euro Stars in a game played at the site of Jeka, as the home field of Sparta-Feyenoord wasn't playable yet. While this was only the first exhibition game for both teams, it might be labeled as a surprise, as Sparta-Feyenoord has improved its roster for the upcoming season and most regular players were in the line-up.

Sparta-Feyenoord opened by scoring two runs in the first inning when Emeron Lourens and Quintin de Cuba (who both walked) scored on a 2-out double by Ramiro Balentina. Hereafter, Sparta-Feyenoord was silenced and didn't score again until the ninth inning.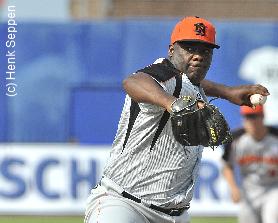 ...Gregory Gustina...
...4 hitless innings...
(© Photo: Henk Seppen)

Euro Stars had only two productive at bats in this game and that was enough for the team, which plays in the so-called Overgangsklasse. In the fourth, they got one run back when Sparta-Feyenoord's reliever Quin Tramm walked Earmy Isabella, who then scored on a single by Aldy Guzman. In the fifth inning, Euro Stars rallied for three runs off Tramm. With one out, Calvin Simmonds singled and scored the tying run on a single by veteran Jeffrey Sprott. After Aldrin Martis walked, Ben Groenendijk hit a 2-run triple that gave Euro Stars a 4-2 lead. In the last four innings, Euro Stars reached base only once off Gregory Gustina. The veteran lefthander retired the first eleven batters he faced, then got a baserunner on an error, but he then picked him off first base.

Sparta-Feyenoord got only two runners on base from the second through fifth inning, then Euro Stars turned two double plays in the sixth and seventh at bat. After two runners were left in scoring position in the eighth, Sparta-Feyenoord scored another run in the ninth. With one out, Jourick Blanco (who last year rejoined Hoofddorp Pioniers in mid-season) singled and scored on a 2-out double by Brian Biezen, who played for Twins (Overgangsklasse) in 2010. But again, the team stranded two runners in scoring position when a groundout ended the game.

Line Score & Box Score
Exhibition Standings & Schedule

(March 14)